The third book in our Simon & Schuster x Shedoesthecity book club is Amy Stuart's exciting sophomore release, Still Water. We've been fascinated with the Globe and Mail bestselling author ever since we got lost in the pages of her first novel, Still Mine. (Check out our with her interview here!) Her second novel does not disappoint: it is just as juicy, gritty, mysterious, and darkly entertaining as the first.
Still Water follows Clare and Malcolm as they hunt for a missing mother and son in a town that is drowning in deception—Clare may be in her gravest danger yet.
Sally Proulx and her young boy have mysteriously disappeared in the stormy town of High River. Clare is hired to track them down, hoping against all odds to find them alive. But High River isn't your typical town. It's a place where women run to—women who want to escape their past.
In a town where secrets are crucial to survival, everyone is hiding something. Compulsively gripping and twisty, Still Water is a deep dive of a thriller that will leave you breathless.
Yep. This one is a MUST READ. We connected with Amy to ask her some questions.
SDTC: Big question, but how did you become a writer?
AS: I can't remember wanting to be a writer in my early life. Still, I always wrote. I recently found a short story from Grade 5 that was neatly typed and about seven pages long.
In 1998, I finished university and moved to Montréal after a breakup, and the day I got off the train I saw an ad in a local paper for a fiction writing workshop. I'm not sure what compelled me to turn up on the first day, but once the workshop wrapped, the instructor encouraged me to continue with the stories I'd started. I was too practical (or maybe afraid!) to fathom writing as a career though, so I went to teacher's college and got a full-time job teaching high school English in Toronto. But writing was always there.
When I was pregnant with my first son, I got accepted to the Master of Fine Arts in Creative Writing Program at UBC. It was that program that moulded me into an actual writer. My thesis project for my MFA was Still Mine, my first novel and the predecessor to Still Water. To this day, I teach and write in equal balance, and I'm lucky to have two careers I love.
Your books include great attention to detail when it comes to landscape and nature. Did you spend a lot of time in rural communities before (or while) writing?
A lot of my two novels were written in a cabin next to my parents' cottage in Dwight, Ontario. In the summer I write on the cabin porch and all I can see are trees and a glint of the water behind them. I grew up going to camp and spending a lot of the summer running around Prince Edward Island, where my family is from, so my oldest memories are set outside in nature.
These days, whenever I'm in a new place, I orient myself by imagining that I live there and what it would be like through the seasons. Above all that, describing the outdoors is an excellent way to set the scene. Just picture mountains or rain or fog or heat or storms or wind. When a writer needs to build tension, nature can do a lot of the work on their behalf.
What authors have influenced you as a writer?
My answer to this question changes all the time. Years ago, I wrote Alice Munro a letter about how hard it was for me to find time to write while I had young kids at home. And to my everlasting shock, she wrote me back and urged me to keep going. I still rely on that push from her when writing feels impossible.
When I started Still Mine, I sought out thriller writers I'd never read before to absorb as many tricks as I could around plotting, twists and suspense. Right now, some of my favourite influences are Mary Kubica, Dennis Lehane, Iain Reid, Gillian Flynn and P.D. James.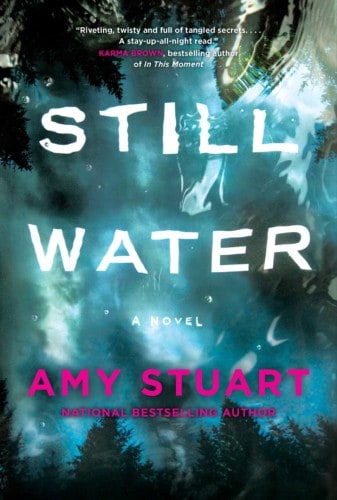 Can you share with us your writing process? What does writing a mystery novel look like?
My biggest struggle as a writer is finding the time. I have a full-time teaching job and three kids, so I fit it in where I can. I've learned that writing is something you can do in short bursts as long as you let the story continue to roll around in some corner of your brain while you're occupied with other things. I always have a notebook with me for when inspiration strikes, and the summers are set aside for full-time writing.
My three favourite spaces to work are my home office, the cabin in Dwight and a shared writing workspace in Toronto called The Writers' Centre. I can't write in coffee shops—I'm too busy eavesdropping!
As for my process, one thing I've learned after finishing two books is that the first draft is not something to be precious about. For me, it amounts only to a template, and the real work is in the editing. Now that I know that, I'm a little easier on myself at the very beginning.
How do you relax once you've finished your novel?
It's hard for me to relax once a novel is finished. I've often let a lot of other things slide in the frenzy of the final draft, so once I'm done, I switch gears and try to catch up on life. But I'm learning to give myself some time to enjoy the accomplishment of a finished book.
The two things that relax me most are spending time outside and reading novels. Even at my busiest, I try to do a bit of both every day. But no matter how busy I feel, the moment I press "Send" is a joyful one. There might be a glass of wine (or two) raised in celebration.
What did you discover about yourself while writing this book?
I suffered a concussion at the midway point of writing Still Water, so a lot of the writing process became about self-discovery and taking care of myself despite the demands in the novel and my life outside of it. I learned that often it's better to stand up and walk away from the computer when the words aren't coming, to take a nap, go for a walk, read something else, call a friend, eat a snack. Not surprisingly, I discovered that I'm far better off when I take the space I need to relax and recharge.
Did you make any other interesting discoveries?
I've discovered the importance of community. The Canadian literary scene (and Toronto as its microcosm) is relatively small and there are some wonderful writers to read, learn from and commiserate with. I'm grateful for the writers I've met and their willingness to share stories about their own struggles and victories.
When it comes to writing, what aspect brings you the most pleasure?
Writing is a tough gig, and there are times when getting even a few words onto the page feels impossible. But there are other times when the words pour out, when the story makes perfect sense, when a scene tells itself, and all I have to do is type it. Those moments are magical enough to fuel me though the hard days.