Canadian actress Amanda Brugel doesn't miss a beat describing how she reacted to being new mom a few years ago: "Horrible. Hot hot hot mess." How messy? She smilingly confesses to having spent close to $5000.00 on her son's first birthday party, complete with 72 gift bags.
This experience, along with other stories from her own life and those of her friends, inspired Brugel's portrayal of Vanessa Thomas, a former model coming to terms with first-time motherhood in Jeremy Lalonde's new all-star ensemble comedy, Sex After Kids. The film playfully and poignantly examines how couples redefine themselves and reignite their passion amid dirty diapers and never-ending laundry.
Brugel and I sat down last week to talk about the film, nude scenes and offscreen parenthood.
She Does the City: What attracted you to working with Jeremy Lalonde and the ensemble? How did he first propose the idea to you?
Amanda Brugel: He'd worked with my best friend, Zoie Palmer. Zoie called me and I called Kristin Booth and Kristin Booth called someone. Everyone just picked up the phone; it was really a domino effect. Jeremy sent us a synopsis of 5 or 6 characters to pick from. I picked Vanessa, because at the time, I just related to her so much. I'd just had a baby. I'd left this life of acting and lights for a home life and throw up. At the same time, I was struggling with becoming a mom but I was on the other side and I really wanted to send a love note to new mothers out there. If I could reflect one person's life in my performance and at least make them feel that there was someone else out there going through that, then I'd done my job.
SDTC: Vanessa seems resolved to be who she is, not caring about what anybody thinks. Can you relate to that?
AB: I secretly, I think, wanted to be more like her when I was at the beginning of my post-partum-ish phase. I wanted more of that strength. I wanted to be more securely grounded in myself as Amanda.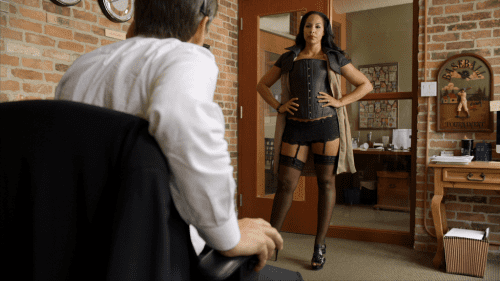 ERK: Can I ask how you were after the first baby?
AB: I'd gained 100 pounds. I moved to the suburbs. I couldn't fathom the reflection in the mirror. Not only the physical reflection, but the clothes I was wearing, and things I was saying, and songs I was singing at night. And I was happy but I was also lost because everything was so new. I wasn't going to parties anymore. I was staying at home and cleaning up poop. I found my way eventually, but I had lot more bumps in the road and hiccups than Vanessa did.
ERK: Do you think that the role gave you an opportunity to try something that you hadn't before, for example, the sex scene?
AB: It's the first sex scene I've ever done and I forced Jeremy to put it in. I forced him to let me go almost nude, again because I wanted to say to women out there that weren't comfortable in their new, ample figures that there's other people out there that look like that, that not everyone bounces back a day after. The entire sex scene that happens with Peter (Kelehan, who plays her husband) was also a scenario taken from my own life. Right after I had the baby, I started having scent issues. And my husband and I got on all fours and were going to bathroom and trying to see if our cat had gone to the bathroom and it was me. So Jeremy took that and used that. It was the first time I'd ever done anything where I completely told my ego to F off and I loved it.
ERK: One of the themes in the film is sacrifice, whether sleep deprivation, or not feeling sexy anymore, or sacrificing something you really want for the sake of your family. As a mother, do you think one can find a balance between sacrifice and self-care?
AB: I think you have to, in order to maintain a healthy path for yourself as a parent, and also to ensure that your child has a healthy path, because they grow up and you're basically the example of how they should live their lives and if you're not happy, they most definitely will not be happy. I think you have to sacrifice at the beginning, because you have to carve out a new path, but slowly you realize that an inch of happiness for yourself is good for the child.
ERK: There's also this idea in the film of labeling our partners, or ourselves, as "housewife" or "grandmother," then getting placed in that box and not being to see one's partner as anything other than that. Do you think that's one of the major issues for couples when they have kids?
AB: I think that when you assign yourself these boxes, you get comfortable in that box and you set up shop and you stay there. I think that when a child comes in, you really have to examine your role, and unless you're willing to evolve and grow out of that box and find a new one together, almost inevitably, it won't work. My husband and I are radically different people than we were right before we had our child. We struggled with our new-found identities, but then we both sat down and had a very progressive talk about the fact that we were recognizing huge differences in one another. And we had to try to experience the newness together. I think if you talk about it and you anticipate it happening, then I think you can work it out.
Sex After Kids opens Friday, February 7th at Carlton Cinema, 20 Carlton, at 1:30pm and 6:40pm, daily. Jeremy Lalonde and various cast members will be present at each screening from February 7th to February 9th
Help support a good cause at Movie With a Mission, brought to you by Brugel's charity, Brugs Army! There will be a VIP autograph session following the February 10th, 6:40pm screening, with proceeds going to Ernestine's Women's Shelter.