maxine bailey began her journey at the Toronto International Film Festival, over twenty years ago, as a volunteer. She describes her first TIFF experience as chaotic: "I was working the lineup at The Bloor Cinema, and someone from the festival said, 'WE HAVE TO STOP PEOPLE FROM COMING IN!'" It was a tense moment that was set off by a famous director's complaint over the quality of the film print. "[The TIFF staffer] wanted me to put my body in front of all the people to stop them from entering. The first thing that came out of my mouth was, 'You know you're not paying me to do this?'"
For those of us who've worked at a film festival, this is a familiar scene: red-carpet drama, big egos, and a logistical conundrum that induces panic. But just as quickly as the "problem" emerges, it usually gets resolved. What sets this story apart, however, is that unlike most volunteers or theatre assistants, who'd probably have done as instructed without question, maxine made a point of vocalizing her opinion. It's a small detail, but it's one that is very telling, because in that frenzied moment, she was able to communicate a message quite clearly to an authority figure: this isn't right. I thought it was an interesting story for her to share on our call, and quite indicative of her self-assuredness, sense of justice, and her ability to call out bullshit. These principles and more have no doubt guided her in her most recent role as TIFF's VP of Advancement.
Shortly before the #MeToo movement arrived, maxine launched #ShareHerJourney: a five-year commitment to increase participation, skills and opportunities for women behind and in front of the camera. In the first eighteen months of the campaign, maxine was able to raise $1.5 million. "One hundred women have already been touched by #ShareHerJourney. By the end of the five years, we will have five hundred women that have gone through this program. If we get fifty new films, fifty new stories out of it, which is 10% of the participants, that's way more than we're getting now."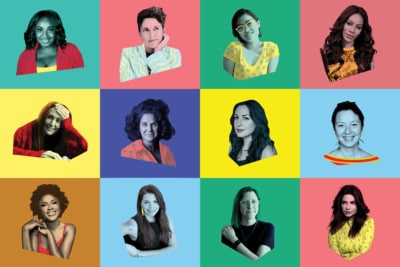 What maxine especially loves about #ShareHerJourney is how the community has come together to support it. "I'm really rallied by the donations, which have been anywhere from a twenty-five-cent top-up on somebody's film ticket, to a $25,000 commitment over the next five years. There's an access point for everyone, and it shows that our city—our community—is more interested in seeing and hearing about women, who represent more than 52% of the population."
Between controlling crowds at The Bloor in the late 1990s and launching a multimillion-dollar game-changing initiative, maxine gained a whole lot of experience. When I asked her about the highlights, she listed off several major TIFF events, including the takeover of Yonge-Dundas Square, which brought together legendary rapper Chuck D with seminal horror filmmaker George Romero (this instigated the Toronto Zombie Walk into full slow motion), along with fundraising for the TIFF Bell Lightbox Tower, and the inaugural takeover of King Street during the festival. "All those things I mentioned, everyone said [I] couldn't do them," said maxine. "It forced my ingenuity. It forced me to do a lot from a little bit of money. It forced me to think more creatively. I've learned to not take no for an answer."
While TIFF is now home to hundreds of employees, it started as a small group. maxine fondly remembers the pre-tech days, when the film schedule was arranged on a written board, and when you had to line up at the Box Office to get a ticket. "There was a joy I took from laminating passes. It was such a mindless job, but a necessary job. It made me feel really part of the festival."
A few weeks back, maxine left the building. After two decades of helping to grow TIFF to where it is today, she decided it was time for a change, to put her energy toward her own creative pursuits. Her energy, humour and tenacity will surely be missed. But the legacy she's helped to build is everlasting.
If anything, maxine believes TIFF has put Toronto on the map while helping to build the careers of filmmakers and arts administrators & programmers. Much of that growth has to do with maxine, who took pride in all the jobs along the way and envisioned what others thought wasn't possible. "I have a six-year-old granddaughter. I want her to have choices. I want her to see women in strong roles. I want her to have the role models I didn't have. It might not happen in my lifetime, but she will benefit from #ShareHerJourney." We all will.