A trip to the movies, the theatre, or even time spent watching TV gives people the chance to escape the daily grind. The viewer is given a brief opportunity to live vicariously through the story's characters. But sometimes the fantasy extends beyond the viewing. Occasionally you'll come across people who really want to emulate their favourite character in real life. There are the flamboyant types who dress in full regalia to attend the Rocky Horror Picture Show, or fans of the show who adorn the wildly popular Mad Men-inspired clothing line from Banana Republic. Most recently, people were seen sporting 1920s-era garb in conjunction with the release of The Great Gatsby. While some may consider this role-playing a little excessive; others see it as simply the inevitable result of a clever marketing campaign. Either way, it can't be denied that this tendency to want to mimic a character has an enduring appeal.
For a long time, my fictional heroine has been Holly Golightly (played by the inimitable Audrey Hepburn) from Breakfast at Tiffany's. To me, Holly's appeal was that she was so charismatic; she was as vulnerable as she was strong. And she was intelligent—a refreshing alternative to the vacuous blonde bombshells who ruled the box office at the time. Holly was given autonomy without being depicted as a shrew (as Hollywood was so prone to do in those days).
So when I was recently given the opportunity to visit New York, stay at a glamorous Park Avenue hotel, and attend the Broadway production of Breakfast at Tiffany's (which has since closed), it seemed like one of those opportunities to make life imitate art. I decided to turn a weekend in NYC into a personal (albeit loose) rendition of Breakfast at Tiffany's. And in those cases where the effect couldn't be achieved due to budgetary constraints…well, there was always window shopping. How fitting.
First, get a fabulous Little Black Dress. Before venturing out, ask yourself: WWHW? (What Would Holly Wear?) The now iconic image of Holly standing outside of Tiffany's, clad in her sleek black dress and shades with white pearls, was largely responsible for bringing the Little Black Dress to the forefront of fashion. So you can't do Breakfast at Tiffany's without that one item. And there is no shortage of places in New York to find a fabulous LBD. There are the higher-end boutiques such as Scoop that sell mainstream designers like Michael Kors and Marc Jacobs, both popular purveyors of the LBD; or there's Alice & Olivia which sells a wide range of fashionable cocktail dresses.
As for shoes, Holly was prone to wearing simple flats—but if you want to see a myriad of shoe styles just for fun, visit one of the city's nicer shoe salons at Saks Fifth Avenue (though be prepared for higher prices). And easy on the accessories—in this case, less is more.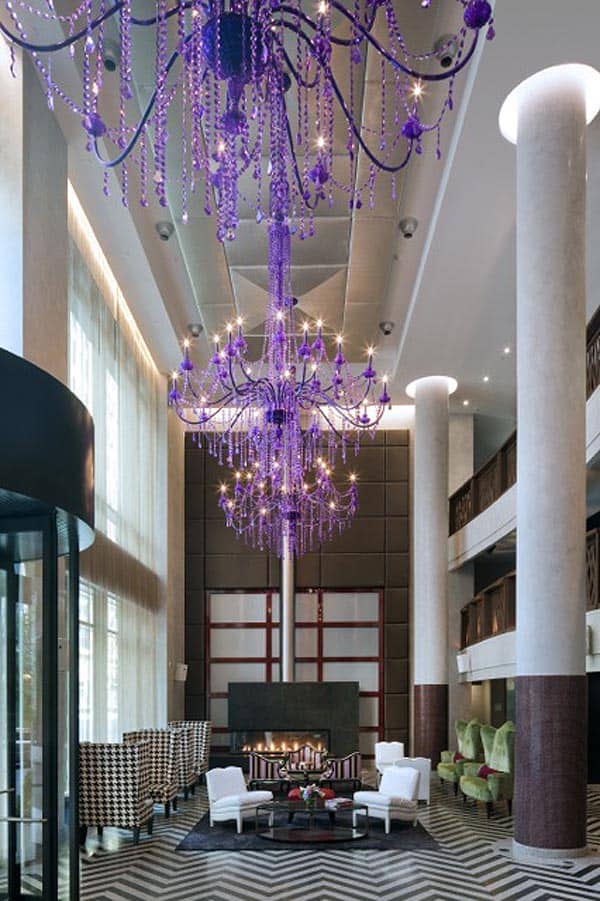 Be sure to stay at a fabulous hotel. While your outfits should be simple and elegant, your hotel can be ornate and over-the-top. My hotel, the exuberant Gansevoort Park Avenuelocated in Murray Hill, was remarkably evocative of the film's whimsical style. The spacious interior was decorated with some of the same pink and purple accents seen in Holly's apartment. The stylish three-storey lobby had herringbone granite floors, high back hounds-tooth chairs, and a triptych of purple chandeliers. In the impossibly large suite, there were floor-to-ceiling windows with Juliette balconies, peacock blue bedspreads, fuchsia velvet curtains, and retro photographs set against an otherwise neutral palette. The suites feature wall-mounted flat screens, plus a mini iPod and docking station: perfect for playing Henry Mancini's "Moon River" while you get dressed for your night out.
But unlike Holly, don't expect to host a rip-roaring shindig in your suite (the fine print in the Terms & Conditions stated that no more than four guests are allowed in the hotel room during your stay). No matter. Complimentary champagne is made available at the hotel's Ristorante Asellina. And in any case, there is already a party held almost every night courtesy of the Gansevoort Park's Rooftop Bar & Lounge, which offers a fantastic view of the city including the Empire State Building. This area features an indoor-outdoor pool, plush lounging sofas, and floating banquets filled with mini dance floors. With this layout, I could absolutely picture Holly's nemesis, Mag Wildwood, taking a big, fat spill into the pool and causing a scene.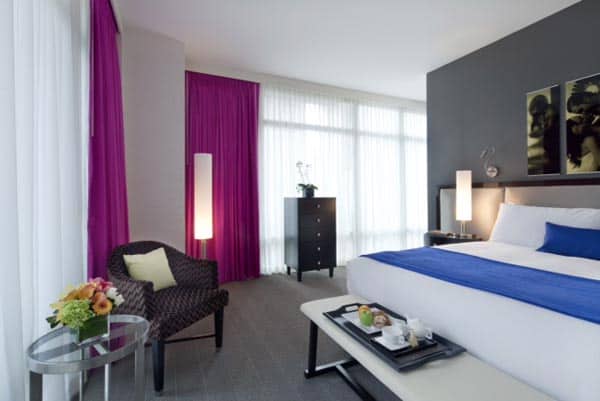 Drink at fabulous bars, dine at fabulous restaurants, and dance at fabulous clubs. If, like Holly, you are always on the lookout for new thrills, you can hit other popular drink spots and restaurants in Manhattan. In the movie, Holly's hangouts were (the now defunct) El Morocco and the Stork Club—but there is no shortage of buzzy places to wine and dine in the city. My friend and I happened upon the uber-cool Ace NYC, just down the street from the Gansevoort, which serves handcrafted cocktails in a lobby bar that also features an old-fashioned photo booth to document the revelry. For a taste of old school glamour, you can try dining at the legendary Sardi's in the theatre district, which has been around since 1927. Everyone who's anyone has eaten there.
Don't forget Tiffany. Before you go home, you'll need to make the obligatory stop at the Tiffany flagship store on Fifth Avenue. But don't linger too long or you may get so lost in the beauty that you miss your flight! And we all have to come back to reality at some point, darling.
Photo of Audrey Hepburn/Breakfast at Tiffany's © Turner Classic Movies