We told you last week but we'll tell you again: snap a #smoochselfie and share on Instagram, Twitter and Facebook and help CANFAR kiss HIV and AIDS goodbye!
Between now and February 15th, you can help CANFAR spread awareness, spark conversation and raise funds through the sexy, silly and fun #Kisses4CANFAR campaign.
Paint on the rouge (or in Becca's case, blue) and give us your best kissy face! Spread the love by posting on Twitter, FB or Instagram with the #Kisses4CANFAR hashtag.
RAISE MONEY, WIN PRIZES!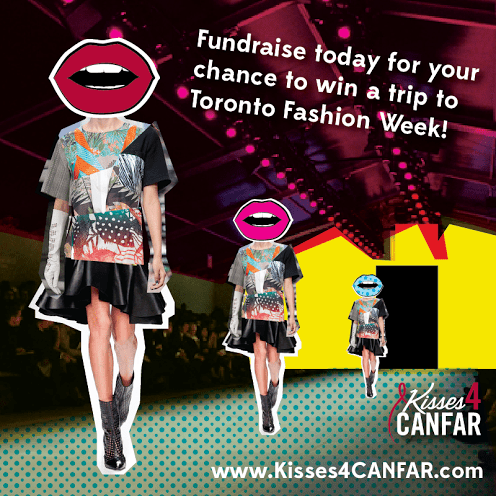 Get your friends and family to sponsor your campaign between now and Feb 15th, and you could win some seriously amazing prizes including a Samsung tablet. Urbanears Headphones, OR a trip for two to World Mastercard Fashion Week in Toronto, including flights, hotel and tickets to the shows! (Value of $1800!) See the #Kisses4Canfar website for full details.
The Facts on HIV and Aids
34 million people worldwide are living with HIV. That's the equivalent to the entire population of Canada
Half of HIV-positive adults globally are women
One quarter of Canadians with HIV are not aware that they are infected
6 in 10 Canadians who have had multiple sex partners in last year did not use a condom the last time they had sexual intercourse
In 2009, 24% of reported cases of HIV were among youth (aged 15-29)
More info on the #Kisses4Canfar website.
xoxoxox and so many wet, red kisses,
Shedoesthecity