When Director Sergio Navarretta first told Shohreh Aghdashloo about The Cuban, over a casual conversation during TIFF, the Oscar-nominated actor immediately jumped on board. "He started telling me the story and I couldn't wait for him to finish!", she says excitedly. Without knowing all the details of the film, she was on board, telling him assuredly, "I will do it, no matter what."
The film shares the story of Mina (Ana Golja) who is beginning her career as a personal support worker and quickly forms a strong bond with elderly patient Luis Garcia (Louis Gossett Junior).
While Garcia's Alzheimers prevents him from having cohesive conversation, Mina pieces together clues from around his room and discovers that her patient—who cannot remember his own age—is a legendary Cuban jazz artist.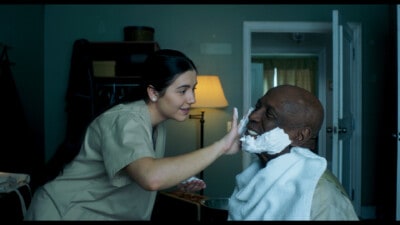 This realization thrills Mina for many reasons, but perhaps mostly because Cuban music reminds her of her own childhood in Afghanistan, where communist culture played a heavy influence in the years following the Soviet-Afghanistan war, and where she was first introduced to Cuban jazz by her beloved grandfather.
Inspired to learn more, Mina uses this newfound knowledge as a way to connect with Garcia. In her pursuit of trying to jog his memory with both music and Cuban food, she causes friction in the nursing home with senior staff, including her Aunt Bano, a role resplendently played by Aghdashloo.
Bano has helped raise Mina since she arrived in America as a child refugee. Unlike Mina, who is lively and free spirited, and who can barely remember the violence from her early childhood during US war in Afghanistan, Bano lived through many decades of upheaval, as a child and adult, while also continuously living with a secret: her closeted homosexuality. While daring and courageous in her own right, Bano is much more nervous to cause waves, understanding how grave life consequences can be.
Having seen the film before chatting with Aghdashloo, I could understand immediately why she jumped at the fascinating role; Bano is a multi-dimensional character with a complex history. But there were deeper personal reasons too.
Similar to Bano, Aghdashloo fled her motherland for a better life, "We have a lot in common we're both courageous people who left our countries behind in order to educate ourselves even more and live a happy life. We share this." But the number one reason she was so quick to say yes was because Alzeimer's is something Aghdashloo knows a lot about—her father died from it. Like Garcia, in his final months, music became a vital way for her father to connect with his past. She understands its powerful effects on the memory and mind.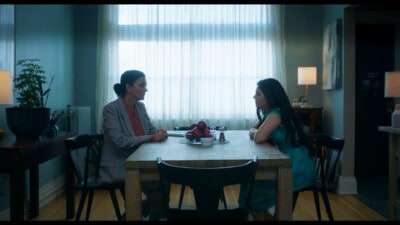 "I have a brother who is in love with Persian music and he would put music on and dance. When my brother started doing that, all of a sudden our father came to life and started calling us by our name. Our father was back to life!," she recounts one of their last times together. "It was incredible."
For Aghdashloo, it was the sound of Persian music that put a smile on her father's face, allowing him to recall moments of his life, and the people in it. For Garcia, it was Mina playing him Cuban music that took him far from the dimly lit room in his nursing home to the lively streets of Havana.
"When we aren't in a good position, mentally or physically, we fixate on bad ideas or bad memories," says Aghdashloo, who believes that The Cuban will help families and institutions understand the power of music and food when it comes to memory, and comfort. "I would love to be a spokesperson for this project, because I think it could help so many people who are taking care of their patients."
Elderly care (or lack thereof) has received a lot of attention since the COVID outbreak in Canada in early March. Now, more than ever, we're reconsidering the role of nursing homes, and how to properly care for our most vulnerable senior citizens. "A lot of our nursing homes are still using models from the early 1900s, where if the patient isn't sleeping, we give them pills to sleep. The more we learn about how to deal with mental illnesses, we are are to make it so much better for the person, but also for ourselves!" says Aghdashloo. An easy way she suggests we start is to give people the food they know and love, and play them the music that makes them happy.
The Cuban is a true gem of a film that is tender, relatable, and full of feeling. It's also a beautifully diverse cast, and a terrific conversation starter for numerous timely societal issues. Go see it this month….at the drive-in!
The Cuban Drive-in theatrical summer tour begins July 28th with cast & crew in attendance at the 5 Drive-In in Oakville, 9:20 PM. Additional dates currently confirmed include the Newmarket Drive In on Aug 5th, the Sunset Barrie Drive In on Aug 11th, and Starlite Drive-In Stoney Creek Drive In on Aug 19th.