Supporting small businesses just got a lot easier with Shop a Local: a new digital marketplace where you shop products from Canadian makers, creators, and indie boutiques.
It definitely helps Canadians discover small businesses they may otherwise not be familiar with, but it also helps small shops get the online presence they need to succeed. From marketplace searches, to social to trending items and special events, products are served up to shoppers in multiple ways, increasing the likelihood of sales. With COVID restrictions on movement, and now lockdown, online sales for small businesses are more crucial than ever if they are to succeed.
Founder Sarah Jezek knows that independent boutiques are what bring vibrancy to our streets, and she's committed to helping them not only survive this pandemic, but thrive beyond it. "I started Shop a Local because I wanted to support local businesses through the best way I know how: marketing. But I wanted to do more than just assist one business at a time," she says, "I wanted a way to scale my support."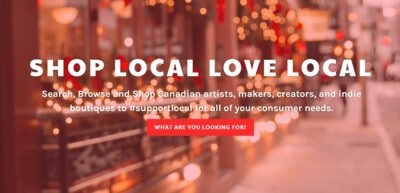 To encourage shoppers to continue supporting local, Shop a Local is kicking off their #12daysofLoveLocal initiative, or 12 days of beautiful giveaways. You can enter on their Instagram feed, and if you join their rewards program, you can also enter for a chance to win the 13th giveaway (trust us, it's good).
"We want to make shopping local just as easy and convenient as it is to shop the 'other guys.' While at the same time, raising the bar for the digital shopping experience in the era of intentional shopping." We're all about it.
If you're looking for unique gifts for your loved ones, browse the Shop a Local marketplace. If you're a local business looking to grow your online exposure, you should connect with Sarah and team. They know how challenging it is right now, and want to see you do well.