Kelsey Irvine is an Oscar-nominated Toronto filmmaker and in the early days of the pandemic, she (like many) was fascinated with how quickly strangers—from across Canada—came together to help fulfill the dire need of PPE for frontline workers. United and determined, they called themselves "The Sewing Army".
The love, selflessness, and spirit of this group, has helped save countless lives; they embody what it means to truly come together. Watching their story, and how it fit within the larger story of Canada's battle with COVID-19, is what compelled Irvine to make a short film, and what she's created accurately captures their collective efforts in stunning cinematic quality.
Driven by emotion and resolute with their mission, the complexity of feelings from this intense period of time are carefully reflected in every cut, stitch, and frame of this film. It's a beautiful piece of art that will help tell the story of this challenging chapter to the children who are living through it, and future generations to come.
Stirred by The Sewing Army we connected with Vine to find out more about the project.
We've all been moved by how Canadians have come together, but what specifically motivated you to make this short film?
This short film was created to celebrate the over 3,500 volunteers who make up The Sewing Army. Capturing the selfless work they've been doing since the beginning of the Covid-19 Pandemic. The intention was to capture the energy, grit, and love that emanates from these selfless volunteers who have been working from their homes night and day to sew, deliver and donate the much needed PPE to front line and essential workers. The film was shot using physical distancing which was difficult however it was too important to ensure we captured this significant moment in time and so we leveraged our creative thinking to ensure it was still a beautiful piece regardless of the obstacles.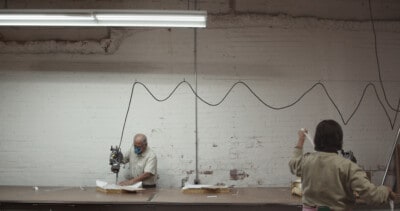 How did working on this project make you feel?
Honoured, inspired and grateful—but I did not make this film on my own. It was a village of some of the most talented videographers, editors, designers, colourists and producers who helped make this into the beautiful story it is.
Opportunities to tell a story of meaning with complete creative freedom don't happen everyday. It was a lot of work, yes, however the meaning behind the work made it joyful. I think that's why so many talented individuals volunteered their professional time to make this piece so stunning. They felt they were contributing to an incredible cause during an uncertain moment in time. It gave us all hope.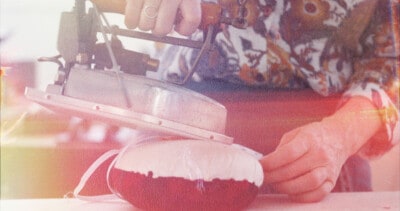 What's one thing that you learned while doing this that blew you away?
Over the course of filming this project the over 3,500 volunteers in The Sewing Army in less than 3 months collectively produced over 85,000 masks, scrub caps and gowns for front line and essential workers. This blew me away! It taught me that in moments of extreme struggle, if we band together for the greater good and choose love over fear – anything is possible.
The Sewing Army is a Skin and Bones production; the short film required its own small army that includes a very talented group from the Canadian film and television industry…