When Jennifer Robertson got a call from her agent asking if she wanted to be in a Christmas rom-com, her first response was "meh." But when her agent reframed the question and asked, "Do you want to be in a gay Christmas rom-com?" Jennifer was quick to switch to a resounding "YES."
"We have enough hetero rom-coms! We have like six billion of them—we're good," the Vancouver actor and writer tells me. "We need to start showing all the love in the world that exists."
After playing Jocelyn Schitt for all five seasons of Schitt's Creek, Robertson knows the impact that TV and film can have, when queer love is celebrated. Like all of the cast members of Schitt's Creek, Jennifer is frequently stopped by people, in the grocery store or on the street, who share stories of how Schitt's Creek changed their lives.
"People stop me all the time and sometimes burst into tears. 'My parents watched this and I felt more comfortable coming out to my family,' they'll tell me. To be part of those types of projects has changed me as a person, and you can't always be a part of those things," says Jennifer, but she saw some of that magic in Single All The Way.
The film is the first gay Christmas film for Netflix, which is available to watch in approximately 260 countries. While long overdue, it doesn't diminish the power it has to reach individuals and families, who've waited a long time to see themselves included and reflected on screen in this way.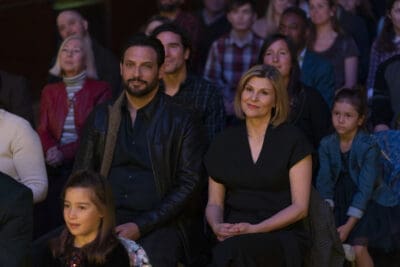 Written by Chad Hodge and directed by Michael Mayer, Single All The Way tells the story of Peter (Michael Urie), who is desperate to avoid his family's judgment about his perpetual single status. He convinces his best friend Nick (Philemon Chambers) to join him for the holidays and pretend that they're now in a relationship. But when Peter's mother (Kathy Najimy) sets him up on a blind date with her handsome trainer James (Luke Macfarlane)— the plan goes awry.
The cast of characters will be relatable to many, as will the plot. Every family has certain stress points during the holidays, bizarre traditions (that inevitably cause conflict), and storylines that repeat themselves, year after year.
"My family never tried to set me up with anyone. My family was always more horrified by who I brought home," Jennifer laughs. In Single All The Way, she plays Lisa, Peter's doting sister, who becomes part of the family scheme to bring him closer to Nick.
Shot in Montreal, Jennifer shares how the cast settled into a lovely house outside of the city, and how life on set felt very similar to a real Christmas, when everyone returns home, watches old movies, and lives on top of one another (although on set, they were careful to stay six feet apart, and wore masks and plastic shields).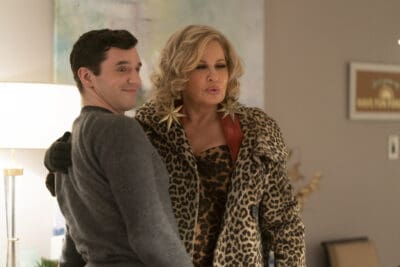 With an all-star cast, that also includes Jennifer Coolidge as a very memorable Aunt Sandy, Single All The Way is a charming, funny, and sweet film, with an endearing love story, and lots of hilarious and relatable holiday drama. It's delightful and happy escapism, and so much more than that.