Nilou Gabbay is the founder of Sinkboss, a space-saving portable sink for washing & drying baby bottles, kitchenware, and camping items in limited spaces or away from home. It's compact, innovative and great for families on the go, especially when it comes to travel.
We asked Nilou about how she came to be an inventor and what she's learned along the way.
SDTC: How did you get the idea for Sinkboss?
NG: The Portable Washing and Drying Apparatus (a.k.a. Sinkboss) is the first item that I've ever invented. As a mom and a physician assistant, I have always been interested in keeping my kids healthy and making sure that the items used to feed them are clean. I have always found it to be problematic to wash and dry baby bottles and breast pump supplies directly in hotel bathroom sinks while on vacation. It was frustrating for me to wash these items in hotel bathroom sinks because I had the knowledge that these sinks were generally contaminated with various harmful microorganisms. I also found it to be frustrating to have to lay all the various bottle parts out on a hand towel on the already cluttered counter space adjacent to the sink.
I had the idea for Sinkboss in March of 2015. We accompanied my husband to a medical conference at a hotel in San Diego. The bathroom was small with a pedestal sink and no counter space. I found myself washing the dozens of baby bottle and sippy cup parts in the bathroom sink. With no counter space available, I had no choice but to dry my items on the toilet. This was a big problem for me, and it was at that time that I had the idea for what is now known as Sinkboss.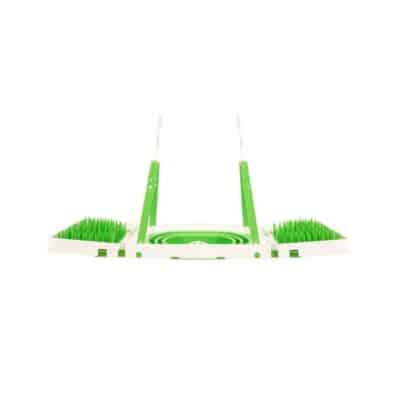 What were the challenges you faced in bringing your idea to market?
I faced many challenges. First, because my professional experience has always been in healthcare, I did not have any knowledge regarding any of the multiple steps needed. I overcame this by teaching myself everything. I would find people who knew more than I did and ask them lots of questions. Second, I had very limited funds. I overcame this by relying on myself for what other companies had teams of people to take care of. I made sure that everything was done as cost-effectively as possible. Third, I had to introduce a new category to the marketplace. This is difficult because consumers were accustomed to the status quo of washing baby items in contaminated sinks. I overcame this by instituting a lot of education.
What do you wish you'd known when you were first starting out as an entrepreneur?
I wish I would have known how much detail would be required in each and every step. It is crucial to stay a step ahead of each situation and anticipate potential outcomes before they happen. Business needs to be the priority.
Walk us through a typical day in your life.
A typical day in my life currently is very different than a typical day in my life when I was managing every detail of Sinkboss. Prior to licensing Sinkboss to Paradigm, a typical day would include waking up at 6 a.m., getting the kids ready for school, dropping them off, working on Sinkboss until about 4 p.m., and picking the kids up from school. From the time we get home until bedtime, I am cooking dinner, doing homework, and navigating through the various challenges of raising a family. As soon as the kids fall asleep, my husband and I have a little time to ourselves, and we generally fall asleep in front of the TV around 9:30 p.m.
Since licensing Sinkboss to Paradigm, family life is exactly the same. The big difference presents professionally as I'm getting ready to go back to work as a full-time physician assistant. While the kids are in school, I've been focusing on studying for my national board exam for which I just took the test for earlier this week.
How has being a mom shaped the type of business person you've become?
Business is based on communication, common sense, and multitasking. These are strengths that every mom shares.
What do you love the most about what you do?
I have been able to make a real difference for families with young children. I originally invented Sinkboss so families would no longer need to wash their infant's feeding supplies in contaminated hotel bathroom sinks. I was happy to see that the application expanded when working moms started using Sinkboss to sanitarily wash breast feeding supplies in community sinks in the workplace.
What has been the most fulfilling, however, is that Sinkboss has been life-changing for parents of special-needs children. This is because Sinkboss is ideal for sanitarily washing and drying medical supplies while both at home as well as during hospital stays.