If you walk through Garrison Common, part of the Fort York National Historic Site, you'll notice some curious new additions to the well-used strip of green that sits adjacent to the Gardiner Expressway. SKETCH Toronto's Queering Place installation is part of ArtworxTO: Toronto's Year of Public Art 2021 – 2022, which examines the complexities of place, reclaiming different spaces in Toronto as a form of resistance.
Queering Place explores the question, "What does it mean to make a place queer?" Through community-engaged design, Queering Place animates and amplifies forgotten, suppressed or silenced environmental and social histories, while also acting as a warm and welcoming gathering space for queer, trans and 2Spirit young people.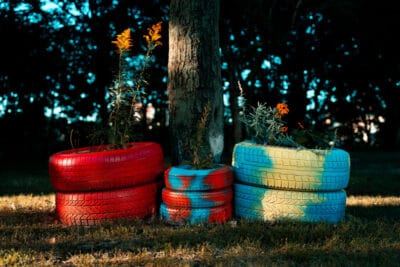 Old tires have been given a new life, with paint, plants, and declarations like "This is a queer place," scrawled for all park visitors to see. Each installation has a QR code, which allows anyone with a phone to access an audio file, which provides access to the sonic layer of the exhibit.
SKETCH artists were encouraged to create their own plant composition, choosing flowers and herbs that spoke to them. Tires destined for landfill are now spaces for reflection, as well as homes for a variety of vegetation including Gay Feather, Black-Eyed Susans, Echinacea, Joe Pye Weed, Heal-All, and other native species, creating a pollinator pathway.
"We want to invite people into a conceptual dialogue about how a physical space can be 'queered' through gestures visible and invisible, stories, plants, art, relationships and presence," says Naty Tremblay, the creative lead for Queering Place. But the exhibit is more than the art and stories that now populate the park, or as Naty shares, "A lot of the 'queering' of place has been us coming together and holding circle in this space, which has been really beautiful."
"Queering Place lives both in the roots of the plants that make and have made their home there, and also in the spaces left between ever-present unanswered questions," says SKETCH Artist-In-Residence, Zephyr McKenna, who describes the project as a "constant unfurling."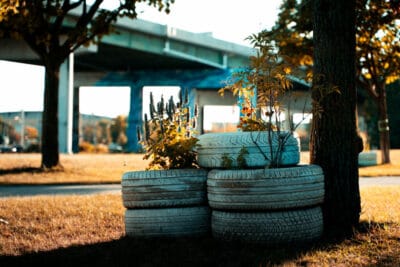 This coming weekend, SKETCH will be hosting three events in Garrison Common, as part of Queering Place, adding yet another dimension to the project. On Friday, Oct 22, stretch out on the grass for Queer Gathering & Storytelling; on Saturday, Oct 23, connect with other queer folks at the Friends of Queering Place: A Community Gathering; on Sunday, Oct 24, take a seat to enjoy A Queer Cabaret!
"Queer and Trans communities have long led community inclusion through arts and activism. This collaboration–with plants, the elements, and the nearby waters–offers visions and stories of connectivity, belonging, strong sense of self and the queerness necessary to thread communities and land together," says Phyllis Novak, SKETCH Co-founder and Artistic Director. "This is an eco-arts story critical to listen to deeply and attend."
Find out more about SKETCH here, and follow Queering Place on Instagram for announcements and updates.