Are you ready for a new era of cutting-edge modern circus? Gone are the rings and beasts of cirque's heyday. Instead, make way for magicians of the acrobatic arts, intricate sets and thought-provoking (not to mention HIGHLY RELEVANT) narratives. Choreographed and performed by Montreal's world-renowned Cirque Éloize, Cirkopolis takes the evolution of the circus to the next level, and it's cool AF.
Cirkopolis opens on everyday factory workers as they struggle to be more than faceless cogs amid the huge gears running the belching industrial machines. Unhappy in their monotony, one by one they begin to throw down their oppressive life and loosen their shackles.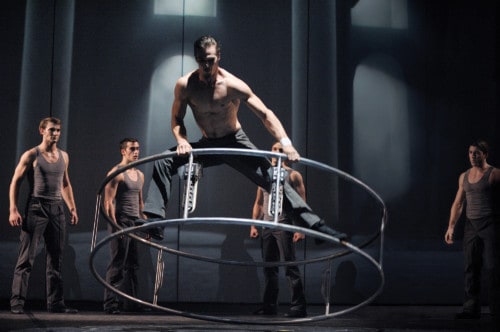 Bursting from the stuffy drudgery of factory life, Cirkopolis blows the lid off of the industrial era metropolis with a breathtaking (and totally unexpected) mix of stunts and drama. Drawing from the haunting German Expressionist classic Metropolis and its quirky modern cousin Brazil, this visual spectacle breaks down the walls between circus, dance and theatrical arts, and in the process, creates one of the most powerful shows you'll ever see.
Stunning HD projections bring us further into this intricate world as it comes to life with world-class dance theatre and explosive aerial stunts. From scrambling to the ceiling on a Chinese pole to the near vertigo of the whirling Cyr wheel – it is storytelling that's fast, funny and totally unforgettable.
But don't take our word for it, WATCH the trailer:
CONTEST!
We want you to have the most magical night out with dinner at Real Mo-Mo's followed by premium tickets to Cirque Éloize's Cirkopolis (that's a $350 value!).
There are THREE ways to enter for the chance to win:
On Twitter:
Tweet: "Hey @shedoesthecity, I deserve a date night! Please send me to dinner at @RealMoMos & a showing of Cirkopolis at @sonycentreto."
On Facebook:
LIKE + COMMENT on the Cirkopolis post in the SDTC FB group.
On Instagram:
LIKE + COMMENT on a still from Cirkopolis on SDTC's IG channel.
Winner will be announced on Feb 28th, 2017. 
Cirque Éloize's Cirkopolis runs at the Bluma Appel Theatre March 1-18, 2017, and is available for family viewing through the March Break. Tickets can be purchased here.