Sook-Yin Lee met Dylan Gamble at Handlebar's Karaoke Night in November, 2019. "There was this beautiful man singing Kate Bush," she says, describing her first impression of Dylan, a keyboardist of local indie band, Hot Garbage. "Some people you just feel when you see them; there's a resonation." They hit it off, stayed in touch, and when COVID struck in March Sook-Yin asked Dylan if he wanted to lock down with her. He moved into her tiny Kensington Market rowhouse and they began making Death and Sickness.
"Dylan arrived with two synthesizers and a small bag of belongings, and two days later I said, 'Can you arrive at my house again, and I will shoot you this time.'" Sook-Yin says with a laugh. That's pretty much how things got rolling. The duo continued to dramatize the various real-life experiences they shared during lockdown: a broken fridge, the first time trying to figure out a face covering (before every retailer was selling a collection of non-medical face masks), the intense feeling of bagging vegetables at the grocer in those early COVID days, and so many other bizarre and poignant moments.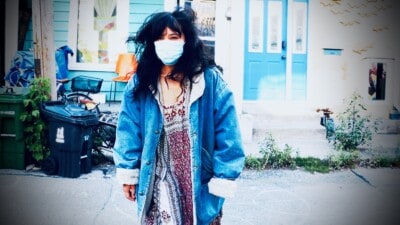 The plotline of two relative strangers deciding to shack up during a pandemic is interesting enough material as it is, but Death and Sickness is also about exploring grief.
In 2019, Sook-Yin lost her life partner of 12 years, Adam Litovitz, who died by suicide after years of battling depression. "I had been ruminating on many things since Adam's death and I knew that they would find themselves in art, as they always do." Sook-Yin admits that the past two years have certainly been her hardest, and that by comparison the news of the pandemic and the living of life under the threat of COVID felt almost easy.
There are definitely serious moments in Death and Sickness where Sook-Yin reflects on the painful loss of Adam and dealing with his absence day in and day out, but her playful sense of humour remains ever-present. As a storyteller, she has always been admired for the dichotomy of her intellectual interpretations and her wackiness. The winning combo is what made her an all-time favourite VJ at MuchMusic, but the duality has also been a notable feature in Sook-Yin's art (her first film was about her experience walking the streets of Vancouver dressed as a 10-foot egg noodle, but also about growing up as a second-generation Chinese kid in a predominantly white suburb).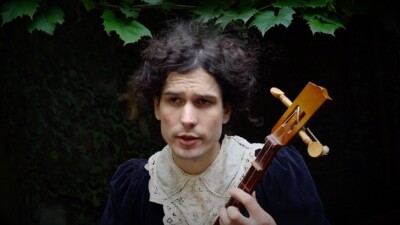 I have always enjoyed the way Sook-Yin's eccentricities translate into her work, but what's captivating with Death and Sickness is how well her weirdness riffs with Dylan's absurd and amiable nature. Yes, they are acting, but their chemistry is genuine and beautiful (it's obvious they had a lot of fun making the film!). Their take on pandemic life is fascinating and makes for great kooky entertainment, but their real story is just as interesting.
Within the first hour of that karaoke night, it was apparent that the two had a creative synergy, but Sook-Yin realized it was much more than that: "We were both going through big transitional phases in our lives, struggling with large challenges and quickly became each other's support. I was inspired by Dylan. Making this film helped articulate very strange days; very amorphous days. Art has, several times in my life, saved my life."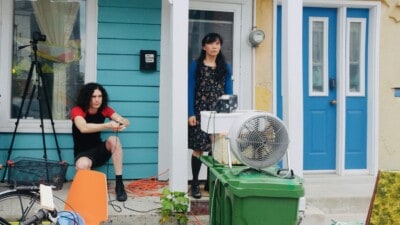 Death and Sickness is now available to watch on CBC Gem.