On Saturday May 13th, Toronto's Parkdale neighbourhood is hosting the Parkdale Spring Festival. Walk the West Queen West strip from Dufferin to Roncesvalles, and enjoy outdoor shopping, Kids Zone (including a pirate ship!), Mobile Skate Part, Parkdale Flea, Toronto Designers Market Pop-Up Patio, Cycling Zone with free tune-ups, Crown Flora Mother's Day Flower Market, Foodora Night Market, and MORE!
In anticipation, we're interviewing some of the local shopkeepers and restaurant owners who are integral to building this strong and colourful neighbourhood that we're proud to call home.
Meet local photographer and artist Becca Gilgan. Swing by her photo booth this Saturday!
SDTC: Can you remember when you first discovered Parkdale? What was your impression?
BG: I was first introduced to Parkdale when I moved downtown in 2008 and I was nineteen years old. My brother and sister took me to Mitzy's Sister for brunch, which I loved. The neighbourhood was very different back then but over the next few years I would visit Parkdale to admire the collection of design goods at Studio Brilliantine and of course enjoy the occasional dance party at Wrongbar!
Why did you decide to open your business here and what do you love most about the neighbourhood?
My boyfriend Eugen lived in Parkdale when we started dating in 2011, so I was so excited to be able to spend more time in this curious neighbourhood. The craziest part was that his apartment was on the same street that my grandpa grew up on decades ago (I like to think that it was meant to be!).
I moved in with Eugen in 2014 and we got our studio space in 2015, which really helped solidify our place in the neighbourhood and we quickly began to make connections with those around us.
My favourite thing about Parkdale is how easy it is to connect with the business owners here, like Joel at Community 54, Sophie and Bobby at Kitten and the Bear, Meg Anna at the Parkdale BIA, and the awesome team at The Tempered Room! We're like a little family over here!
How are you celebrating the Parkdale Spring Festival? What offerings will you have?
I'm running the photo booth at Spring Into Parkdale! Last year everyone had a blast dressing up in the hats, oversized glasses, and feather boas! There are so many great expressions in the photos and it's great to see residents young and old being silly and having fun.
Festival aside, what else is exciting right now? Do you have anything special that you are working on at the moment?
I'm a full-time photographer and love to shoot weddings, events, and families and creative content for other awesome businesses. I also run Worker Bee Supply with Eugen. We collaborate with independent artists to make inspirational prints that don't suck, and we make videos highlighting creative collaborations and events happening in the city. Check us out on Instagram (@workerbeesupply) and visit us at Toronto's best design and craft markets.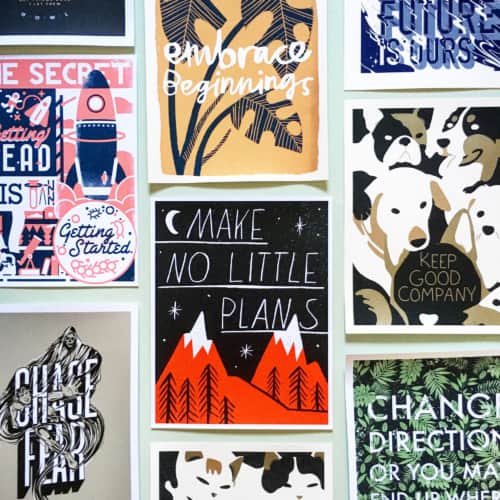 For people who've never visited your establishment, what's a quick way to share what you're all about?
I love connecting with people through either my photography or through a collaboration with Worker Bee! If you're looking to spruce up your walls with a some new art or ever need an event covered or a fresh head shot, we can pretty much provide all those things and more.
What about this season do you love most?
Springtime for me means spending more time outside and the prospect of wearing of shorts and t-shirts while feeling the sun on my skin. Also the all-important transition from a hot Americano to an iced latte and eating as much ice cream as possible!