If you walk around a certain corner at Stackt Market this July, you might end up in a North Korean living room. The People's Museum of North Korea is a new immersive art exhibit inviting you to learn about the realities of life in the world's most isolated and secretive country.
Curated by North Korean refugee artists, the museum features everyday objects that are deemed illegal under the country's strict dictatorship, shedding light on how citizens smuggle in the items and use them to access banned information and media.
The pop-up exhibit sits in the heart of Stackt Market. Greeting you when you enter is a series of brightly coloured frames outlining just some of the country's strict laws, including "No mullets allowed", "All skinny jeans will be confiscated and destroyed" and "Women are not permitted to ride motorcycles." And of course, "No one is allowed to leave the country."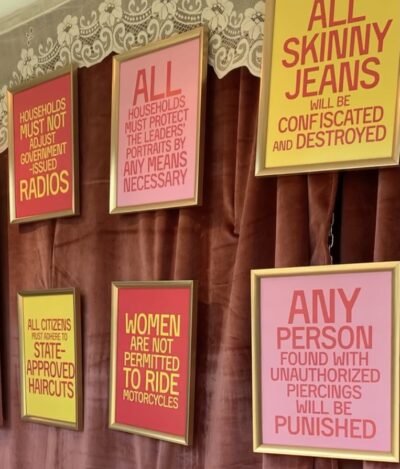 If you walk inside, you'll find the layout of a typical North Korean home. The TV cuts in and out for inspections of DVD content. USBs are smuggled in through rice cookers, and portable media players are used to consume any illegal media. Informational cards explain the lengths people must go to in order to obtain and conceal these everyday objects, and share stories from North Korean refugees, offering a glimpse into what daily life in the country is really like.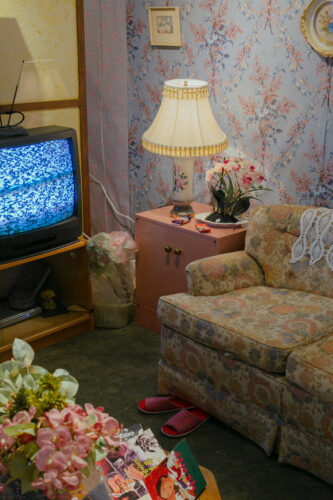 The exhibit is run by HanVoice, a Canadian organization focused on improving human rights in North Korea. In October 2021, they made history by launching a pilot program that allows Canadians to privately sponsor North Korean refugees.
With this exhibit, HanVoice is aiming to shift the way that Canadian audiences think about North Korea. When most people imagine North Korea, they think of the country's leader. The stories of the people who live there, and their resilience and fortitude under a harsh dictatorship, aren't as widely shared.
"This museum is a tribute to the North Korean people, they are constantly evolving, defying a dictator to consume and share smuggled information at unprecedented levels. We hope to inform visitors about the realities of life in North Korea while inspiring them to imagine a new North Korea: made in the image of its people, not its leader," said Sean Chung, Executive Director of HanVoice.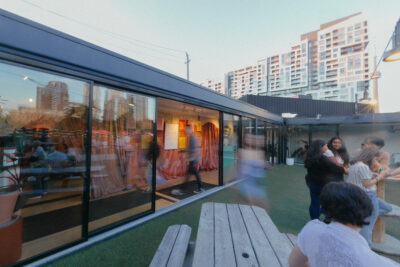 Admission to the exhibit is free, but HanVoice is accepting donations to their private sponsorship program that will help resettle North Korean refugees in Canada.
Visit The People's Museum of North Korea at Stackt Market until July 22. Tickets are available here.