We love Jane's Walk, and while we miss shuffling through alleys with hoards of strangers, this year's event offers lots of new opportunities to explore Toronto, and beyond.
For those who aren't aware: Jane's Walk is a citizen-led walking festival inspired by writer and community activist Jane Jacobs. This Toronto legend has provided inspiration to many city builders over the years, and Jane's Walk is a global event that honours her work and philosophies.
Participating in a Jane's Walk can allow you to explore new areas in your city, support local businesses and experience new community stories.
This year, you can participate in Jane's Walks locally, through live-streamed walks, self guided walks, and even 3D walking tours! In addition to this, you can explore new parts of the world, with Jane's Walk Global. Coooooooool.
Here are some Jane's Walk walks that we're super curious about…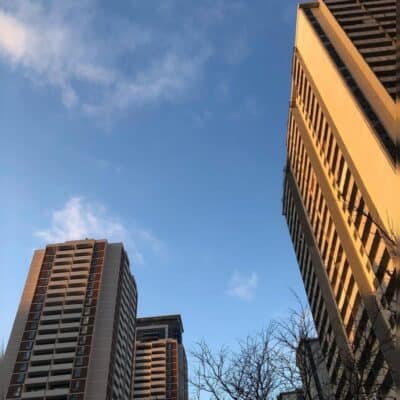 The Unequal Urban: Exploring Health Equity and Public Space Across Two Toronto Neighbourhoods, Rosedale-Moore Park and St. James Town
This self-guided audio tour led by Nadha Hassen delves into the links between public health and public space by exploring two neighbourhoods in Toronto, starting at the edge of Rosedale-Moore Park and making the way to St. James Town.
Toronto is divided along racial and income lines, and COVID-19 has highlighted these disparities. If you choose to take this walk, you will explore a range of built environment features and public amenities such as green spaces, streets, active transportation and housing. You'll listen to audio clips discussing the social and structural determinants of health that cause physical and mental health inequities, and the need for an equity-focused approach to the built environment. You'll be asked reflective questions that will prompt you to think critically about issues concerning public health and public space as the pandemic rages on. This walk will encourage you to look at what kinds of spaces we want beyond COVID-19, in the wake of calls for racial justice and health equity.
Path of Least Resistance – Following the Flow of Water Through High Park
On this livestream Jane's Walk, led by Jenny Davis and Kiera Day, you're invited to travel like water. Water follows the path of least resistance – always moving from high elevation to low, weaving around obstacles and shaping land. Follow the flow of any river and it will lead you to a lake or ocean.
You'll start at a high point just outside of High Park, follow Wendigo Creek down to Grenadier Pond and end where the pond makes its way to Lake Ontario.
This walking conversation will flow around archival photos and space for participants to reflect and connect. A wonderful way to explore the nature of the city, and reconnect with your body and breath. This community walk is being live streamed from 7-8PM, Friday May 7th.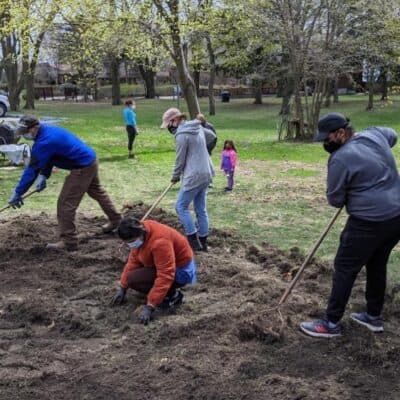 Food is a Right – Walk n' Talk with Feed Scarborough
Feed Scarborough is a charity that supplies food and groceries to low income families in Toronto. What started as a handful of friends delivering groceries to neighbours-in-need, has grown into an operation serving over 1,000 families per week with the help of over 100 volunteers.
This walk will allow you to explore window displays at the Free Community Grocery Store and enjoy the lakefront views at Feed Scarborough's Community Garden. Hopefully, you will walk away from this experience with an understanding of Food Insecurity, and what you can do to help!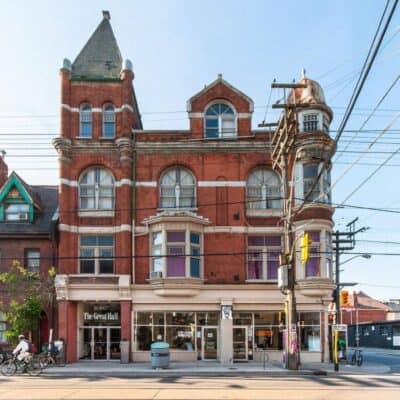 Queen Street and Riverside
Experience Queen East and Queen West! These walking tours led by Meg Marshall and Jennifer Lay will offer you insight into Queen Street's rich cultural community. With walking tour options for local cuisine, public art and history, you can support your local businesses and spend quality time getting to know secret parts of the strip
Virtually sip, savour, explore, and enjoy blasts from the past through these self-guided Queen Street Tours. Best of all, you can experience it all online, and then go check if out on the streets, when it's safe to do so.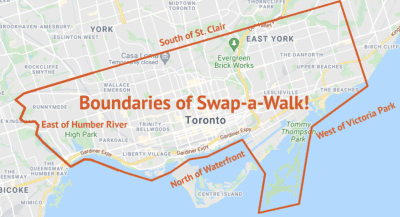 Interested in exploring your neighbourhood in a new way? Swap-A-Walk will allow you to exchange walking routes with a stranger in your area. You might discover special spots or neighbourhood features you've never explored before. You will be able to see your community through a stranger's eyes and share your perspective with someone new. A great way to get to know your neighbours in this digital age.
TRAVEL THE WORLD!
Who else is missing travel? Well, with Jane's Walk Global you can roam the streets of New York City, Chiclayo Peru, or London England, all from the comfort of your couch!
Jane's Walk is taking place May 7th-9th. See full lineup of programming here. And if you get the chance, definitely watch the powerful 2017 documentary Citizen Jane: Battle for the City. Watch the trailer here.