If you're like me, you've put "Clean the Closet" on your to-do list for the past week, hoping to make room for the perfect new summer look. As far as fashion is concerned, summer is a whimsical and even forgiving time, permitting daring looks without holding one accountable to any singular trend. Here are some looks from Vogue's "Top 20 Trends for Spring/Summer 2015" that I am dying to try, and a few I may have to pass on.
1. The Jumpsuit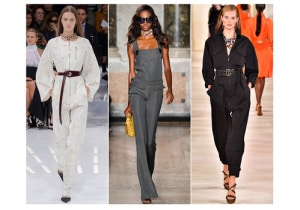 Get me one of those Ralph Lauren numbers stat! Inspired by industrious labour, it's no chore to slip into one of these ensembles. Even all your favourite department stores are following suit with ready-to-wear versions. These simple yet elegant pieces are extremely comfortable and stylish during the sultry summer heat. But accessorize well–with jewelry, a belt, or heels–or else the Jumpsuit will look less 'Tom Ford' and more 'Ford Plant.'
2. Romantic Lace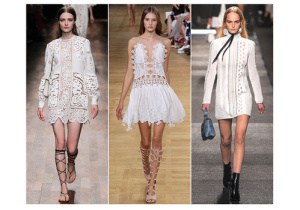 Lace has strutted off your grandma's coffee table and onto the runway this season. Lace is being offered up by all the best fashion houses this season–Valentino, Chloe, and Louis Vuitton–to give a flirty and feminine look. I particularly love Louis Vuitton's thigh-high dress with long sleeves. The beautifully ornate fabric gives a prim look with a touch of skin reveal, making it the perfect blend of sophistication and sexy allure.
3. Ballerina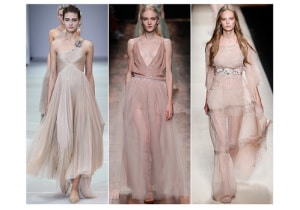 I used to be a ballerina, and let's just say, if I had gotten to look like this, I never would have switched to the drama club! I want that beautifully flowing, long tulle, Giorgio Armani dream-dress in my life immediately. According to Vogue, these are great pieces for red carpet events such as the Oscars, but if you're like me and, out of principle, consistently refuse your Oscar invite (no matter how desperately they beg), I suggest wearing a dress in this style to any one of those weddings you have to attend this summer. Not only will you be the height of Jane Austen-esque glamour, but you can be sure the guy who appreciates this look will be your Mr. Darcy.
4. UpTown Nights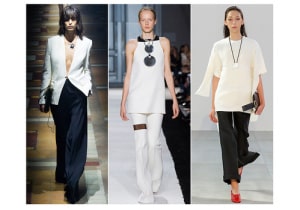 Forget Billy Joel, I'm swooning over that white tuxedo top and flowing navy trouser from Lanvin. The 1970s-inspired cuts give these pieces a playful androgyny. The long, sleek lines of the jacket paired against the flowing pant make this a sophisticated, stylish, and practical look. If I were wearing this outfit, I imagine the world would become my oyster; I'd exude the kind of high-powered female energy that provokes bartenders to give you one "on the house" or other fancy ladies to stop you in the street and ask, "Which way to the valet?"
I know I said summer was an adventurous fashion season, but I think the fun times would end abruptly if I were to don either of these styles….
The Kimono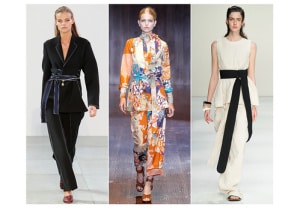 While I actually love the cream outfit from Marni with the oversized black belt and matching bangles, I feel that upon seeing me in this attire, men on the street would more likely direct me to the nearest dojo than ask me for a date.
The Mix & Match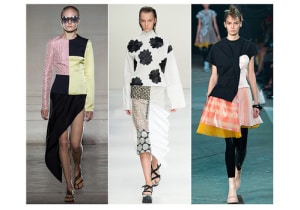 This season, many fashion houses are showcasing styles of mixed patchwork, colour, prints, and silhouettes. And while I happen to have a friend who would look great and not crazy in these pieces (mainly because she's stunning in spite of whatever she wears), I would fall into the latter description. If I were to sport one of these outfits, I think I would look something like an oversized toddler dragged across the arts & crafts table at daycare rather than one of these smokin' hot models in brave summer styles.
This summer, whatever your style may be (Vogue inspired or otherwise), let it be bold. Throw caution to the warm wind and dress fiercely in whatever makes you feel like the Fashionista Queen you dare to be!