Super Zee is an action-comedy web series created by Nathalie Younglai. It's about a queer Black superhero, played by Sedina Fiati, who swoops in to save her woman crush, played by Christina Song, from the microaggressions at the office.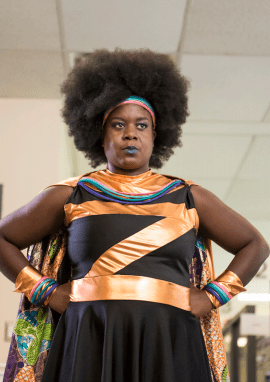 We chatted with Nathalie about how the series came together.
SDTC: How did the idea for Super Zee come about?
NY: I wanted to write a story that I craved seeing, where women of colour, especially dark-skinned Black women, are the hero of a feminist story. One that reflected my reality, where women of colour are the leads, not sidekicks. Super Zee is the hero I always wish I could be whenever I face a racist remark or other microaggressions. I also wanted to depict queer love between women of colour, since that is rarely seen on screen.
I wrote the role with Sedina Fiati in mind. Between her acting and her activism, she embodies Super Zee.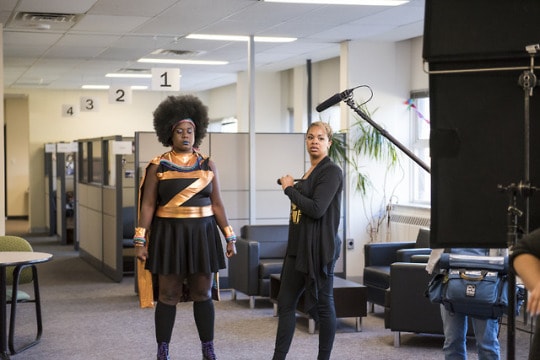 Were you always a fan of the comic-style superhero genre?
Wonder Woman (the original, Lynda Carter) was my favourite show as a young girl. I loved her kick-ass fighting skills, her bulletproof bracelets, and most of all, I had convinced myself that because since she had brown hair, she was closest to being Asian than any of the other superheroes, who were all white.
Lack of representation on screen had a huge impact on my childhood view of myself. I've taken that pain of exclusion and transformed it into action. Some of the comments on our trailer were from people who said they finally see themselves on screen–that drives us to keep going to make this series a reality.
What lies in store for Super Zee?
My co-producers Jay Vaidya, Farah Merani, Gillian Muller and I are so excited about Super Zee that we mapped out the first season! Super Zee takes on Islamophobia, mansplaining, people's xenophobia and lame-ass apologies, all against the backdrop of the growing love story between her and Sparkle. Even though the show is a comedy, we use the humour to counterbalance the pain and realness of the everyday injustices we have all faced.
What was the biggest challenge you faced in putting this together?
Of course…money! The eternal bane of independent filmmakers' existence. But what wasn't a big challenge was crewing up with an all-people-of-colour crew. We wanted to show that like the all-female crews, racial representation on set is just as important and can be done. In fact, over 80% of our crew were women of colour! Pass the feminist cookies, please.
What can audiences expect from this series?
A fresh take on issues that's authentic, funny and real. If you've ever wished you could fight back, had the right quip, or were empowered to speak up whenever you saw injustice, Super Zee is an aspirational series about how to deal with all that shit. Every episode, Super Zee takes on a different issue-of-the-week, but in a fun and funny way. #Woke t-shirts, anyone?