This Spring, Tangled Art + Disability is opening up a permanent space to showcase work by the best Canadian disability artists and advance accessible curatorial practices.
At TAG (Tangled Art Gallery), expect to engage with art that reshapes your understanding of disability, encounter disability artists who invigorate the art world, and interact with inclusive technologies that reimagine how we experience art. We're thrilled that this gallery is being established, and can't wait to experience what they have planned for 2016. We spoke with TAG's Artistic Director, Eliza Chandler, this week.
What are some exhibits we can look forward to experiencing at TAG this year?
The gallery opens with a major show of new work by Canadian artist Persimmon Blackbridge, Constructed Identities. This show uses small sculptural work to explore themes of disability, queerness, gender, violence, and pride. In July, melannie g. campbell's show Points of Origin will open, which using quilting and textile-based work to animate themes of disability and chronic illness as connected to diaspora, feelings of home and displacement, and Black Excellence. Following campbell's show, Gloria Swain's exhibit Mad House, highlights Black women's experience of mental health and trauma.
Why did you choose Persimmon Blackbridge's work for the inaugural exhibit?
Persimmon is one of the most important and talented Canadian artists practicing today. This exhibition is as visually and sensorially strong as it is insightful, exploring the multiplicity of disability experiences by creating small sculptural work using woods, metals, and found objects to explore how disability is clarified by race, gender, and sexuality. Persimmon is also dedicated to making her work completely accessible; she even created a whole new piece of art for the purpose of creating a piece of art that can be touched, which makes it accessible to blind and visually impaired audiences.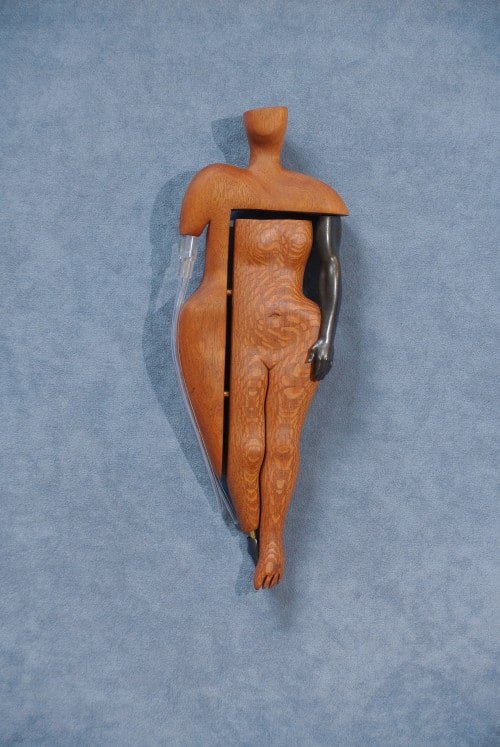 What accessible curatorial practices must be implemented in galleries ASAP?
Galleries should be thinking about how they can shift their curatorial and programming practices to include all audiences. Shifting practices can include anything from hanging artwork at a lower level to accommodate wheelchair-users, to having the artwork audio described and including 'touchable art' for blind and visually impaired folks, to having ASL interpreters an opening, artist talks etc, to including 'end times' on your event information so that folks can book their Wheel Trans rides, to making sure that all events are free and sliding-scale.
Can you describe what AODA compliance is, and how much more needs to be done in this regard?
All public buildings and transit must be made accessible by 2016 and all businesses must be made accessible by 2025. But one needs only to look at the TTC accessible stop map to see that we have a long way to go! In order for the AODA to become fully enacted, this legislation needs to have 'teeth'; the government needs to conduct regular audits to ensure that buildings, transit systems, and businesses are accessible and there needs to be an investment by the government to help small businesses and organizations to become accessible, the creation of a public fund that small businesses can access to become accessible, for example.
Fill in the blank: disability art is _______________.
Forging new ways of creating art, experiencing art, and understanding disability.
TAG is opening at 401 Richmond St. W. S-122. Opening Reception: Wednesday, May 4th, 2016 – 7:00-9:00 PM
Previews April 28-May 3, 2016, by appointment. TAG is free, accessible and open to the public. For more info, visit here.