If you're looking for a beautiful holiday tradition, with impressive dance and lots of community heart and soul, we highly recommend you grab your family some tickets for The Nutcracker performed by the young dancers of The Pia Bouman School for Ballet and Creative Movement.
Those who've attended before know well that this is the most family-friendly (and affordable!) way to experience Tchaikovsky's masterpiece, and of course, we love to support this dance studio, which has been fostering the talent and dreams of children and youth in the community since 1979.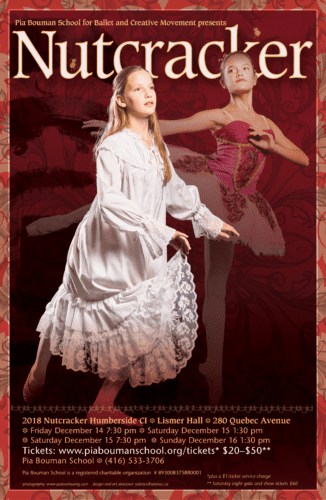 A magical production, and a wonderful way to introduce your littles to the world of dance, we've partnered with Pia Bouman to offer two pairs of tickets to the Saturday, December 15 production of The Nutcracker at The Humberside Collegiate auditorium, 7:30 p.m.
CONTEST
Enter to win tix to Pia Bouman's 33rd annual performance of The Nutcracker!
FACEBOOK + INSTAGRAM: LIKE + COMMENT on our Pia Bouman Nutcracker post.
TWITTER: Tweet, "Yes please @shedoesthecity! Make my child's sugarplum dreams come true with complimentary tix to the 33rd annual performance of #TheNutcracker at @PiaBoumanSchool"