We've been fans of Luna Matatas for a number of years, and have always admired her bold moves and vivacious personality. Beyond offering some of the most interesting workshops around Toronto, ranging from How To Have a Threesome to Strap-On Fundamentals, she also loves creating wearables that share cheeky messages with deep meaning.
Luna is one of the many extremely cool local vendors who will be participating in Come As You Are's annual Erotic Arts & Crafts Fair, a sex-positive feminist event that will surely leave you with new ideas to explore, going down this Saturday at The Gladstone Hotel.
SDTC: What was it that first inspired you to do the work you do?
LM: I had worked in sexual health from a disease reduction perspective for many years. One thing everyone had in common, whether it was in Kenya or Mississauga, was that they were seeking information on sex and pleasure. I started teaching pleasure workshops at a local sex-positive sex shop (Good for Her) in 2015.
My first workshop was Group Sex 101, and it was packed with people curious about how to pursue the fantasies they had. I was so inspired by the courage and curiosity that brought people to my workshop. Since then, I've been teaching workshops on how to have more pleasure and less shame.
What have been your biggest discoveries since you first launched?
Two big things have stood out for me since I started. One, if you create an inviting and judgement-free space for people to talk about pleasure, most people will welcome it in. We don't have enough sex-positive spaces to find quality and accessible information about pleasure and sexuality.
The second big discovery is how hard it is to get the word out about sex education. I can't advertise in the same way other services might because my content, though void of nudity, is often considered NSFW and is unwelcome on social media platforms. Advertising is tough when our content is suppressed or banned.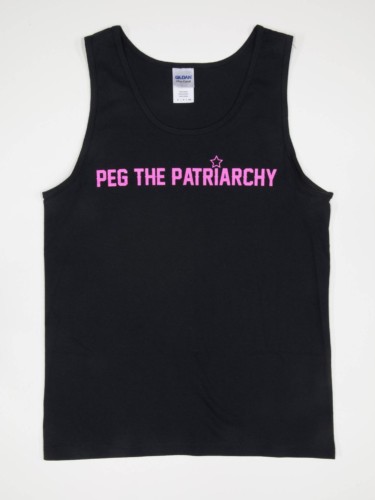 Beyond the workshops you lead, you also have made some things that you sell. What's your top seller? What are you excited to display at EACF?
I'm a huge craft slut! I love making things. I created "Peg the Patriarchy" a few years ago and I now sell it on T-shirts, tanks, totes and stickers. I also created "Fuck Like a Goddess" panties in sizes small to 4x, and I hand-make sparkly nipple pasties for anyone interested in glittering up their naked.
My self-pleasure positive brands are Polishing the Pearl, and super new is Meditate, Medicate and Masturbate. All my merchandise is up on my Etsy Shop, GlitterGiftsByLuna, but I'm super excited to display the pasties at EACF, because they are always such a great body-positive conversation starter!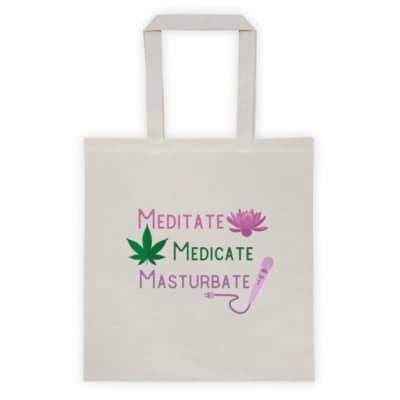 How would you describe your sexuality?
I'm very open-minded sexually. I'd describe myself as curious, playful and creative. I get off on connection, sensuality and sexual exploration. My kinks range from submissive to dominant, and my attraction is to many different kinds of people of all genders, though sexual likemindedness and body positivity is a panty-wetter for me for sure.
What's your idea of a really amazing date?
I love ambiance and deliciousness. My idea of a really amazing date would be a fresh market, like St. Lawrence Market. Shopping for dinner that my date will make me later that night. I think all the colours, tastes and fresh farm vibes are so stimulating and interesting, it would make for a playful background to get to know someone for the first time or again. Dinner would be served at home with sexy conversation about our fantasies, desires and experiences. And then I'd love to give them a massage after dinner. Touch is a huge way I love to connect and feel confident with someone.
How do you think one gains confidence with their sexuality?
Sexual confidence is not so much a feeling, but a mindset of unapologetically taking up erotic space in the way that makes you feel good, safe and respected. People tend to commonly feel unconfident around their bodies, their desires and their sexual performance. We get stuck in our heads. You can use your senses to bring you back into your body and out of the distractions in your head. For example, use eye contact, smelling your partner, slow and intentional touches on ignored erogenous zones, dirty talk and tasting their body.
Surrendering to our primal portals of pleasures can inspire a reminder of all the hot things that are going on in your body, despite not feeling sexy enough in your head.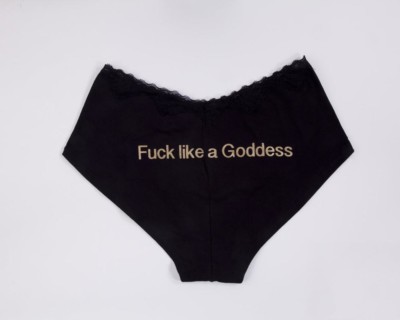 What's a Toronto space/place that holds great meaning for you? And why?
Kensington Market is a place where I feel completely myself, very free. I always get great inspiration there for costumes, I print my "Peg the Patriarchy" shirts locally from a shop there, attend live shows there, and I never have had a bad meal in the market!
What are you looking forward to most about the Erotic Arts & Crafts Fair this year?
I love meeting other Toronto local makers; the artistry and talent is incredible at this smartly curated market. It's awesome to be at a market where the makers all have an interest in social justice. I will be doing a lot of shopping for sure.
Anything else you want to share?
I'm really lucky to get to work with people on such a personal and vulnerable issue, like sexual pleasure. I'm still on my body and sexy skills journey too, so if you're thinking I could never be that bold or empowered sexually, it's totally possible. Be gentle with yourself wherever you're at. We learned sex negativity, so it's possible to unlearn it and create more space for pleasure.
Go say hi to Luna this Saturday, and meet a dozen or so other amazing local vendors. Whether you're feeling artsy, mischievous, horny or curious, there's lots to explore at this unique Toronto event (now in its twelfth year!), run by our favourite ethical feminist sex co-op at a very cozy and cool west-end hotel. So many reasons to visit!