Stray is the meta-memoir punk concert documenting Tanya Marquardt's experience as a teen runaway, BDSM model, and New York transplant. Each song careens you through all manner of Marquardt's experiences—her first attraction to a girl, her self-cutting, being underage in a BDSM bar, the time a teacher saved her from suicide—and how writing sustained her throughout.
We caught up with Marquardt to find out how her creativity and artistic expression have helped her survive, how an early intro to BDSM shaped her open-mindedness and empathy, and how a bologna sandwich forever altered the direction of her life. A rebel with a big heart, her journey is proof of her strength and resiliency, a powerful lesson that self-discovery can reveal itself in the most circuitous of ways.
We're incredibly excited to catch Stray at SummerWorks, and we hope this interview inspires you to check it out and look up Marquardt's memoir, which releases next month.
SDTC: Can you tell us about how Stray came to be? Why was it important for you to make?
TM: In addition to being a performance at SummerWorks, Stray is a book I started writing in 2010. I would often go into the studio and turn sections of the writing into theatrical material. I would then take that theatrical material back to my writing desk to write chapters of the memoir, creating a loop where one form was influencing the other.
Soon after, Tim Carlson (the AD of Theatre Conspiracy and co-presenter of Stray) and I were talking about how we might collaborate. At the time, I was in New York doing my MFA, and when I went home to Vancouver, Tim and I ended up having a meal together. We decided to get into the studio together to mess around and see what happened. The idea of using my stories to create songs and use punk as a narrative tool to make a show evolved. Eventually we added director Mallory Cattlet, drummer Ed Goodine, guitarist John Wood, scenographer Ilena Cramer, and dramaturg Brian Rogers.
You've been through a lot in your life, from runaway teen to someone who attempted suicide. Where are you at today?
I am an accumulation of everything that's ever happened to me and an echo of things that I think might happen to me in the future. In this way, I am no different than any other human being walking around on the planet. It just so happens that I've experienced what some might call acute trauma.
So I am a person who acknowledges all of the events of my life, including abuse, suicide attempts, PTSD, as well as deep friendships, love, family and nature. And whether I am in the process of making an art piece or am living my life, I have developed tools to deal with the fallout of that trauma.
How do you think you've survived?
Writing in my diaries—the feeling that words and language were an intimate and secret friend. Getting involved in my inner artistic life. Staying in school, even when I wasn't living at home or when my home situation was precarious. My teachers. Memorizing Shakespeare monologues. Chain-smoking cigarettes. Quitting smoking. Getting sober. Therapy. Finding love. Helping others.
I also think I was very lucky that at sixteen, I banded together with the people at my school who felt they were "outsiders," whether they were people of colour, closeted queer people (it was the early- to mid-nineties), goth kids, folks struggling with mental or emotional distress, or people who felt separate from the pre-conceived norms of Port Alberni, which is a small mill town on Vancouver Island. We were a chosen family supporting each other and allowing each other to be what we needed to be as we maneuvered our way towards adulthood. We were a pack of strays, and though I am not in touch with all of those friends anymore, it was a very special feeling of being held. I loved those friends deeply.
How has punk music helped you?
Working on the show with punk music as a source has been fun. It's helped me to remember all the great songs that I listened to when I was a teenager: Hole, Siouxsie and the Banshees, The Cure, KMFDM, Skinny Puppy. It's pretty revelatory to get up on stage to scream your stories into song while a band wails on drum kits and guitars. We all laugh and have a great time. It's very releasing. I highly recommend it.
What discovery have you made, personal or otherwise, since first creating this show?
Sometimes the answer to the deep questions of living is loud music and black eyeliner.
Can you share with us a moment in your life that forever altered your path for the better?
In Stray (the performance) I tell this story of when I was a sixteen-year-old runaway and a local drug dealer tried to seduce me by inviting me into his apartment for a fried bologna sandwich. When I went up to his apartment, he ended up giving me a poem. No one had ever given me a poem before.
Though I didn't know who wrote the poem until I was in my late twenties, it was this strange gift that turned me on to art making and writing. I had it written out on a piece of foolscap when I was a runaway, stuffed into the back pocket of my jeans. That poem transformed me and inspired me to move to New York City, where I completely changed my life and became a working artist. Words as alchemy. Go figure.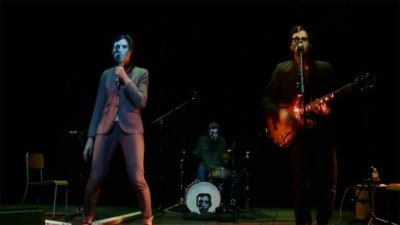 What's your advice to those struggling right now?
Be kind to yourself. Breathe. Seek help where you can.
Got any advice on what's good in NYC if we wanna tap into the BDSM scene?
I was part of the BDSM scene in Vancouver as a sixteen-year-old kid, so it was a complicated experience because I didn't always know what I was watching or getting involved in. It was the nineties and getting into clubs underage was easy, and I was really tall. I don't think the organizers had any idea I was underage.
Though those experiences definitely allowed me to witness sexuality and consent, and that empowered me, in the end it wasn't something I wanted to engage with publicly, so I don't go to play parties. What being in that scene helped me to see and feel was my queerness, my love for and attraction to folks along the gender spectrum, and my interest in queerness as an artistic tool.
Right now I belong to Ballez (a LQBTQI ballet ensemble run by Katy Pyle in New York), am making a new work called Some Must Watch While Some Must Sleep about my life as a sleeptalker, which was the inspiration for an episode of NPRs Invisibilia, and am taking in the fantastic work of queer artists in the city, including Becca Blackwell, Erin Markey, Miguel Gutierrez, Madison Krekel and so many others.
Anything else on your mind right now that you want to share with women in Toronto?
I'm looking forward to sharing the piece with you, and thanks for reading this interview.
Stray is running at The Theatre Centre–BMO Incubator (1115 Queen Street West)–as part of the SummerWorks Presentations programming. Show times are Friday, August 10 (9:00 p.m. – 10:00 p.m.) and Sunday, August 12 (6:00 p.m. – 7:00 p.m.) Get tickets here.