Terre Bleu Lavendar Farm is closing their harvest season with an event that looks positively dreamlike. The estate known for its lavender and sunflower crops, located in Campbellville (an hour's drive southwest of Toronto), has partnered with the National Ballet of Canada to invite dance lovers to experience an in-field pilates class followed by a sunset performance.
"We are thrilled to share the beauty of ballet amidst a backdrop of fragrant fields of lavender, partnering with Terre Bleu Lavender Farm on their Season Finale on September 10. Patrons can enjoy a glimpse into the life of a dancer with company class and a working rehearsal. Our dancers can't wait to perform live for an audience once again and are grateful to partner with Terre Bleu on this very special event," says Rebecca Hodge, Manager, Special Events & Corporate Partnerships The National Ballet of Canada.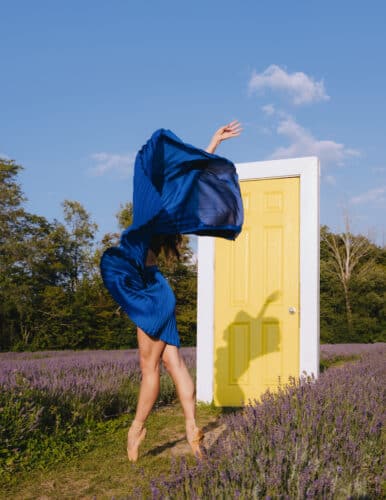 The event will feature a live, behind-the-scenes look at how the National Ballet's Apprentices warm-up and train, as well as a working rehearsal of two pieces of repertoire narrated by Christopher Stowell, The National Ballet of Canada's Associate Artistic Director.
In addition to the live performances, the afternoon will include a 45-minute pilates class taught by Kate Kernaghan, the Director of In Studio at The National Ballet of Canada and musical performances from a live string symphony accompanied by local bites and drinks.
If you're seeking something truly out of the ordinary to say farewell to summer, this immersive experience is sure to be a magical and memorable one.
This exquisite event will take place on Friday, September 10th, from 3:00 – 7:30PM. Tickets are $159-$199 and are very limited. Terre Bleu is located at 2501 25 Side Rd, Campbellville, ON L0P 1B0 For more information go here.