On May 12th & 13th, join Terroir (Canada's leading food service & hospitality symposium) for a tasty Collaborative Dinner Series at locations across the city. Toronto's top chefs are teaming up with exceptional international guests to treat you to everything from soft-serve ice cream to the flavours of wild Newfoundland to Taiwanese street food!
Here's what you can look forward to:
Tuesday May 12th: Big Gay Bingo at Lisa Marie (638 Queen St W)
Come celebrate the release of Big Gay Ice Cream's debut cookbook, Big Gay Ice Cream: Saucy Stories & Frozen Desserts, with a fun night of Big Gay Bingo! Join us at Lisa Marie from 6 p.m. as owners Douglas Quint and Bryan Petroff throw out the traditional trappings of a book signing event and replace it with a night of burgers, beer, ice cream, and bingo! New York City-based Big Gay Ice Cream is known for taking an inventive and playful approach to classic soft-serve ice cream. Tickets are $45 per person, which includes a signed copy of the book and tax (food and drink extra). Lisa Marie's full dinner menu, led by chef/owner Matt Basile, will be available, as will a plated dulce de leche and a complimentary treat created by Big Gay Ice Cream.
Tuesday May 12th: An Ode to Beef (grass-fed, of course) at The Saint (227 Ossington Ave)
Prepare for a carnivore's feast, Tuesday May 12th, as Toronto's Chef Jesse Vallins of The Saint Tavern teams up with British chef Richard H. Turner of London's The Hawksmoor. With special guest Matthew von Teichman from Grandview Farms in Thornbury, speaking about the importance of raising traditional cattle breeds and humane animal treatment, along with exclusive beef sourcing from Grandview Farms, this will be a totally immersive experience. Collaborating on this incredible dinner is the team from The Hawksmoor, a group passionate about bringing diners the world's best steak, and The Saint Tavern, Toronto's destination for North American classics.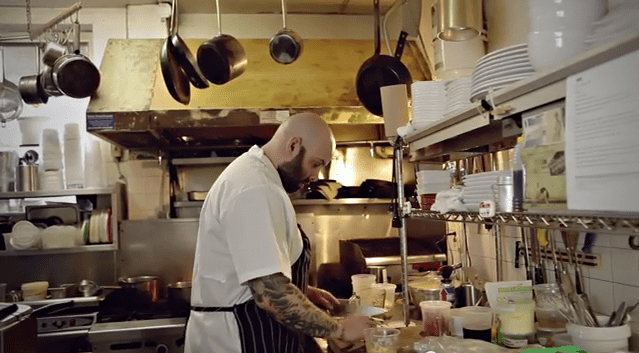 Tuesday May 12th: Rock Stars – A celebration of Newfoundland at Beast Restaurant (96 Tecumseth St)
Join us on a culinary exploration of Canada's fiercely independent province of Newfoundland and Labrador, without ever leaving Toronto. On Tuesday May 12th, a team of celebrated Newfoundland and Labrador chefs, from Chinched Bistro, Grates Cove Café, Bonavista Social Club and Five Brothers Cheese, will bring their fresh coastal flavours to Scott Vivian's restaurant, Beast. Taste the unique flavours of wild Newfoundland.
Wednesday May 13th: New Nordic Dinner at Actinolite (971 Ossington Ave)
Actinolite is known for its simple and paired-down courses, using only hyper-fresh ingredients, while Fiskebaren is a champion of serving and preparing the highest quality seafood sourced sustainable without harming the environment. The dinner will be a seven course tasting menu with a Nordic theme. The menu is an expression of the season and the Ontario landscape infused with Fiskebaren's specialty for preparing the best quality fish and shellfish. Ticket includes a wine pairing with a focus on biodynamic and natural wine.

Wednesday May 13th : (re)Discovering Flavor at Jump Restaurant (Commerce Court, 18 Wellington St W)
In a fresh and seasonal menu, Toronto's Jump will be joined by Jair Tellez of Mexico's MeroToro with writer and journalist Mark Schatzker who will explain the crucial and overlooked link between the flavor of the food we eat and health, the subject of his latest book, The Dorito Effect. Guests will taste a revolutionary, ultra-nutritious variety of lettuce along with a signed copy of Mark Schatzker's book.
Wednesday May 13th : Kanpai Snack Bar – Taiwanese Food – "Inspired by the Streets" at Kanpai Snack Bar  (252 Carlton Street – at Parliament)
Kanpai, translated as "bottoms up," is a common term when dining on xiaochi (small eats) in the bustling night markets of Taiwan. These sites and sounds are memories, inspirations and personal experiences, which will be the theme of this unique dinner experience. Kanpai Snack Bar resident chef/owners Ike Huang & Trevor Lui (La Brea Food) will play host with special guest collaborators Chef Nuit Regular (Pai, Sukho Thai & Sabai Sabai), and Chef Tawfik Shehata (The International Centre & Foodland Ontario) drawing creativity and inspiration from journeys eating and experimenting with various types of Asian street-style cuisine through the years. A celebratory evening of flavour, story-telling and celebration through food and drink. This 6-course tasting menu will be hosted by critically acclaimed New York City based food journalist, Jim Poris of Food Arts.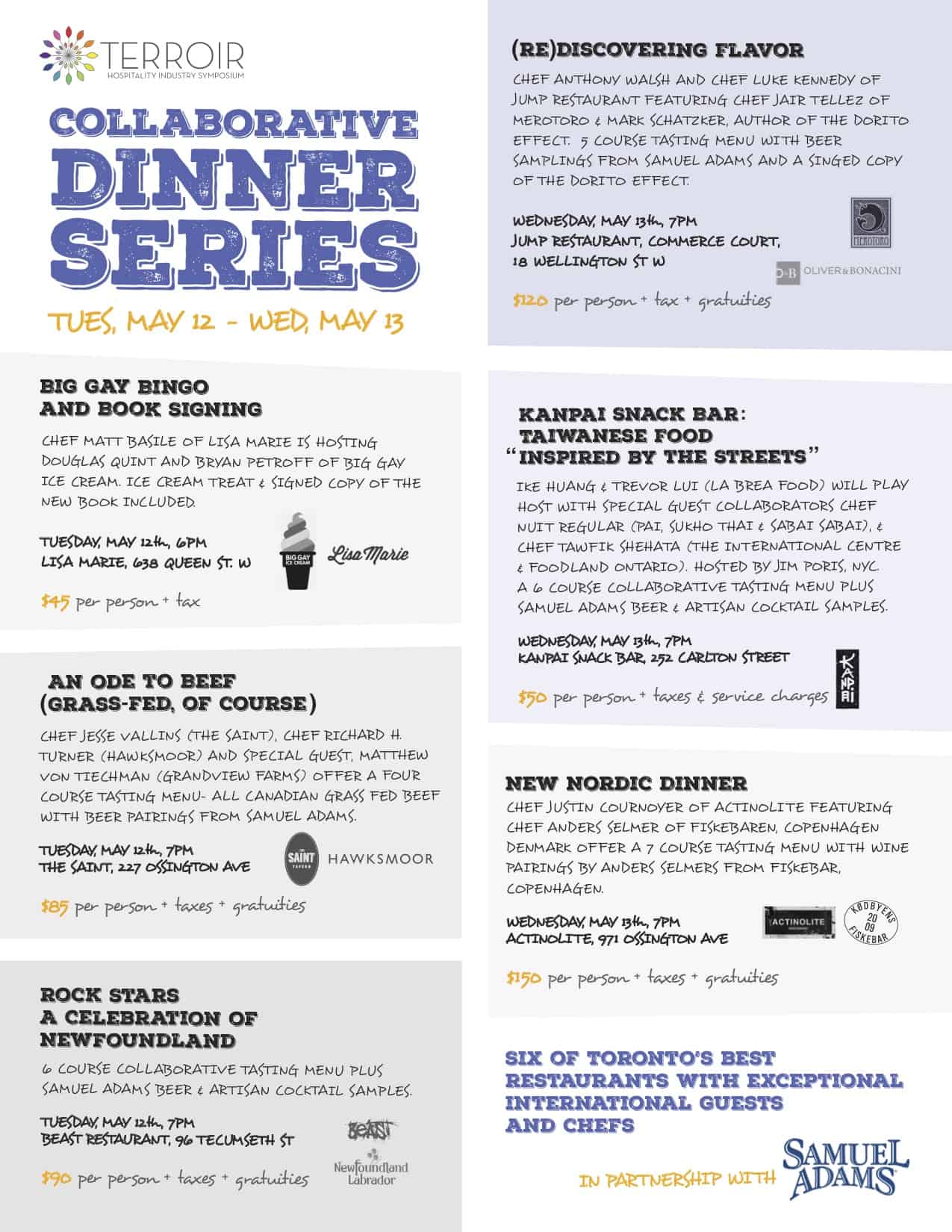 For more information & to buy your tickets, visit Terroir.