Now in its tenth year, The Artist Project returns February 23-26 to dazzle with artwork from over 250 contemporary Canadian and international artists. We picked a few of our favourites that you should keep your eye on.
Keight MacLean
SDTC: Tell us about yourself.
I'm a Toronto-based painter, born and raised in small-town Ontario, a graduate of OCAD University, and have spent a year studying in Italy. My art comes together as a mix of a love for art history, feminism and black paint. I also love wine, cats and tattoos.
Can you describe your process?
My process is very much based in experimentation and play. I usually start by copying a historical portrait of a woman that I'm interested in, and then I play with different mixed medias and painting techniques to complete the paintings. I love focusing on women from art history (Renaissance and Baroque mostly), because in many cases the paintings of them are all we have left of these women and we don't know much, if anything, about their individual lives. It was crappy being a woman in these times, so I love the idea that some of them can live on in a way in my paintings.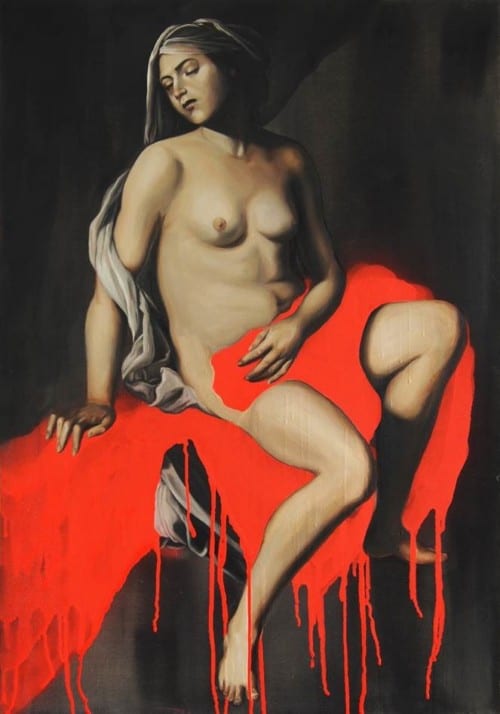 What/Who are your biggest influences?
I take inspiration from a lot of places, including historical and contemporary painters, as well as the paints and mediums I use. I love the works of Guido Reni and Carlo Dolce, but also draw a lot of inspiration from abstract artists like and Pierre Soulages, Kazuo Shiraga and Antoni Tàpies. All that said, my favourite contemporary painter is Nicola Samoria, who combines the old and the new in a beautiful way and has an amazing sense of experimentation with his media.
Art is _____________?
Inevitable.
Why were you drawn to painting?
Painting is something I found quite naturally. I spent much of my childhood drawing and colouring, but when I first learned how to paint I was hooked and never went back. With painting, you're only limited by your imagination and the two-dimensional nature of the media, so I love the freedom of being able to make the images I imagine in my head. I love building up lots of texture on the surface of a painting, and playing with contrasts of gloss and matte or metallics, all of which don't photograph especially well, making the painting itself more precious.
What have you learned about yourself as an artist over the past few years?
I've learned that sometimes my drive to paint and paint and paint and paint can get in the way of the rest of my life. Last year alone I painted 100 paintings, so I'm slowly trying to learn how I can step back a little bit and take better care of myself, while still being able to paint everything I want to. It's a process!
In the past year, I've also learned that people want to purchase my artwork, and every time it happens it's always a beautiful surprise for me. I don't think I'll ever take that for granted. The fact that I have collectors who have come back and bought five or ten paintings blows my mind and humbles me greatly. I can't express how grateful I am of the people who help me to live my dreams.
Yasemin Oncu
Tell us about yourself.
I was born in 1990 in Edmonton, to a Turkish family. My parents decided to move back to Turkey when I was six. I received my bachelors in Fine Arts from Sabanci University in Istanbul in 2012. After graduating I returned to Canada for my masters and enrolled at OCAD University's Interdisciplinary Masters in Art, Media and Design program where I graduated in 2016. I am currently living a nomad life, going back and forth between Istanbul and Toronto. I have been showing work in both cities.
Can you describe your process?
Immediacy is a crucial element in my works as they are immediate expressions of and responses to what I witness in the world, society, news, media, social media etc. My works explore chaotic scenes of monsters clashing each other through balanced colours, imagery and symbols. I use the monster as a metaphor to show the notion of demonizing the other through moral associations.
I think of the world as a place invaded by monsters, where all of us are one kind of monster or another, even though we think we are different we are all the same. The monster is here to neutralize these differences. I usually follow up on incidents that happen in Turkey as it has a very heated political climate, yet the themes I explore are on a more universal level.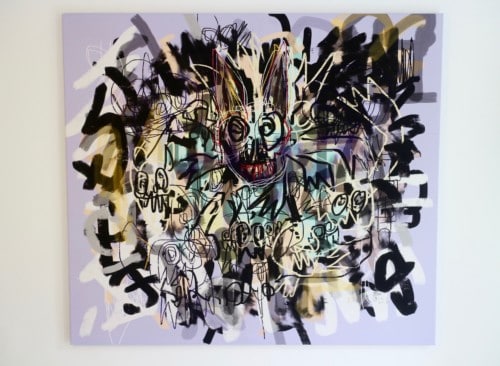 What/Who are your biggest influences?
Almost all the artworks that stem from the Neo-Expressionist movement of the early 1980s. But the most influential artists are mainly Jean-Michel Basquiat, Keith Haring and Nancy Spero.
Art is _____________?
An individual expression that can bring the viewers to a different reality. Art deforms the forms of everyday life to have an impact on our perceptions.
Why were you drawn to painting?
I paint mostly with acrylic on large canvases; however, I've recently discovered digital paint and have been drawn to the practicality and serialism of its process. With digital tools, I've produced more work and experiment variations of my paintings with acrylic. The digital programs give me a richer and brighter colour palette that sometimes is hard to obtain with real paint. Nevertheless, digital painting is not my main medium – I keep producing my major works in the studio.
What have you learned about yourself as an artist over the past few years?
I've seen my art evolving and growing. I have always had the urge to express my thoughts through creating a plastic form, which hasn't changed, but the way I have been creating my works and how I have been phrasing them has diversified. Going to grad school was my best decision; studying art theory and practice empowered me and made me believe in my work. This is a process that will continue progressing.
Nicole Moss
Tell us about yourself.
I am a collage artist living and working in Toronto. I received my BFA from OCAD University in 2015, while majoring in drawing and painting. Art has always been my thing and I've always known I am an artist. Other fun facts about me: I'm a twin, my favorite colour is blue, I hate olives and I love doing push-ups.
Can you describe your process?
Every collage I create has a different process, as I don't pre-plan my compositions. It usually starts with a black and white image I find from an old, vintage magazine. From there, I decide colour schemes and themes. From that point, it's like putting together a puzzle. I know the puzzle is done just from the feeling of satisfaction of adding that last piece. It is a total "aha" moment!
What/Who are your biggest influences?
My two biggest influences are Salavdor Dali and Wangechi Mutu. Dali has always been my favourite painter. I love viewing an artwork that is dreamy and in some aspects, makes no sense. I've always believed in creating images in art that don't exist. I don't see the point of painting or drawing something right in front of me. After being introduced to Mutu's artwork, I saw collage in a completely different light. She makes collage look so sophisticated and professional while using unconventional materials. It just blew my mind!
Art is _____________?
An escape. Art has always been who I am and, without it, I would be completely lost. Art can transport me to another world, whether I am viewing or creating it. When I am trying to resolve a composition, it's the only problem I'm thinking about. All my other problems disappear.
Why were you drawn to collage?
It's funny; I hated collage up until a couple years ago. I thought it was kitschy and an unprofessional art medium. It was not until my second year in university that I was forced to do a project involving collage. I ended up creating a collage that juxtaposed such different images and I was finally able to create an artwork that satisfied my eyes. I had always yearned to make surreal artwork but, for some reason, could never transfer the vision in my mind to the canvas precisely. This medium gave me the tools to create surreal compositions that satisfied me like no other medium had before.
What have you learned about yourself as an artist over the past few years?
I've learned that I'm capable of more than I think. This has pushed me to try things I hate and to take chances. If I never gave collage a chance, I would've never found out how much I love the medium. My ignorance towards the medium blocked me from discovering how wonderful it is. This ignorance has inspired me to constantly educate myself – not just about art, but on a wide range of topics.