A few years ago, if you had told us that our favourite Toronto skating rink would be under the Gardiner Expressway, we would have shot you a puzzling look, but The Bentway has become a beloved spot for winter fun.
The Bentway Skate Trail's 220-metre figure-eight loop will open for skating on December 18 with skate rentals, hot drinks, special events, and free skate lessons for kids aged 6-12 (book now). Alongside skating this year, The Bentway will also present a winter art exhibition by Inuvialuk artist Maureen Gruben, whose work is breathtaking.
Gruben's Moving With Joy exhibit features seven large-scale, richly coloured sculptural sleds, which capture her spring ice fishing camp in Husky Lakes, part of the Inuvialuit Settlement Region of the Western Arctic.
"The presence of these sculptures under the Gardiner Expressway creates a parallel to the flow of traffic above; it also offers a counterpoint as sleds work intimately with the land and ice, and don't require the industrial intervention of roads," reads Gruben's artist statement. "The installation emphasizes that joy and beauty can also be powerful critical and motivating systems. It affirms that land can sustain us while remaining a diverse and stunning biosphere, and highlights the multiple potentials that exist for relationships between people, places, and ecologies."
The art adds another dimension to The Bentway skate trail, and we love the idea of combining an afternoon or evening of joyful physical activity with an art exhibit that allows for deeper reflection on the theme of joy.
"Visitors are invited to a uniquely-urban experience of recreation, art, culture, and connection; a combination that is truly etched into The Bentway's DNA," says Dave Carey, Co-Executive Director. We fully agree with his statement—The Bentway experience is totally unique and memorable. We also love that it's FREE, ensuring this slice of city magic is welcoming and accessible to all.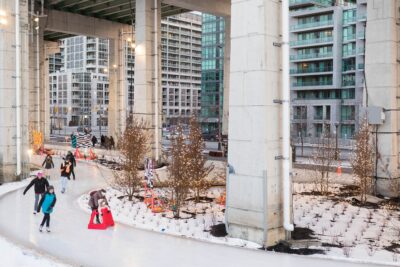 The Bentway's 2021-2022 Winter Season will include:
Skating: No pre-registration required, just come on by during operating hours
Skate rentals, skate sharpening, and hot drinks
Free Skate Nights: Free skate rentals every Thursday 5-9 pm, courtesy of Billy Bishop Toronto City Airport
Free Skate Lessons: Expert instructors will provide free skate lessons, courtesy of Billy Bishop Airport (starting January 11). Register here.
Winter art exhibition: Moving with Joy and Annivik by Maureen Gruben, supported by TD Bank Group and the Canada Council for the Arts.
Visitors to The Bentway's Skate Trail will be invited to "pay-it-forward" and donate towards the creation of Winter Care Kits for clients of Fred Victor's Respite Centres nearby.
The Bentway's Winter 2021-2022 Season is generously supported by: The City of Toronto, Government of Ontario, TD Bank Group, Billy Bishop Toronto City Airport, Canada Council for the Arts, and The Bentway's growing family of supporters.