You've done it for cheese. You've done it for wines. Now, let's do it for MEATS.
The Carnivore Club is a curated meat-of-the-month service that delivers a box of delicious cured meats straight to your damn door. Each month's box is themed around one producer specializing in a particular style of cured meats: French charcuterie, Italian Salumi, Spanish Chorizo, South African Biltong or Artisanal Jerky, for example. We spoke to Tim Ray, the 33 year-old Stirling, Ontario native behind the club for the inside scoop on the world of bespoke meats.
She Does the City: How did you get the idea for the Carnivore Club?
Tim Ray: I got the idea after I sold my previous company FoodScrooge.com. Being a foodie, I noticed a revival in Toronto's trendy restaurant scene of unique artisan charcuterie being featured on immaculate platters. With many companies  focusing on subscription wine clubs, I saw an opportunity to emulate the model to showcase hand-crafted artisan meats from across North America (and the world via companies importing cool premium products). After a year of planning Carnivore Club launched successfully in September 2013 via our Indiegogo campaign.
Have you always been a big meat eater?
Yes. Don't get me wrong, I love a good dose of veggies like anyone else. But, if my Thanksgiving plate has more food than I can handle—I'm definitely eating the turkey first.
What's your favourite sandwich?
We recently made a toasted sandwich with water buffalo bresaola that was out of this world.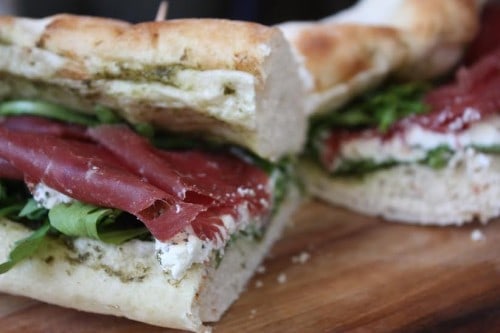 What exactly does a subscription get you? How much does it cost?
A reoccurring subscription with Carnivore Club is $50 a month, shipping included. That gets you an amazing box of unique artisan charcuterie, jerky, terrines or even biltong that you can't find at your local grocery store. In each box you get 4-6 items from our featured supplier that month with a total box weight ranging from 600 and 800 grams on average. The box is accompanied by our Meat Eater's Handbook that tells you about where it came from, the skill used to make it and the story of the artisan who crafted the products by hand.
Where do you guys get your meat?
All of the meats included in the box are sourced from artisans across Canada, United States and from experienced connoisseurs who source premium crafted items from Europe.
Maybe I'm an inexperienced carnivore, but are there enough types of meat out there to keep things different every new box?
Absolutely, we are constantly surprised with the many delicious things these artisans can do with meat! Other than the variety of animals available, each supplier creates their products differently. You may have had pate before but have you had venison and duck pate with cranberries? Likewise, similar to wine, a bottle of Shiraz, Chardonnay or Merlot will be uniquely crafted and different from one winery to the next. The same art and craftsmanship is true of cured meats. All prosciutto is not created equal.
Since its launch in September on IndieGoGo you guys have been doing really well. Who's your customer?
Our customers tend to be affluent urban foodies. All ages and genders. We have found that we have more male customers and more women buying for men because Carnivore Club is a great gift solution for men's gifts. For the people who love to entertain, try new food experiences and/or love visiting their local farmers market or butcher shop, Carnivore Club is a great way to find small local artisans from across the country that they would otherwise never have access to.
We would love to give your readers ten dollars off their first purchase of Carnivore Club by using the promo code "shedoescc" at www.carnivoreclub.com