When I first was invited on this press trip for Viamede Resort, I didn't realize I'd be going alone. Never having been on a press trip before, I randomly assumed I'd get to bring a plus one. It turned out I was mistaken, but this was the best thing that could have happened. This past weekend, I had the privilege of going on my first ever trip alone.
I'm lucky; I've travelled to some pretty far-flung places, such as the Scottish highlands, Malaysia and South Africa. On such trips, however, I've always been accompanied by family, friends, or colleagues. Between my three to seven jobs (the number of employers I have varies from month to month), I business travel on the regular. When we can afford it, my partner and I also make time for romantic mini-breaks to nearby and affordable destinations. According to my calculations, I spent 18% of 2015 on the road. I'm basically George Clooney in Up In the Air, and yet, I had never travelled alone until this past weekend. How can this be?
The truth is I didn't even realize I'd never gone on a solo trip before receiving my invitation to Viamede. Nestled on Stoney Lake in the Kawarthas, Viamede is approximately forty minutes outside Peterborough. Of course, a complimentary press trip to a lakeside destination is a treat anyone would be lucky to enjoy; however, as soon as it became clear I would be staying there by my lonesome, surrounded by strangers, I began to panic. It was an unexpected self-discovery, but I realized I was terrified of being by myself.
By the time I finally arrived at Viamede Resort, I was excited, but seriously anxious. A series of cozy white buildings, Viamede is currently undergoing a period of massive refurbishment. I was assigned one of the yet-to-be renovated suites with a bathroom crying out for some love and attention. Having said that, the room came with a private balcony overlooking the ice and snow-covered lake. It was a magical view, like something out of the Disney's Frozen. Plus, despite its tired décor, the suite did come with some rad features, like a fireplace, two TVs, and a living room larger than most Torontonian condos. All this space was for me. And all I had to fill it with was a knapsack full of sweaters and my thoughts.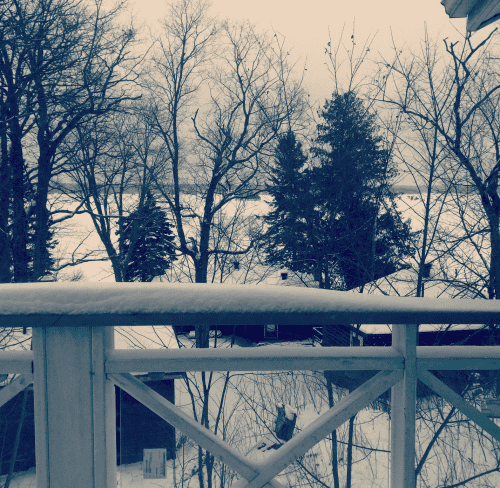 A bit of a hike from the nearest train station, Viamede is truly secluded. It's like a modern take on that Catskills hotel from Dirty Dancing. In addition to its impressive waterfront, Viamede boasts 170 acres of stunning nature trails. A nature-loving hipster's paradise, it's a great place to break out the Blundstones and go for a wilderness hike. For those looking for a more challenging work out, snowshoeing is on offer too. If indoor activities are more your style, the resort even boasts free yoga classes, cooking lessons, and whiskey tastings! Coming from Toronto, where nothing is free, that blew my mind.
Owned by 33-year-old Ben Samann who bought the property at the tender age of 28, Viamede is certainly a millennial take on the wilderness retreat. The resort's chief groundskeeper, Jared, could be featured on a Tumblr devoted to attractive lumbersexuals. If you ask him, he will speak adorably about the pigs he raises on Viamede's farm, who apparently have a habit of escaping their pen and going for adventures in the woods.
Another noteworthy feature of Viamede is Chef Kevin McKenna, who has a tattoo of a kitchen knife and a passion for local foods. A fan of foraging, this man the resort staff affectionately refers to as "Chef" whips up tasty kale and beat salads topped with popcorn, and succulent maple sausage made from pigs Jared looks after. Viamede isn't the cottage country resort your parents took you to as a kid; it's the cottage country resort you could see taking your own kids to one day.
By now, I think you probably have an idea just how much Viamede has to offer families or couples. There's hot chocolate and tobogganing for the children, and plenty of romantic activities to share with someone special; however, as much fun as I had walking Jared's grounds or eating Chef Kevin's delicacies, I'm glad I didn't share the experience with a loved one. I'm glad I went alone, because, although it scared me, it also challenged me.
When I returned to my room that first night after a delicious dinner of fish and chips, I began to feel a little under the weather. "Drat!" I thought. "I caught that virus going around at work." My low-grade fever combined with being alone in the wilderness in a freaking huge hotel room felt terrifying. So much so that I did something I am not proud of – I called my fiancé at 1:00 in the morning and made him stay on the phone with me all night. I put my iPhone on speaker and lay it beside me in the king-sized bed. I insisted we sleep that way all night. I'm not sure how I thought this was protecting me at the time. I guess I thought if a serial killer knocked on my door, my fiancé could call the Kawarthas police or something. The fact that my fiancé humoured me proves he must be a freaking saint.
The next morning, I woke up hating myself. Why was I so scared at the thought of aloneness? Conveniently, I had ample opportunity to think about this.
While enjoying a post-hike afternoon coffee at the Mount Julian Restaurant, the truth eventually dawned on me: I am uncomfortable being alone because frankly, it feels weird to me. I have absolutely no practice at it. Why? Well, part of it could be that, as women, we are constantly expected to care for others. Of my multiple jobs, at any given time, a few involve caring labour. Being alone with only my own needs is something I have no experience doing. Many women I know are in the same position. Wherever they are, they are considering the needs of others, whether it being looking out for the welfare of their dogs, kids, or co-workers.
During my two days at Viamede, I realized being alone is a skill. No matter where I am, there are always someone else's needs to balance against my own. For example, in my professional life, I work with students in middle school, high school, and undergrad. When I'm with my students, they are the centre of my world. All that matters to me is helping them learn and ensuring their safety. It's wonderful work, but it's all consuming.
Aloneness is also unheard of in my personal life. I try to be a good family member, a good partner, and a good friend. I love so many people and I want them all to thrive. I know I single-handedly cannot make everyone happy, but I'm committed to doing my small part. Just as my support network is there for me in the harrowing times, I try to be there for them. Having said that, between quality time and professional time, I rarely get a moment to myself.
This trip has taught me an invaluable lesson: I do not want to be the girl who fears being alone. The sad truth of life is, though we hope and pray not to, we can lose those we love and care for at any moment. I want to be comfortable being alone with my thoughts. After all, I am the only person I am guaranteed to hang out with for the rest of my life, so I should probably be okay with my own company.
In the end, my two days hours at Viamede afforded me the opportunity to experiment with solitude. I read Shonda Rhimes' memoir The Year of Yes by myself while drinking apple cider. I worked out in an empty gym. And, that second night, I slept alone, without my partner on the other side of the phone line. It was challenging, but the challenge taught me that I am enough to keep myself happy. It wasn't tedious or even that terrifying. In fact, I was starting to like it.
While I cherish the precious time I spend with those I care about, I now see the beauty and necessity of alone time. It's a simple concept, but one I have yet to master. I'm not perfect at it yet, but I intend to keep practicing.