We live in a society that denigrates everything associated with teenage girls. If a musician has a fan base of young girls, we deride them for it. If a television series stars a woman under the age of 22, it's dismissed as froth or melodrama. And if a film stars a teenage girl, forget about it! No matter how awesome that film is, it probably won't win any Oscars or be remembered in the canon.
When I was 13, I saw Sofia Coppola's The Virgin Suicides with a gaggle of friends from my all-girls school. We went one Friday the minute the bell rang, in our telltale identical plaid skirts that announced to the world that no matter how much coffee we drank to look cool and worldly, we were schoolgirls in our teens. Our clothes and our pubescent bodies were signals to the world that they didn't have to respect us, and yet, for two magical hours inside a cinema, a grownup lady named Sofia Coppola did take us seriously. She knew exactly what it felt like to be a teen girl and was representing it on screen with great cinematic flair and fabulous costumes.
As a teen, I remember being so grateful The Virgin Suicides existed. Even though its ending was pessimistic, and much of its subject matter jarring, I found the film inspirational. It told me someone out there in Hollywood valued 13-year-old me. Someone out there saw me as a person, knew I was capable of being depressed, of having real needs and desires, and of recognizing when I was being oppressed by a sexist world. It was a film that didn't condescend to me. It was a film that spoke to me.
Now, more than 15 years later, I am fortunate enough to have recently screened The Diary of a Teenage Girl, a film that once again gives young women the well-rounded, complicated representation they deserve on screen. Based on the graphic novel of the same name by Phoebe Gloeckner, the film follows 15-year-old Minnie on a journey of self-discovery that starts with sex but does not end there.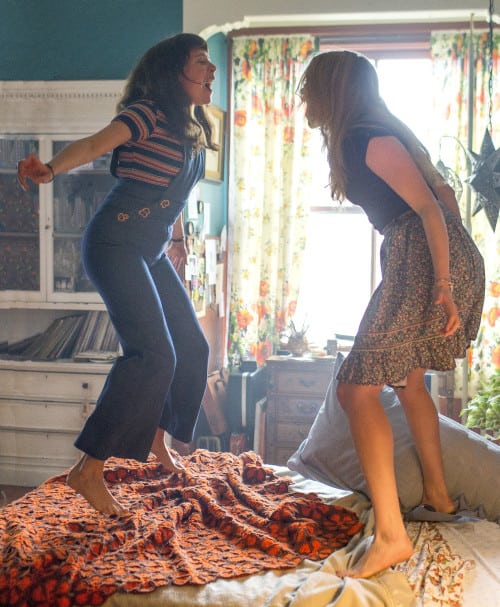 Minnie is a teenager living in 1970s San Francisco and has a flair for drawing cartoons. Like many teenage girls I knew growing up, Minnie worries she is unattractive and undesirable. She compares herself to her comely mother Charlotte (Kristen Wiig), a young divorcée who claims to want to resist the bourgeois strictures of patriarchy, but simultaneously struggles with her addiction to male validation.
When Charlotte's 35-year-old boyfriend Monroe, played to creepy perfection by Alexander Skarsgård, takes a sexual interest in Minnie, the teen is immediately delighted. She assumes that because Monroe is a "good" guy, his interest in her cannot be wrong. A clandestine affair is born.
Minnie longs to hear Monroe profess his love for her, to supplant her mother in his affections. Minnie's journey to validate herself through sex leads her to have a wide range of experiences, from having threesomes, to exploring same-sex attraction. Some of these experiences give Minnie pleasure, and some make her feel profoundly uncomfortable. It is a film that allows its heroine to have a complicated and realistic sexual awakening, something young women are almost never allowed on celluloid, even in 2015. It neither fear-mongers nor fetishizes when it comes to the topic of its teenage protagonist's sexuality, which is refreshing to watch.
The film's emotional impact no doubt owes a great deal to the tour-de-force performances of Bel Powley and Kristen Wiig. Powley, whose throaty voice will remind you of another precocious icon of girlhood, Kay Thompson's Eloise, demonstrates an impressive acting range. She can cry in a puddle on the floor in one scene, then make snarky but hilarious comments at her stepdad's expense with equal skill in another. She is surely a young performer with much great work ahead of her. Wiig, however, is not outdone by her bright young costar. While she is known primarily for her comic roles in films like the uproarious Bridesmaids, Wiig is also a dramatic actress of considerable talent. She manages to play a mother who sees her teenage daughter both as her baby, and as a rival for men's affections, without ever losing the audience's sympathy. If the world were just, Wiig would certainly receive a best supporting actress nomination for this role. But the academy barely cares about films about adult women, so her brilliant performance in The Diary of a Teenage Girl may well be forgotten.
Of course, I would be remiss if I forgot to lavish praise on director Marielle Heller. Heller has produced a breathtaking film. Not only are her actors at their best, but the film is a visually striking work. Beautifully shot in sepia, it feels like watching someone's slightly faded but powerful adolescent memories play out on screen. Heller also pays respect to the graphic novel that is the film's source material by including a hefty dose of animation in this primarily live action adaptation. Because of that choice, we are not just told Minnie is an aspiring cartoonist, but are happily treated to a glimpse inside her artistic brain. The result is a three-dimensional character whose love of art is central, not just a characteristic thrown in to fool the audience into thinking she has depth.
Unlike some previous great works about girlhood, Diary manages to tell a story that feels real and heavy while managing to be fairly optimistic. In the end, The Diary of a Teenage Girl is a feminist fable about coming of age and learning not just to seek love from others, but to love oneself.
The Diary of a Teenage Girl opens in theatres August 14th. Watch the trailer now.