The Good Nurse, starring Jessica Chastain, arrives to Netflix on October 26 and is based on chilling true events.
Amy (Jessica Chastain) is a nurse and single mother struggling with a life-threatening heart condition, and stretched to her physical and emotional limits by the hard and demanding night shifts at the ICU. But help arrives, when Charlie (Eddie Redmayne), a thoughtful and empathetic fellow nurse, starts at her unit.
While sharing long nights at the hospital, the two develop a strong and devoted friendship, and for the first time in years, Amy truly has faith in her and her young daughters' future. But after a series of mysterious patient deaths sets off an investigation that points to Charlie as the prime suspect, Amy is forced to risk her life and the safety of her children to uncover the truth.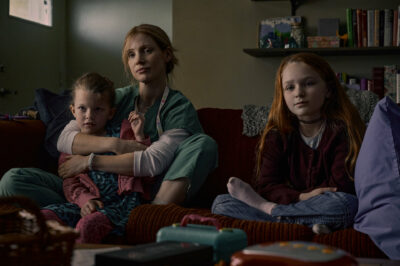 The role was a tremendously meaningful one for Chastain, who understands the stress that comes with being a single mom, having been raised by one. Inspired by both her empathy and bravery, the Academy Award-winning actress introduced the real-life Amy to her 4.8M followers on Instagram with high praise. "I get to share this brave woman's story with you: Amy Loughren, a nurse who put herself at risk to end dozens of murders," she wrote. A sea of comments followed, thanking Amy for her courage, calling her "a real hero".
The film premiered at TIFF this past September. While in Toronto, Chastain—along with director Tobias Lindholm, writer Krysty Wilson-Cairns, co-star Eddie Redmayne, and Amy Loughren—participated in a panel moderated by TIFF's Robyn Citizen. During the discussion, Chastain shared how The Good Nurse is different to most film and series about serial killers, in that it doesn't focus on the violence, but the humanity. "I want to celebrate humanity, and celebrate Amy. She reminds him [Charlie] that he's human, and that's what gets him to talk. So many people were making him feel like a monster and she saw the human being."
Loughren was grateful to have Chastain play her and stated, "There's no other badass I'd rather play me than Jessica. You nailed it. Chills, chills, chills."
The Toronto Star included both Chastain and Redmayne in their list of strong Oscar hopefuls to emerge from TIFF 2022, sharing that the duo "have a solid chance at Best Actress and Actor nods". We can't wait to watch.
The Good Nurse arrives to Netflix on Oct 26.