If you use a DivaCup, then you're likely a huge fan of using it. How do we know? Because WE ARE THE BIGGEST DIVACUP FANS. Seriously, as soon as you make the switch from tampons and pads to a DivaCup it's like, "Woah, why the hell wasn't I using this for years?!!!" For us, the experience was truly a much-needed Hallelujah moment. And if you get a period, you know that period-related triumphs are few and far between.
The DivaCup is by far the most comfortable way to manage your period, both physically and ethically. It feels good knowing that you're doing your part to help the environment, because it doesn't contribute to unnecessary waste. Further, it's a cost effective and an empowering way to experience menstruation. Keep coins in your pockets and your period in your DivaCup! Both inserting the cup and cleansing it allow for a more intimate relationship with your body. Being able to see how much blood comes out, and when, gives you a deeper understanding of your cycle in a way that simply doesn't happen with pads and tampons.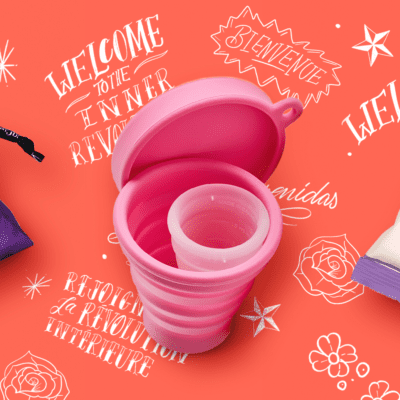 Do you remember when you first spotted blood in your underwear? It was exciting, because it meant you were growing up, but it was also a little terrifying. The change came with stigma: it's dirty, gross, and something we're encouraged to hide. But why should we be made to feel shame for something so powerful, and natural, and healthy?
To help young people, DivaCup (which happens to be a women-owned, Canadian company), has created the First Period Kit, which is a box full of information and products to help your kids manage and understand their period. You might learn a thing or two, too! We sure did!
What's in the First Period Kit?
DivaCup Model 0
DivaWash
DivaWipes
ShakerCup
#innerrevolution t-shirt & backpack
DivaPin & RetroPin
extra DivaPouch
DivaCup pen & notepad
DivaCares Handbook and DivaCup information guide.
The box contains everything you need to get started. It's delightfully packaged to feel like a celebration, and it's the best way for parents to equip their kids with the need-to-know menstruation information. If you place an order from Oct 26th to Dec 7th, 5% of sales from the First Period Kit will go towards one of their social impact partners, Diva Day, to support menstrual education.
When we think about the information that was out there when we were teens, we remember awkward chats with our moms and a very clinical and boring health class where we discussed menstruation like it was a big secret. There was nothing available to make someone feel special or empowered about their period. The DivaCup First Period Kit is the opposite and something we only wish was available when we were young. Imagine the possibilities!
CONTEST: Enter to win a DivaCup 'First Period Kit'!
We partnered with Diva International to offer one lucky parent the opportunity to win this for their kid (or yourself!). Keep in mind, the DivaCup Model 0 is made especially for bodies that are 18 and younger.
For a chance to win, tweet: "YES PLEASE @Shedoesthecity! I'm a big fan of @TheDivaCup and I'd love to win the 'First Period Kit' to give to a young person in my life, to help prepare them for their period. #InnerRevolution"
LIKE + COMMENT our DivaCup posts on IG and Facebook.
Learn more about The DivaCup here, purchase The First Period Kit at shopdiva.ca and join 'The Inner Revolution'.