Watching a reality series set so close to home is fun and exciting and Netflix's Motel Makeover, starring The June Motel (Sauble Beach) is irresistible eye candy for anyone who loves a good design makeover. It's also an inspiring story of two millennial women who risked the comfort and security that comes with a steady 9-5 to follow their entrepreneurial dream.
April Brown and Sarah Sklash have been friends for 17 years and were always hatching plans about how to go into business together. Becoming moteliers was not something they considered, but after scouting locations for a Wine Camp they were planning, they spotted a dingy old motel on the side of the road that was for sale. Instead of pursuing an event planning side hustle, they decided to buy the old motel and do it up in a way that would attract city folks seeking a vibrant getaway. "We had this vision of seeing it as the next hot spot for millennials coming to wine country. We knew there weren't many places to stay in Prince Edward County at the time, so there was a huge demand," says April, explaining the birth story of the original June Motel.
As soon as the pink doors opened at The June Motel in 2017, it became a media darling, appearing everywhere from The New York Times to Vogue. It put The County on the map, and changed the demographic of its visitors, suddenly attracting throngs of bachelorette parties and Toronto influencers to the region, known best for its vineyards and farm land.
Motel Makeover shares the transformation story of their second property in Sauble Beach. The project was much bigger than Prince Edward County with 24 rooms instead of 16, plus a shop, a pool, and an indoor/outdoor restaurant. "That alone would have been a huge challenge for us and our small team, and small budget. But then you add a television series, with cameras following you around, and having to look good all the time, and then you layer on a global pandemic!" exclaims April. "When COVID hit, our rooms were already completely gutted, there was no going back."
The series captures all the added complications that the pandemic caused as well as numerous other things that inevitably go wrong when you begin to look behind the walls of a decrepit building. "There were lumber shortages—it was really difficult to get the materials we needed in a small rural town. We were faced with really tight deadlines and no access to the materials we needed to get the job done," says April. The pandemic also stretched the project timeline, impacting the budget; income that the duo were relying on from The June Motel in Prince Edward County vanished when Ontario went into lockdown. As a result the undertaking became more stressful than they could have ever imagined.
All of these obstacles provide high-stakes drama to the show, and what makes it so pleasurable is watching their vision come together with paint and plants, antique hunting and their signature styling. While there are tense moments, they take it in stride, with Sarah remarking on camera, with a somewhat nervous laugh, "We're in real-life Schitt's Creek right now." It's a moment of truth, but also a nod to the award-winning CBC series that has helped make small-town motel stay the new cool.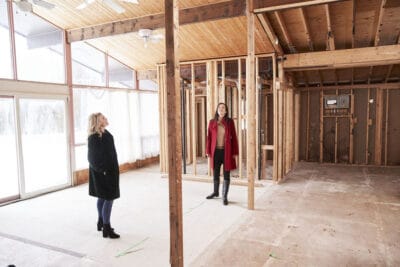 Anyone who has visited The June Motel in Prince Edward County knows that there is a distinct vibe that is achieved through the decor, every square foot of space designed with Instagram in mind. April and Sarah wanted to achieve the same thing with their new property, or as they say, "Junify it" while also honouring the fact that Sauble Beach is a different destination with a very different feel.
"We like to choose a place that inspires us and an era that inspires us, and that's the first lens we use for design," explains Sarah, who shares how her and April imagine a backstory before setting out to find the art and decor. "We think of June as a woman who is building her beach house in a 1970s beach town, and that's what helps us with colour and material and figuring out the feeling we want to create. We also used the sunsets, which are incredible, as inspiration for the colour palette."
The June in Prince Edward County is known for its millennial pink doors and lush green and turquoise wallpaper, but with the Sauble Beach property, April and Sarah played with a different palette, a softer one, which they describe as a mix of Apricot Beige, Seventies Yellow and Sunset Pink.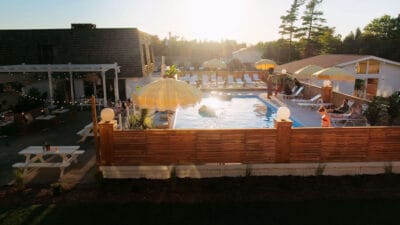 "When we get to style a coffee table and see a whole room come together with art and throws and pillows, that styling phase is really fun for us," says April. It's fun for audiences as well, or at least for those of us who get off watching DIY home projects in action (a lot of us). Beyond the pops of colour, or excitement that comes watching them strike the right high-low design balance, the dialogue and interactions with the construction team also makes for great entertainment.
While binging the series, we kept a notepad by our side to jot down all the design tips and names of local shops and vintage markets where April and Sarah sourced their prized items, from lobby couches to kitschy knick-knacks on the shelves. We admit that we've also checked availability at The June Motel Sauble Beach, knowing that this series will likely inspire a surge in bookings, filling up the very few rooms that are currently available between now and the end of October.
"The thing we're most excited about and passionate about is finding those diamonds in the rough and bringing our vision to it, and seeing the transformation," says April, with a glowing smile. "That's where our passion is and our special gift in the world of The June. We want to keep doing more of that." We hope they do, because we really loved this series and can't wait to watch the next motel makeover.
Motel Makeover launches on Netflix August 25th.