Progoti is a social-enterprise company making real moves to change Bangladesh's garment industry.
Bangladesh is the world's second-largest clothing manufacturer, employing over four million workers, 80% of whom are women. Low compensation (CAD $80 or USD $60 a month) and little to no retirement benefits are prevalent issues in Bangladesh's clothing industry that make it impossible for workers to save for their long-term welfare.
In order to combat this issue, Progoti has made it their mandate to reverse these conditions by purchasing Life Insurance & Pension policies for workers through crowdfunding customer contributions. They believe that empowering customers to choose their contribution amount allows for more awareness and a mindful reflection on this issue.
We caught up with Nurjahan Begum, the founder of Progoti, this week.
SDTC: Can you briefly describe your company and what you make/curate?
NB: Progoti is a social-enterprise brand that partners with customers to directly support the welfare of factory workers making their clothes. We crowdfund customer contributions to provide our workers with retirement benefits that are not recognized by the garment industry in Bangladesh. Our goal is to improve the garment industry and set an example for aspiring social entrepreneurs.
When and why did you decide you wanted to work independently or begin a new venture?
Working in the fashion supply chain for more than a decade, I witnessed how the garment industry in Bangladesh rapidly expanded along with global retailers that became popular for low prices. Over time, I observed an increasing amount of pressure towards manufacturers to lower costs and increase volumes without any regard for factory workers, the most vulnerable participants in the industry.
After seeing the situation worsen over time and identifying a need for sourcing solutions in the Canadian market, I decided to launch an ethical sourcing house with Progoti as its flagship brand.
Progoti is the embodiment of our values and what we believe in. We offer easy-to-wear clothing for people who are mindful about the fashion industry's drawbacks and want to support a grassroots, female-led initiative. Our underlying goal is to directly support the retirement welfare of workers in our factory network.
Where do you work now? Is it a full-time or part-time job?
Getting this initiative off the ground has taken a lot of work, and it is now my full-time job; however, during the first two years, I was in between side hustles that allowed me to continue working on my initiative while making ends meet. It is not easy, and I was fortunate to have support from family and friends to stay afloat. We are still figuring this out, but I am hopeful that the brand will take off as we grow our following and awareness through fairs and our online presence.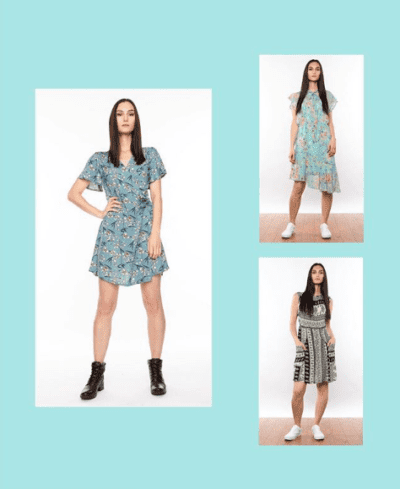 What was or will be the tipping point for you to turn your side hustle into a full-time reality?
A major milestone for us was securing wholesale purchase orders from two established, like-minded organizations working in the social sector last year. It was a validation that our offering was relevant.
Where can people find Progoti?
We will participate in upcoming Leslieville markets and other events throughout the year. You can find out about upcoming events and shop online or by following @progotiapparel on Instagram or Facebook. We also have a physical space at The Nooks on 2038 Danforth, near Woodbine station.
The Leslieville Flea is a curated flea market in Toronto's east end. This popular market attracts entrepreneurs who are making their dream job a reality. Whether it's a side hustle or a full-time gig, the Leslieville Flea applauds the courage of the small biz entrepreneur! The next Leslieville Flea takes place April 28 at the Fermenting Cellar in the Distillery. For all the details, go here.