The Leslieville Flea (one of our fave markets in the city) has joined forces with the Downtown Yonge BIA to put on the very first College Park Flea Market & Festival! The event will be taking place during Open Streets, where Bloor & Yonge will be closed to vehicle traffic, opening it to people on foot, bikes, rollerblades, wheelchairs, skateboards, and more. The route will be filled with participative, interactive activities like exercise and dance classes, art-making, installations, workshops, performances, street games, water stations, obstacle courses, and neighbourhood tours!
Since we're always on the lookout for new shops and makers, we caught up with Kim Ryan of Kim Ryan Makes, one of the MANY vendors who will be at the College Park Flea. Specializing in handmade totes, knits and petite accessories, Kim is reducing the carbon footprint by creating earth-friendly products that function as alternatives to single-use items.
SDTC: Can you describe your business for us?
KR: I like to call myself a functional textile artisan…sounds better than someone who likes to knit and sew.
Basically, I transform natural materials like cotton, wool, beeswax and leather into earth-friendly products like reusable canvas totes, washable lunch bags, beeswax food wraps and wool and alpaca hats.
Where possible, I source my materials locally to reduce my carbon footprint. Wool and alpaca for my hats is from small, family-owned farms in Ontario. The beeswax in my beeswax food wraps is sourced from a very picky local beekeeper who situates his hives away from GMO crops and crops sprayed with pesticides.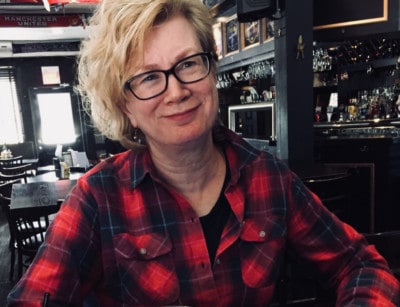 When did you decide you wanted to work independently or have a side hustle and why?
The idea to start my own business came when I was running the New York Marathon in my late forties. I had dreamed of running this marathon for years and through hard work and perseverance (and a bit of pain) made it happen. I thought I could apply the same principles involved in marathon running (focus, resilience, preparation, mental toughness) to other parts of my life too.
A couple of years ago, I was finally in a good enough financial position to take a risk and strike out on my own. I've had my ups and downs along the way of course, but in the end, no one should ever regret investing in themselves and their dreams. (And no one misses a three-hour daily commute!)
Where did you work previously?
For most of my career I worked as a political assistant for various City Councillors at Toronto City Hall. More recently, I held various senior administrative positions at the University of Toronto. For the past two years. I've been the full-time President, CFO, Creative Director, sewer, knitter and market tent installer for Kim Ryan Makes.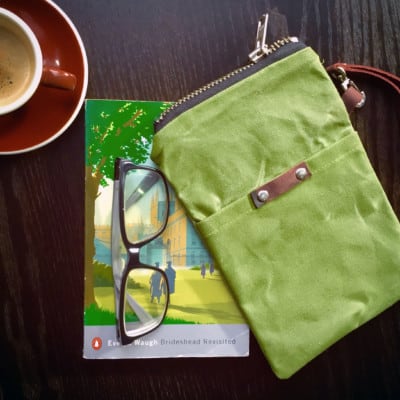 What fab finds are you bringing with you to the College Park event?
Right now I am really into doing things with natural beeswax. It smells good, has incredible health properties, and you can do some great things with it. For the College Park event, I've made some large canvas and leather totes that I treat with beeswax…far better than PVC, polyurethane and other chemical waterproofing agents. I'll also be bringing some waxed canvas cross-body bags and wristlets. My colourful beeswax food wraps are popular now that people are keen on eliminating single-use plastic wrap. I also do fabric snack pouches and lunch bags. My newest item is "un-paper" towels, a reusable alternative to single-use paper towels.
Where can people find you?
I do artisan and farmers markets across Southern Ontario, but can be found in Toronto most Sundays at the Distillery District, and beginning in September at the St. Lawrence Artisan Market (outside 93 Front St.) on Fridays and Saturdays. You can find my products at the Arts Markets stores at 790 and 1114 Queen St. East and online. You can find me on most social media @KimRyanMakes
Meet Kim and other Leslieville Flea vendors at the very first College Park Flea Market and Festival this Sunday, August 18 from 12 p.m. to 7 p.m. The event takes place at College Park (420 Yonge Street – south of College between Yonge & Bay). Yonge Street will be closed from Bloor to Queen as part of Open Streets.