From August 1 to August 4 at the Cineplex Cinemas Mississauga, the Mosaic International South Asian Film Festival (MISAFF) is returning for its seventh year.
This year, women's and familial stories lead the way with themes of love, comedies on complex relationships, explorations of art and ancestry, and a closer investigative look at domestic/intimate partner violence.
MISAFF has programmed select films to bring a focus to Canadian filmmakers, specifically films helmed by Canadian-South Asian women such as Eisha Marjara, Zana Shammi, fifteen-year old filmmaker Aniyah Faisal, Fawzia Mirza and Anam Abbas, and many more.
We caught up with Advisory Board Member Anya McKenzie to learn more.
SDTC: What is the biggest challenge in directing a festival like this? What do you enjoy most about it?
AM: Festival Director Arshad Khan and I have evolved in our film and media careers, I have taken on a more advisory role this year, but it is always hard to step away from something that you have been instrumental in creating, but as we evolve so does the festival. The challenge for cultural events like MISAFF especially this year remains finding a way to present a stellar cultural event with ever decreasing financial and human resources. I enjoy connecting with audiences through the power of cinema, meeting the filmmakers and inspiring new creative collaborations.
What can audiences expect at this year's MISAFF? What do you hope they take away with them?
MISAFF is back with a great selection of films representing a wide scope of stories from the South Asian diaspora, including homegrown talent and a special spotlight on Bengali language films and a fun live performance treat at our Opening night party. Audiences will also have a chance for an up-close experience at the MISAFF Chat featuring first-time filmmakers speaking about their journey and inspirations. We hope audiences will enjoy the films, celebrate with us, connect with each other, be transformed and make beautiful memories.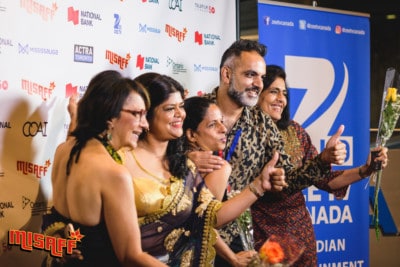 ≠
What was the reasoning behind putting the focus on stories of women and familial struggles?
In today's context of women's rights in the media, there are more and more female filmmakers writing and producing than ever before, and this year we are more compelled than ever by their stories and the light of these warrior women who are redefining cinema; stories of intimate partner violence, stories of women and girls who become leaders to save their family and stories that reflect the evolving struggles of women to be accepted regardless of sexual orientation, gender identity, or class. For the South Asian community in particular, these subjects deserve to be illuminated on the screen and to be a source of inspiration and transformation.
Is there a particular film or filmmaker that stands out to you or impacted you the most?
I usually enjoy all the films in our lineup, but for me Untying the Knot by first-time Canadian filmmaker Zana Shammi, The 410, written/produced and starring Canadian starlight Supinder Wraich, and SA by Arijit Singh really had an impact on me this year, as these reflect stories of empowerment and courage in the face of adversity. I am also thrilled by Bangla, our Opening Night film, which was made by twenty-three-year-old filmmaker Pahiam Bhuyian, who directs and stars in his first feature film representing the Bengali diaspora in Italy!
Is there a philosophy or credo that is helping to guide you at the moment?
Courageous cinema brings us all together and we need this more than ever at a time in world where dissonance and social inequity is on the rise. Keeping creative inspiration and culture alive matters.