I met Sophia Fabiilli five years ago when I directed her in a production of Neil Simon's play Barefoot in the Park. I remember being instantly taken by her charm, electric energy and awesome sense of humour (and this was all before I even saw her audition). By the end of the run I was in total awe of how smart, driven, and talented this woman was. She was not only a great actor, she was also a brilliant artist overall and was filled with tons of ambition.
That ambition came to fruition (nailed that rhyme, though, no?) this past summer at the 2015 Toronto Fringe Festival when her hilarious feminist adaptation of G.B. Shaw's classic The Philanderer, now aptly titled The Philanderess (aren't we all?) received rave reviews (NNNNN in Now Magazine), sold out shows, AND won the Second City Award for Outstanding New Comedy, which includes a remount happening this weekend at the mainstage theatre.
I sat down with Sophia and chatted about her inspiration for The Philanderess, her feminist heroes, and what her dream role is.
So, to start off, what is The Philanderess about?
The Philanderess is inspired by George Bernard Shaw's play The Philanderer. I swapped the genders of all the characters and rewrote it as a modern farce about a woman named Charlotte: she has a PhD in Feminist Philosophy, she just proposed life partnership to her lawyer boyfriend, and writes a sex blog about their open relationship. Her life is amazing…until one of her lovers (and his eccentric family) crash her life partner engagement party at a resort in the Muskokas. Ridiculousness ensues.
What inspired you to adapt this play?
Shows in the Toronto Fringe Festival are chosen by lottery. I applied on a whim and got in, but I didn't have a project. So, truthfully, an impending deadline was my main motivating factor. I started looking for a play that I could produce and act in. A friend recommended a play called Heddatron by Elizabeth Meriwether, which is an absurdist, feminist re-imagining of Henrik Ibsen's Hedda Gabler. It's totally insane and hilarious and I LOVED it, but it requires a cast of functioning robots (true story). Once I realized I didn't know how to build robots, I decided to write my own play instead (because next to engineering an army of robots, writing/producing/starring in your first play in less than six months seemed totally reasonable).
Did you find it difficult to take a classic and make it modern?
I really struggled in the beginning with how to approach the adaptation. The Philanderer had just been done at the Shaw Festival in 2014, so I knew it was fresh in people's minds and felt like I had a duty to pay homage to the original somehow. I was a really good student about it: I read the play a bunch of times, took notes, highlighted random things, etc.
Then I realized that if I stuck to the original, the play would be about a woman having an affair, which sounded really dull. I mean, The Philanderer is essentially a love triangle, so I started changing characters and twisting relationships to make it as interesting and complicated as I could. I changed most of the plot. I cut a character. I added a dream ballet. Okay, there's no dream ballet, but once I allowed my imagination to let go of the handlebars, it was way more fun.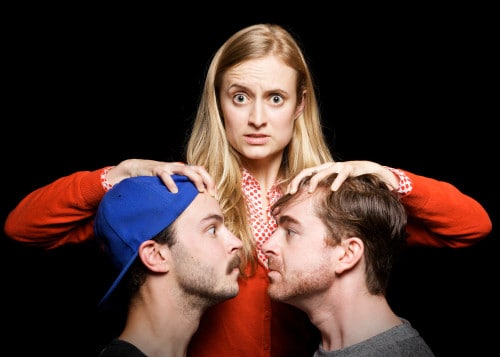 Did you intentionally include feminist themes in the show or did that happen naturally?
It was intentional for sure. I really loved the idea of writing a feminist farce. Classic farces usually involve men hoodwinking women, ladies running around in their underpants, and generally there are limited emotional consequences for anyone's actions, which has always annoyed me. I wanted to subvert the classic tropes but still keep the humour and light-speed pace. I did wrestle with my feminist self because my play has dick jokes and ridiculous events and female characters making mistakes. I kept asking, "Did I really write a feminist play? I had a feminist agenda, but is it here?
Then I had the following realizations:
1) For me, making dick jokes makes me more of a feminist, not less of one (plus they are hilarious and I will make them to my last dying day)
2) Something does not have to be "serious" to be seriously feminist – look at Amy Schumer
3) I'm not doing women any favours by writing perfect, uncomplicated female characters – humans are messy and flawed. Usually the more flawed the character is, the more fascinating they are to watch.
How has the entire process been, from the first rehearsals to the remount?
This process has been both the best and the hardest thing I've ever done. The first rehearsal was exciting and nerve-wracking because it finally felt real. The play started to take shape. But, although we all laughed together a lot and had tons of fun, I will admit that, as a writer, rehearsals were difficult because I was still rewriting the script.
Michelle Alexander, who directed The Philanderess (and is also an incredible actor, acting teacher, and work wife – a term which confused my father for a while, but he looked it up on UrbanDictionary.com and now understands) dramaturged the script as well, which means she read every draft and gave me feedback – there's no way I could have done it without her! A couple weeks before we opened, I brought in my newest draft of the final scene and Michelle gave me some tough love and said it wasn't there yet. And she was right, but I felt like an idiot for not getting it right after so many tries. I was so overwhelmed that I sobbed in the bathroom for 45 minutes while my cast rehearsed scenes I wasn't in (for real).
Turns out writing a play feels harder than engineering a robot army. Luckily, a bunch of super talented, smart, generous, and hilarious people all agreed to help me create this play (and never got mad when I kept changing their lines). Everyone who worked on the show crafted it into what it is. Getting the opportunity to collaborate with them on this remount is the BEST.
Speaking of feminism, who are some of your personal feminist heroes?
My parents (for never treating me any differently than my brother). Gloria Steinem (for being a powerhouse). The women who created and ran Nightwood Theatre (for Canada's oldest professional women's theatre company who mentor female artists – check them out!) Tina Fey, Amy Schumer, Amy Poehler, Mindy Kaling and all the hilarious women ruling the film and television world in front and behind the camera right now (for setting an amazing example for young women). Jess Beaulieu (YEAH I WENT THERE).
Oh stop! That's so nice. Also, ditto. Tell me, Sophia, gender equality warrior, what made you want to become a writer/actor?
I wanted to be an actor because I loved being in plays in high school. I found acting both challenging and rewarding because it engages every part of you. I also really like making people laugh. I've scribbled in notebooks for a long time but only recently started calling myself a writer. I started writing out of necessity and realized that I actually really enjoy the process of it. The dick jokes really keep me going.
Finally, what is your dream role?
Professional answer: Julia Craven in The Philanderer is legitimately a dream role. I'd also love to do The 39 Steps, Sugar in Trout Stanley, Laura in The Glass Menagerie, or any play by Theresa Rebeck. And Hamlet, because if Cumberbatch can do it then anyone can, am I right?
Secret answer: A funny commercial for something weird like Vicks VapoRub where I get to look really awful and drip snot everywhere and then transform into a healthy version of myself jogging and smiling. I would totally nail being the Vicks VapoRub girl.
The Philanderess will be performed at The Second City Toronto Mainstage (51 Mercer St.) on Thursday October 22 at 10:30pm and Sunday October 25 at 10:15pm. Tickets are $15.00 and can be purchased online through Second City Toronto.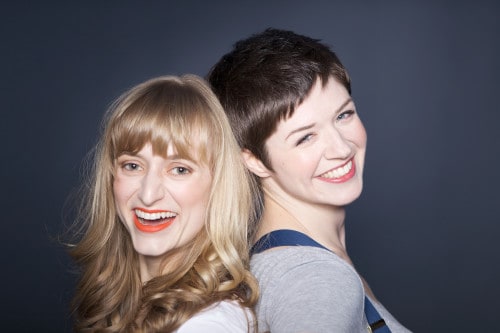 THE PHILANDERESS
BY: Sophia Fabiilli
DIRECTOR: Michelle Alexander
CAST: Suzanne Bennett, Amos Crawley, Seth Drabinsky,
Jakob Ehman, Sophia Fabiilli, Deborah Tennant
STAGE MANGER: Laura Paduch
DESIGNER: Laura Gardner
FIGHT DIRECTOR: Nate Bitton