Amanda Brugel (The Handmaid's Tale, Workin Moms) was motoring along the 401, when she found out she'd be a judge for Season 2 of Canada's Drag Race. "I had to pull over onto the shoulder. I was on my steering wheel crying," Amanda tells me, from her hotel room in Hungary, where she is currently filming for Brandon Cronenberg's upcoming sci-fi thriller, Infinity Pool. The news arrived after a challenging period of numerous lockdowns and little work, and with it came an enormous sense of relief, and also extreme excitement. Amanda knew it would be a good gig, and a fun one, but judging the queens ended up being a life-changing experience.
"With other work, we're mimicking humanity, playing or retelling stories," she says, explaining how being part of Canada's Drag Race S2 was a totally different experience to the acting she's used to. "I was watching life unfold right in front of me. I got really attached to the queens, attached to their individual stories… way more than I do with fictitious characters."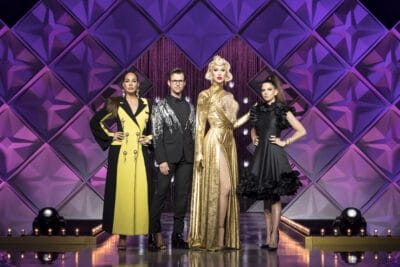 Before taping, she wasn't sure whether she'd be a sweet or sassy judge, but quickly fell into a nurturing role. "I'm a mom. I can't help it! I immediately fell in love with all of the queens, and then became almost emotionally codependent with them. I just desperately wanted to hug them and give them a bit of tough love… watch them grow," she says, but she didn't expect that this year's crop of drag queens would mother her right back. "Being a judge, it was my responsibility to get them out of their shells, but at the same time they really helped all of us come out of our shells."
The award-winning actor explains that she's always loved using fashion to express herself, but she's also played it safe, choosing to stick to the trends. Now, she takes risks. "The queens taught me to follow my impulses and wear what makes me happy, and wear what I think reflects me. It was a nice lesson to learn at 44," she chuckles, sharing how the queens encouraged her to wear the tight pants, play with wigs, and work it. "I started taking back my body parts for myself, and not being so self-conscious."
The fashion on Season 2 is glorious and fun and energetic and freeing, but what makes the Canada's Drag Race fan base and community so strong is the connection to the queens. "We have a trans-nonbinary queen, we have a Metis queen, we have queens from all over different provinces…we have our first Calgary queen! We have a lot of queens where English isn't their first language… besides being for the LGBTQ+ community, it's also a show for Canadians across the board."
Emotional, bizarre, wacky, fierce, and full of heart is how Amanda has teased this season. It's the winning combo of realness and levity we all need.
Canada's Drag Race Season 2 begins Thursday, Oct. 14 at 9 p.m. ET, only on Crave.