The Hamptons are an elusive place. It is where Bernie Madoff hosted his annual staff summer party, before the world discovered his talents for evaporating 65 billion dollars into thin air. (Bouyahh – take that Houdini!) It is where Nicky Hilton cackles at those who can't get into the club (f*cking non-vip losers! HA!), Renee Zellweger shakes her booty, Gwyneth catches up with neighbour Billy Joel and uptown girls find refuge from the icky crowded subway. I had visions of nodding gently to Kim Basinger as I walked tall on the beach with a warm breeze billowing my white blouse just so. Instead I got lost in the armpit of Christy Turlington's ex-husband's blazer and dragged over pebbles in three inch pumps during a rainstorm to make a grand slam entrance on my ass at the foot of Bridgehampton's notable celebrity night club, Lily Pond.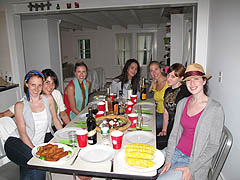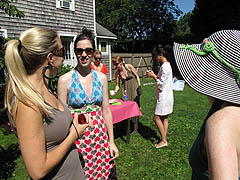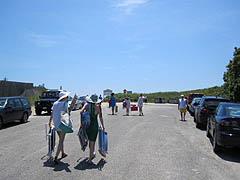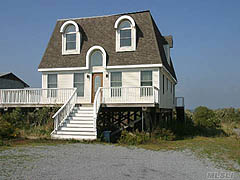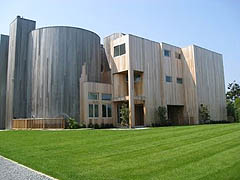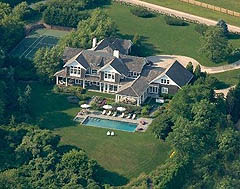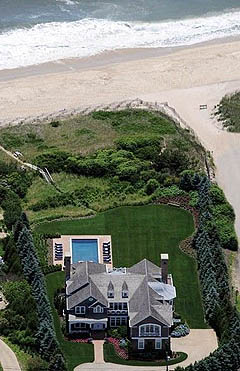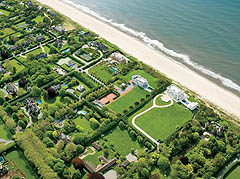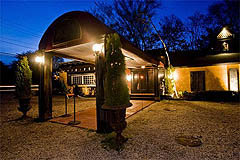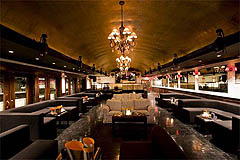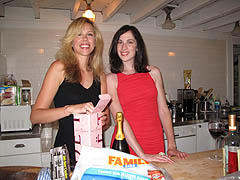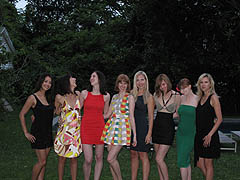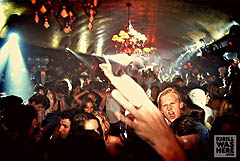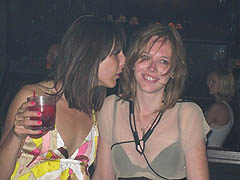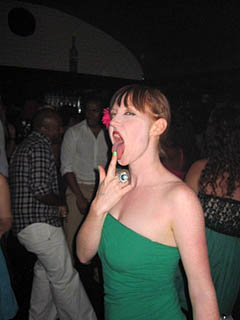 A couple weeks back I burnt a hole through my credit card on a girl's getaway weekend in the Hamptons. Sitting on the train next to a couple of bankers drinking Coors Light, I wondered how rich they all were. Was I going to see chauffeurs driving famous people and ladies in fancy hats? How big were the mansions – like A BILLION DOLLAR MANSION?? Were captains steering one hundred foot yachts going to invite me in for bubbly on the bow? Would a Canadian girl used to drinking fifty on a Beaverton beach fit in? I wondered all this, aloud, and received several disturbing looks that read "Shut up, you are embarrassing yourself and ME!"
What you imagine the Hamptons to be is correct. The uniform is Polo Ralph Lauren and people take great pride in their packed picnics… packed by the maid that is. If you aren't lying on perfect white sand, you can bid on a Warhol painting at a local auction, (ooh – neat-o!) shop for a cocktail dress or play some parlour games in the coach house. Sound like your kind of R&R weekend? Well you are in luck because real estate is down 20% – hee haw! Now the median price for a modest summer home is only $770, 000. Looking for something one up from shabby-chic? Don't worry, the luxury market has also dropped and mansions can be easily scooped for an average price of $4, 000, 000, but obviously climb to way high double digits.
Now, if you listened to economists, you may have put your investments in gold over real estate. That's fine, just find a friend of a rich friend who knows a richer friend who subleased a quaint cottage for a month who can sublease to you and your friends (if they know her rich friends) for just a few grand. Perf.
In the daytime the country roads are a rally of high end automobiles that wind and bend through green fields and stop roadside for a bushel of fresh apples or cobs of corn – as a nod that they are in fact doing the country thing. What starts off peacefully escalates into irate finagling to find parking for optimum beach seating. "HEY ASSHOLE – do you have a permit? Didn't think so!" jeers the lawyer on a Bluetooth from his Porsche. Apparently there is parking protocol beyond the pastures. Although it can get a little testy in the initial planting of your parasol, I've got to say – the beaches are beautiful.
At night, rather than singing Amercian Pie under fire-lit sky, it's all about bump n' grinding to fire's burning on the dance floor. Oh, don't worry- you can still order a bottle of Grey Goose – heck, make it two for $900 – I mean, we are celebrating right?
Yes this strip of east coast ocean front is the summer hot spot for millionaire Manhattanites but also an enclave of leathered has-beens who peaked in the mid-eighties and now hustle lychee martinis and peddle peking duck to bright eyed bridal showers.
You see, Roger – Christy Turlington's ex, wanted to make our night perfect. It started like so:
"GIRLS GIRLS, who's getting married?? Congrats. What are we drinking? Wine? Martinis? A little prosecco? What'll it be? Hm? I know – LYCHEE MARTINIS? YES – LYCHEE MARTINIS IS PERFECT – Brad (snap snap) get these girls a round of Lychee Martinis – right round. Perfect girls! Fabulous."
Don't be naïve – this guy was not just a waiter but a full throttle salesman who dazzled us with niceties as the bill secretly hiked up. After a few stiff ones – things got a little dizzy..oh oh, how much are we spending? Why are people only going to the washroom in twos, why is this man rubbing against my backside? Are we on a boat?
When the sky tore open and pellets of relentless rain poured down, Roger turned up his hustling host techniques a few notches and decided it was best to race us across a parking lot to destination deux, Page Six fave Lily Pond. Before I knew what was happening, he had blanketed my face in a dark coat and started push-pulling at abnormal speed.
"I can't see anything! I can't see anything! My heels…." I cried.
"GO-GO-GO-GO-GO!"
Why so chaotic and dramatic? Aren't we in the country? It was entirely stressful and anything but poised.
"MOVE IT, LET'S GO!" he barked.
Suddenly, Roger halted but I blindly kept going – KA-BOOM! It was a tragic entrance that hardly seemed to fit the gloss and sparkle of the blonde beauties lining the door, but I do think they took pleasure in my humiliation. As if things weren't bad enough, broody bouncers shouted "GET THIS PARTY UNDER CONTROL!" i.e., me. In my disgrace, I sprawled around the ground trying to finger my Visa and eyeliner. Thanks for the help Roger.
The rest of the night is..um…a little fuzzy (see photo caption "oh oh"). Who cares…I'm on vacation! If I can't languidly take a nap in the VIP booth at a Hamptons nightclub then how, may I ask, do you suggest I relax?
In the morning, we all agreed it was a 'fun time'. Which, translated from conservative Upper West Side chit chat really means – MESS, WOAH! WTF WERE WE DOING?? Do you remember? Not a thing! But yeah it was a lovely time, I mean, the puke stop in the taxi van was just crazy enough that it almost seemed like the cherry on top. Amazing.
If the private jet is booked then hop on the Jitney, a trendy term for coach bus – it whisks away Hampton-bound New Yorkers from Manhattan several times daily.
Take a break from debating whether an alien nanny is really the way to go and bust open a bottle of Veuve for a champagne toast, or three!
The Hamptons – it's so easy.