In 2018, the CEO of Canada's largest cryptocurrency exchange died while on honeymoon in India. Gerald Cotten was 29, and the CEO of QuadrigaCX. QuadrigaCX had made Cotten a multimillionaire while his peers were still paying off their student loans. But this privileged life was cut short when a strange gastrointestinal illness took his life. Unless, of course, you don't actually believe Gerald Cotten is dead. This mystery is the riveting subject matter of CBC's A Death in Cryptoland, our latest podcast obsession.
At the time of the CEO's alleged death, he was the only person at QuadrigaCX with access to his clients' crypto holdings, which meant $250,000,000 vanished when Cotten took his last breaths, and there was no way to get it back. Clients wondered, why hadn't Cotten, a cryptocurrency wunderkind, been savvy enough to create a so-called "death switch?"
For the uninitiated, a death switch is a plan for passing on company information in the event of his death, and it's a crucial thing to have when you're dealing with other people's money. The fact that QuadrigaCX's leader had no such plan felt suspicious.Today, there are a bevy of crypto enthusiasts who suspect Cotten's story isn't the tragic tale of a young man's untimely passing, but that of a corporate criminal who faked his own death to escape when his company's fortunes turned for the worse.
Hosted by veteran tech journalist Takara Small, A Death In Cryptoland is a delicious tale that investigates the life of a man who may well be the millennial Bernie Madoff. "It was really something straight out of a Hollywood film. This script wrote itself," says Small. And she isn't exaggerating – I accidentally burnt a lasagna while listening to the three advanced episodes CBC sent me. When a show is so engrossing you don't hear the oven timer go off, that's podcast gold.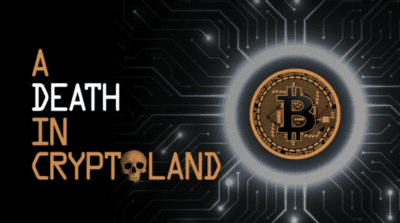 Fast paced, and full of fascinating characters who knew Cotten, the series feels like CBC's solution to Serial; it's entertaining, but it's also a work of serious investigative journalism. Small and her team did their research, securing interviews with a host of people who knew Gerald. Listeners will get to hear from Gerald's high-flying peers in the crypto industry. But you'll also meet those who knew him as a teen, growing up in small-town Ontario.
Ultimately, A Death In Cryptoland explores the question, if Cotten pulled off one of the greatest deceptions in the history of crypto, how did he do it? And where is he now? The podcast hasn't even premiered, but Small already has people sliding into her DMs to inquire about Gerald Cotten's whereabouts. For her part, Small understands the crypto community's fixation on Cotten; the award-winning journalist considered investing in QuadrigaCX prior to Cotten's death/disappearance. Luckily for Small, she reconsidered after researching the company. However, plenty of others lost thousands, or even millions.
When asked what she believes became of Cotten, Small is thoughtful. "Oh, it's a tough one. I go back and forth," she explains. However, Small is excited for audiences to come up with their own theories of the case: "I think the best part of this series is that people will listen to the entire thing and come up with their own ideas."
The first two episodes of A Death in Cyptoland are now available on CBC Listen and everywhere podcasts are available, with new episodes being released weekly.