For Canada 150, we've partnered with photographer Jessica Laforet (founder of This Woman I Know) to profile an eclectic mix of leaders who are spearheading positive change across the country, and inspiring us with their tenacity, grit, compassion, and spirit.
We hope this series not only introduces you to progressive thinkers and doers, but also acts as a catalyst for sparking conversation and debate on what it means to be Canadian. To kick off this year-long initiative, we're starting with Bee Quammie: storyteller, prolific communicator, copywriter, public speaker, and community innovator.
When Bee was in elementary school, she won the "Lunch with Robert Munsch" writing contest. This was a defining moment in her life that helped give her the confidence to continue writing. An early adapter, she began blogging in 2006, a time when the word blog confused most. Since then, she's written for a variety of notable publications, including Chatelaine, Huffington Post, Metro, By Blacks, Parents Canada, and in 2014 she launched The Brown Suga Mama, chronicling her new life chapter as a mother.
Bee's work has been acknowledged nationally and internationally, earning her the Best Blogger Award at the 2014 Black Canadian Awards, and celebrated by Black Enterprise as one of the "most impactful and successful voices in the online space."
With entrepreneurial gusto, Bee's career has never followed a linear path; instead, she allowed her passions to pull her in different directions. The result is a life wherein she bounces freely into creative spaces, flexing a variety of muscles and impacting many with her strong and beautiful voice. Bee Quammie is a woman you should know.
SDTC: What about Canada makes you proud?
BQ: There's a lot that Canada has gotten wrong, but I'm proud to benefit from access to healthcare and maternal/parental leave that is sorely lacking in many other countries.
What changes would you like to see in the future?
I'd like to see Canada drop the exceptionalism act and take a real look at the injustices that happen here. We aren't helping ourselves by pointing fingers at other countries' messes while we sweep ours under a rug.
What's on your to-do list right now?
Writing, learning more about diasporic spiritualities, Duolingo Spanish lessons so I can keep up when my daughter watches Dora The Explorer, nurturing the key relationships in my life, and working on a special project that will be unveiled later this year. 2017 is a busy one!
What lesson is currently guiding your journey?
Right now, I'm actively working with the life lesson of purging what is no longer needed to create room for new things to bloom. Also, the importance of the power of words and ensuring I speak to myself kindly and lovingly.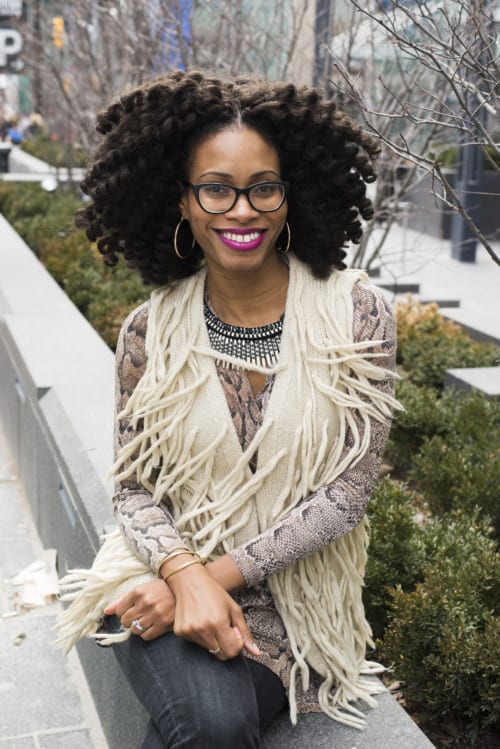 What's your best advice to young women hoping to leave their mark on the world?
Just do it, like Nike. There is someone who needs to hear your story – either to be enlightened or to know they aren't alone. Your authenticity is power, it's significant, and you should never play yourself small. Be you, and be unapologetic about who you are.
What is very important to you?
Freedom. Doing work that fulfills me. Helping people. Making sure that the people I love know how much I love them.
What do you do to recharge your energy?
I'm an extroverted introvert, so I recharge with alone time – lighting a candle, meditating, writing in my journal, taking a salt bath, or just crashing on the couch and binge-watching TV. I need alone time to reset myself.
In your opinion, how does one build self-confidence?
I can't speak for everyone – but for me, it's always bloomed within me when I got fed the hell up with the restrictions that insecurity comes with. When I've wanted more from life, I've usually been the biggest obstacle in my own way. It can be scary to present yourself to the world, flaws and all – but it's so freeing, and that freedom has been life-giving to me.
When and how did you know you were on the right path?
This is a constant navigation, but I always know I'm on the right path – even if I can't see the finish line – when I'm being authentic with myself. When I say "yes" or "no" and mean it, I know that I'm bringing myself closer to what's meant for me through truth, which is the best way to go – because that's when the spoils of the journey will be genuine.
What's your advice for those feeling lost?
First, remember that you aren't the only one. Sometimes I'll be on that journey that I mentioned before, and the universe will throw a wrench in my plans – then I'm left wondering, "Okay, that's not how I thought this would end up. Now what?" I don't cope well with unexpected change or uncertainty, but I practice taking time to re-centre myself, indulge in the things that give me confidence, and sit down to write a game plan on what my next move will be.
What ritual is important to you?
It might sound odd, but I talk to myself in the shower/bath. I don't know what it is about the atmosphere, the water, or the act of cleansing, but being in the shower or bath always feels like a good time to talk out loud, pray, set intentions, vent, whatever. It feels good, so I do it.
Top three tips for young women hoping to advance their career:
Be clear in your communication. Eliminate any unnecessary words like "sorry" or "just" that only minimize your message. Say what you mean, and mean what you say.

Set big goals, but don't leave them there. Break down huge dreams into small, bite-sized tasks so that you can make tangible gains towards the big idea.

Find a mentor and/or a sponsor. My loose definition is that a mentor is someone who directly or indirectly provides a guide or blueprint for your career path; someone you admire; someone who helps you figure out your next step. I've had mentors I knew in person, and others I follow on social media who have no clue they mentor me. A sponsor is someone who can open doors, introduce you to key players, get you into important rooms, and who has the kind of clout that helps people pay attention when they speak about you. A mentor and sponsor can be the same person or different people, but they are both key to career development.
Find out more about Bee by heading to her website, or following her on social media: Twitter @beequammie / IG: @beequammie / FB: Bee Quammie Media