Montreal-born Nahéma Ricci is an interpreter and performer whose onscreen credits include Ailleurs (17) and Antigone, which is making its World Premiere at TIFF 2019. She is also the author, director, and interpreter of the play Identikit (19), which was presented at Montreal's Fringe Festival. She recently completed the 2018–19 Dance as a Profession program at Danceworks in Berlin. In the near future, she will appear in the independent drama Before El Finâ.
We asked Ricci about her life & work this week.
SDTC: You wear a lot of hats (interpreter, author, director, dancer, actor): which comes to you most naturally?
NR: As I have studied and practiced acting for the longest amount of time, I feel as though it comes most naturally to me. Growing up, cinema was the most accessible art form. Dancing might be the most challenging because it has been in my life only recently, and it requires so much discipline and humility. However, as dancing can be a very instinctive form of expression, it can also feel like the most natural role.
Who's had the biggest influence on your acting?
I think my mother always valorized and encouraged my curiosity and my learning potential, in a healthy manner. My upbringing and my social context widened my field of possibilities: I grew up thinking I could do anything I wanted. Also, my best friend has influenced my acting career, as he inspires me through his work ethic and through the way he addresses being an actor.
What is your earliest memory of being moved by a performance ?
When The Chorus by Christophe Barratier came out in 2004, I felt so strongly about the movie—maybe because the actors were around my age. I remember crying intensely on my mother's lap because I wanted to be an actress too.
How familiar were you with the classical story of Antigone before this project?
I studied and interpreted Antigone twice in theatre classes. I read the play first when I was 14, and since then I have read different adaptations of the myth. As a teen, I was fascinated with Antigone.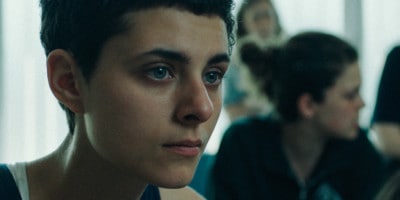 What about this modern reworking of the story appeals to you?
I think modern narratives stem from ancient myths in ways we are not even conscious of, so I love the idea of transposing the story and its characters in a different context and through a different medium. I think it teaches and reminds us the fundamentals of humanity.
How did you prepare for your role?
Sophie and I had a lot of meetings prior to the shoot, which were essential. It allowed us to build the character and develop a trusting relationship. I thoroughly studied the script as well as the Antigone plays of Sophocles, Anouilh and Brecht.
What do you hope people take away from your performance?
One of the biggest challenges I faced while creating the character was to contextualize the mythical figure in order to realistically portray a teenager with a precarious social status in contemporary Montreal. I hope people will identify with our modern characters without losing the essence of the myth, which I think is eminently important.
How do you stay focused and grounded when working on so many different projects?
I have a great support system of family and friends that understand the pressure I'm under, which helps a lot. It's also important to deconstruct the acting profession and the lifestyle it entails, as it can be quite overwhelming.
What does winning the Rising Star award mean to you personally?
I feel very privileged and thankful to be recognized by an organization like TIFF that features such interesting films and that advocates for inclusion and diversity.
Antigone opens this September at TIFF. Get tickets here.