TIFF is upon us. We can feel the buzz; the lineup of films has begun to rule our local media, and we're days away from that exciting time when Toronto becomes one big red carpet.
But before the festival officially kicks off, we want to spotlight a woman who is responsible for so much of the greatness that TIFF brings us year-round. maxine bailey has been at TIFF for over sixteen years. In her current role of VP of Advancement, her mission is to expand TIFF's accessibility, so that as many Canadians as possible can be touched, moved, and educated by the power of film.
Right now, maxine is busy organizing the final details of TIFF Soirée: a major annual fundraiser that has become a highly coveted event, and the unofficial kick-off for TIFF that takes place the evening before opening night. This year, actor Michael Fassbender (Hunger, Fish Tank, 12 Years A Slave) will be the special guest of the evening. Attendees will be treated to an intimate Q&A with the world-class actor before the cocktails and chatter commence.
Before we raise a glass to Fassbender, film with a capital F, TIFF 2016, and everything we'll have to celebrate come September 8th, meet maxine: a force who's been pushing to make a difference since she started her long and passionate journey with TIFF. Life lessons, positive thinking, a creative boundary pusher and much more: if TIFF is a human body, maxine's got a strong presence in the mind, muscle and heart.
What does it mean to be the VP of Advancement? How would you explain to strangers at a dinner party?
mb: First of all, although many people don't know this, TIFF is a charitable cultural organization. We are committed to growing and strengthening our community through the power of film, 365 days a year…and we don't do this alone. Simply put, we would not be able to do what we do without the support of our donors and members.
As the VP of Advancement, I lead an exceptionally talented team to cultivate and maintain positive and productive relationships with potential and current individual donors and members, foundations and government partners. My team and I are responsible for identifying, cultivating, soliciting, and stewarding these very important friends of TIFF, who are part of the TIFF family, and not only share our successes but also help us engage and educate others on the work that we do, which goes beyond the eleven days of our great festival in September.
What are charitable programs/initiatives at TIFF that you are most proud of?
ALL of them! To highlight a few, let's start with Special Delivery, a program that reaches out to youth in under-served communities and brings film screenings, director discussions, and workshops to community partners across Toronto, free of charge. It has served almost 15,000 in the GTA since it started in 2002. Last year alone we were able to bring screenings and workshops to 1,576 under-served children and youth across the GTA working closely with community outreach partners such as Applegrove Community Complex, Red Door Family Shelter and Four Corners Health Centre.
Our ongoing relationship with Outburst! and Reclaim Honour (two Muslim women's empowerment groups in Toronto and London, Ontario) reached new heights in 2015. Using stop-motion animated films to challenge dominant media representations of Muslims and Islamophobia, the participants in our workshops were able to tell their own stories in a meaningful and impactful way at a time when strong and diverse voices are needed.
Reel Comfort brings film screenings, facilitated discussions and film-craft workshops to in-patient psychiatric units at five Toronto hospitals and community organizations with a focus on mental health, also free of charge. One of Reel Comfort's greatest strengths is its ability to cultivate meaningful connections and provide a creative outlet where there are very few therapeutic and rehabilitative activities available. In 2015 we helped over 1,200 mental health clients, which supported them in their recovery and promoted positive mental health (and understanding) for all. Given that family and friends are permitted to attend Reel Comfort sessions, the daughters of a client helped shoot a film during a workshop, giving them a chance to share a memorable experience and actively create something with their mom.
At a recent animation workshop, the Toronto General Hospital's in-patient psychiatry unit dining room was transformed into a cinema, as the hand-drawn 16mm films created by the participants were projected onto the wall. Participants cheered and congratulated one another after each one of their films was shown.
I'm also very proud of Pocket Fund, which works to ensure that no child or youth is turned away from TIFF's educational and cultural programming due to financial circumstance. It provides subsidies, including free access and transportation for children and families who would otherwise be unable to participate in our film-based learning programmes. Last year Pocket Fund's participating groups included Aboriginal Legal Services, Covenant House, Down Syndrome Association, For Youth Initiative, Rexdale Community Health Centre, and the West Scarborough Boys & Girls Club. Thanks to the support of our members and donors we were able to cover costs for 4,534 children and youth to experience the joy of film through film screenings, filmmaker talks and workshops at TIFF Bell Lightbox last year.
The TIFF Soirée has quickly become a very coveted event. How do you choose your guests of honour?
We're quite proud of this event, and we're always looking for guests who have a connection to TIFF. In the case of Mr. Fassbender, not only has he had a number of films at the festival including Shame, Hunger and 12 Years a Slave but he's also worked quite often with another TIFF friend and director, Steve McQueen. TIFF's mission is to transform the way people see the world through film and I'm not alone when I say that the films Mr. Fassbender has starred in do exactly that: they transform and expand our perspective of the world! We're can't wait to celebrate his incredible talent and bring awareness to our charitable initiatives with Fassbender fans and film lovers. It's going to be an unforgettable and inspiring night out!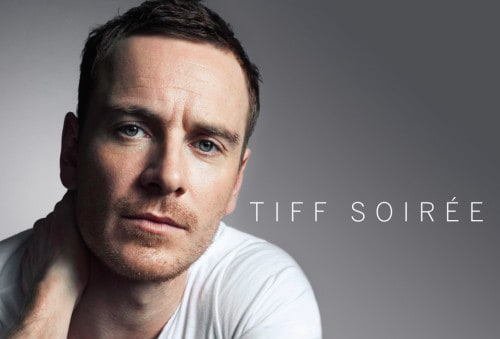 What about Michael Fassbender's career, or him as a person, impresses you most?
He is such a chameleonic actor. When I look at his career, I'm impressed not only with the wide range of projects he has chosen to work on thus far but also his incredible ability to become so physically, psychologically and emotionally immersed in such demanding roles like those in Hunger and 12 Years a Slave. Yet he is also able to take on a playful role, like Magneto in the X-Men series. I can't wait to see what else he has in store for us in the next few years. I'm sure he'll continue to surprise us and impress us with his dedication, talent and intelligence.
In your opinion, what are the most important reasons we should introduce children and youth to great cinema from around the world?
By introducing children and youth to international cinema, we're providing them with access to the world in all its complexity, which ultimately promotes multiculturalism, diversity, and understanding. Film not only has the power to entertain us, but it also serves as a platform of communication where we can see ourselves, each other and the world, ask questions and learn from each other. It has the power to act as a catalyst for self-expression, a launch pad for emerging talent, and a springboard for provocative conversation.
We're very proud of the different programs TIFF offers to children and youth year-round. Some of them include:
– TIFF Kids International Film Festival: One of the largest children's film festivals in the world, it offers a diverse slate of programming from Canada and around the globe, using the power of film not just to entertain children and parents but also to foster new ideas about the complex issues facing young people today. In 2017 we'll be celebrating TIFF Kids' twentieth anniversary!
– digiPlaySpace: An award-winning interactive exhibition that offers an immersive learning experience through play with the latest interactive installations. Featuring new works from internationally acclaimed artists, digiPlaySpace supports diverse learning styles, and boosts new media literacy skills in support of the science, social studies, math, and language arts curricula. Next year will be our sixth edition.
– The TIFF Next Wave Committee: Each year we welcome twelve students aged fifteen to eighteen to form this Committee and work with us to plan youth-oriented programming, including the TIFF Next Wave Film Festival, which brings the best in film from around the globe, along with an exciting slate of special guests, interactive workshops and a 24-Hour Film Challenge for young filmmakers. Hailing from specialized arts institutions, public schools and private schools across the GTA, the Committee members' tastes, opinions and critical voices are as diverse as they are strong.
– Primary and Secondary Programs: TIFF provides students and educators with innovative ways to explore the moving image and related technology through screenings and hands-on workshops. Programming can be booked for classes from kindergarten through grade twelve, and for groups of elementary and high school educators
– Higher Learning: A free ongoing program that provides Canadian college and university students and faculty with opportunities to interact with each other and the broader media arts communities in order to enhance the educational and professional opportunities available to them.
You've been at TIFF for sixteen years. What is the most wowing transformation you've observed since 2000? 
TIFF Bell Lightbox, the incredible building that I travel to every day, does not cease to amaze me. I'm very proud to have been part of the journey that made our year-round home a reality. I've also been lucky to witness how both local and global audiences have embraced the TIFF festival in September and the diverse year-round programming. TIFF has made an impact on thousands of people, including filmmakers, art lovers, children and youth, students and educators. There's a wonderful sense of ownership within our audiences. It's exciting to see that as our activities have grown, it's not just Toronto that has supported us. We now welcome visitors from the international community and are seen as one of the key cultural organizations in the world.
Can you share one of the greatest lessons you've learned?
What I've learned from the eleven-day festival marathon is to hydrate, hydrate, hydrate! I've also learned that it doesn't hurt to smile. Positivity brings positive things. Given that TIFF has grown and evolved exponentially over the past ten years, we've had to face multiple challenges along the way. When facing these challenges, it's been key for us to work as a team, face each issue with a positive perspective and always keep our supporters and audience top of mind.
Got a favourite festival moment?
There are several. There was that time back in 2009 when the fantastic people at Toronto Zombie Walk did an extra special edition to coincide with the premiere of Survival of the Dead and TIFF's celebration of George Romero at Yonge-Dundas Square.  The city pretty well came to a standstill with thousands of zombies walking up Yonge Street. This image will forever remain in my mind and make me both proud and happy as it speaks to the power of film bringing people together.
Also, when we opened TIFF Bell Lightbox to the public on September 12, 2010, we had a free block party that included dance flash mobs, activities for kids, and a concert by the incredible K'naan. The energy that our audiences brought with them made it a true city celebration.
In your opinion, how can TIFF continue to affect positive change for Torontonians year-round?
Toronto is a vibrant and diverse city with much to offer. We've built an enviable international reputation because Toronto audiences love film. We are proud to know that our city has become known as a film city, with over seventy film festivals throughout the year and some of the world's most eager, passionate and discerning film goers. We are thrilled to be part of the community and will continue welcoming both new and familiar audiences from diverse backgrounds to discover the power of film, to share and discuss ideas and use the moving image as a tool to communicate, generate dialogue, build understanding and develop strong communities.
Last year we presented 664 films from fifty different countries as part of TIFF Bell Lightbox's year-round programming, which invited Torontonians to delve into cinema's rich history through a diverse range of programs such as retrospectives on Indian-Canadian Director Deepa Mehta and emerging Chinese-Canadian filmmaker Luo Li, a series on Georgian Cinema, a survey of the best Italian classic films, and special events that included amazing guests like acclaimed author Irvine Welsh, Italy's most beloved cinematic couple Roberto Benigni and Nicoletta Braschi, and the only and only Pam Grier. As Toronto continues to evolve and welcome new communities, we'll continue to bring diverse perspectives to our screens to help bridge gaps between cultures, time and generations.
What's your advice to young women hoping to make it as a director in this industry?
It ALL starts with a good story. So, see as many films as you can. Read as many books as you can. Gather a good team around you. Filmmaking is not a solitary endeavour.