This isn't Tremblant, and Earl Bales Park doesn't exactly pass as a luxe ski destination (although it's great for beginners), but nevertheless, Toronto has two very delightful après-ski options, should you want to get cozy after work and pretend you just flew in off the hill.
Earlier this month, The Four Seasons Hotel announced that they have transformed the street-level bar and lounge into "Take Me To St. Moritz", where guests are welcome to lounge by the fire, cuddle up with a fur throw, snap a photo in a gondola (they wen't all out), and pretend to live in the log cabin—erected for the duration of "ski season", or until March 30.
Inspired by Swiss ski life, a special menu has been created that includes Traditional French Onion Soup, Raclette Tartine, Sesonal Charcuterie, Tartiflette, and of course ooey-gooey Cheese Fondue.
Understanding that this highly curated ambiance, that offers much sought-after hygge, is not just desired after dusk, The Four Seasons après-ski will run every day from 11am – 11pm.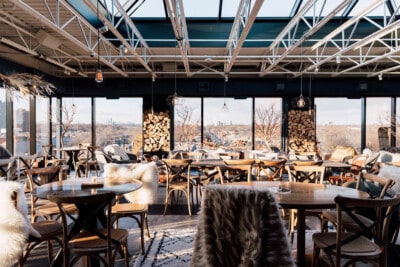 On the east side of town, The Broadview Hotel has renamed their beloved rooftop "The Summit Lodge" for the winter season. Like The Four Seasons, their version of après-ski also promises plenty of blankets to wrap oneself in, as well as fondue. But as "The Summit Lodge" is located on the top of The Broadview, as opposed to the foot of Bay Street, this cabin-like retreat (complete with a pile of wood) offers a skyline view of the city, so you can relax with a hot drink and watch the sun set over Toronto.
While The Four Seasons begs one to skip work and play ski vacay all day, The Broadview Hotel après-ski starts at 5pm on weekdays, and 2pm on weekends.
No matter which location, both similarly offer a warm escape and some fun seasonal make believe that we can definitely get behind. Ski outfits optional.