Art books and 'zines are often small in scale, ephemeral, relatively inexpensive to produce, and easily replicable. They flow outside of mainstream channels to reach "real" people – plus, they are gorgeous to look at and offer an intimate snapshot into the process of art-making.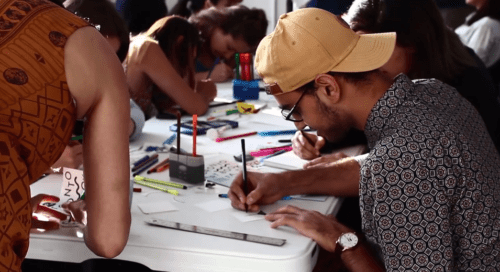 From June 15th to 18th, hit up the Toronto Art Book Fair at Artscape Youngplace (180 Shaw St). They'll be showcasing over eighty-five Canadian and international exhibitors, including artists, publications, small presses, independent publishers, collectives, artist-run centres, and galleries.
This year, TOABF is pleased to host Rajni Perera, Art Problems, DDOOGG, Rope Press, The Museum of Longing and Failure, Wizard Skull and many more. As an added bonus, the fair will be hosting three exhibitions: "Posters and Student Work" (from the collection of Garry Neill Kennedy and Cathy Busby), "Related Items," curated by Nasrin Himada, and "Generators" curated by Anthony Stepter. Each exhibition will be complemented with a panel discussion.
If workshops are your thing, there are a number of them coinciding with TOABF – including an emerging arts writer session. Find full details of the festival, workshop and art book week here. Free!