Here are our top picks for arts and culture events happening in Toronto this week! From women across generations sharing their stories, to iconic films from women directors, to a night of Indigenous comedy, find something that sparks joy for you this week.
Generation Women — Bucket List
Generation Women is an intimate literary salon that brings together six women storytellers across generations. Of those performers, one is in their 20s, 30s, 40s, 50s, 60s, and 70s+. The theme this time is "Bucket List"— inviting the performers to share about their dreams both realized and unmet, the satisfaction of ticking off big achievements, and the pang of things left unchecked. Don't miss this inspirational event on July 18. Tickets available here.
Art + Narrative in the Park
This creative and immersive workshop at Trinity Bellwoods Park celebrates the fusion of art and storytelling. Hosted by Luisa Ayala, a Toronto-based architectural designer and multidisciplinary artist, these workshops offer participants a chance explore the power of narratives through artistic mediums, including watercolour painting and writing. Enjoy the vibrant setting of the park while unlocking your imagination. Sessions are offered from Mon-Fri for the month of July! More info.
We Really Like Her: Frances Ha Screening
Ahead of Greta Gerwig's already iconic Barbie movie, We Really Like Her! invites you to travel back to her big screen beginnings with a 10th anniversary screening of Frances Ha. Starring and co-written by Greta Gerwig, Frances Ha tells a timeless tale of friendship and finding yourself. The film follows Frances as she struggles to balance her dance dreams with the harsh realities of living in New York City and her waning friendship with former best friend Sophie. We love a story that examines the ins and outs of female friendships, and just how rewarding platonic connections can be. Catch this screening on July 20 at Revue Cinema. More info.
Dream in High Park
Dream in High Park is an iconic Toronto summertime experience, and it's back for its 40th year, starting on July 21! Plan a magical summer evening with a nature hike, meditative walk, or picnic, before you settle in for a performance of A Midsummer Night's Dream under the stars in High Park. More info and tickets here.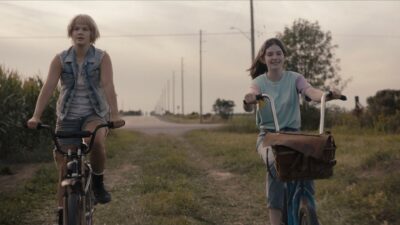 The Young Arsonists
Last month, we shared the trailer for Sheila Pye's highly anticipated debut feature The Young Arsonists, and this week we can finally watch it on the big screen. Set in the 1980s amongst the sparse landscape of an isolated farming community in Ontario, five adolescent girls band together to escape their desolate lives. By reclaiming an abandoned farmhouse as their own, they form an intense and obsessive bond. We love that Pye digs into themes like female friendships, sexual assault, independence, women's bodies and the power of syncing periods, and rebellion. Catch this screening plus a Q&A with Pye on July 21 at Paradise Theatre. More info.
In Conversation With Anna Fendi
On July 22, don't miss an elegant evening in celebration of fashion mogul Anna Fendi. The event will take you on a journey through the life and successes of the woman whose last name brought this iconic brand to the forefront of global fashion. Guests can expect to indulge in an evening of luxury, sophistication, glamour and style while having the opportunity to hear from Anna Fendi herself. Anna was also a pioneer of fashion in cinema, and helped shape the visual aesthetics of many iconic films. Get your tickets for In Conversation With Anna Fendi at TIFF Bell Lightbox.
The Deadly Aunties Comedy Show
The Deadly Aunties Comedy Tour will be stopping in Toronto for two shows on July 22! This 18+ comedy show talks about everything from being a mother, to the things we've done to become mothers, to self-love. Head over to the Imperial Pub or Aki Studio to catch a laugh-out-loud night of Indigenous comedy this Saturday. Tickets available here and here.