It's the first week of October, and there's definitely a chill in the air, but don't let that stop you from enjoying some really cool events around Toronto this week, and into the Thanksgiving long weekend. With a spotlight on Sidney Poitier films, a Lizzo concert, a ball for Bridgerton fans, and spotlights on local art, there's bound to be something up your alley!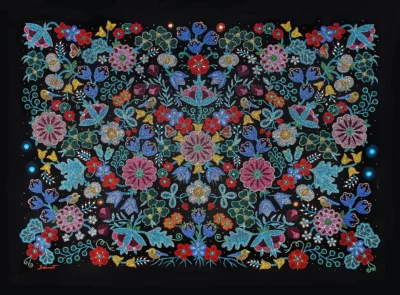 Life on the Line- Youth Mental Health Event
It's Mental Illness Awareness Week, and even though 70% of mental health problems first appear in childhood or adolescence, youth mental health is often overlooked. #LifeOntheLine is raising money and awareness for youth mental health programs in Toronto. This art fundraiser and campaign launches this Thursday, October 6 at 918 Bathurst with an event featuring a youth artist exhibit, live painting, music and more! You can also support the cause from October 7-10 by participating in their online art fundraiser. Purchase stunning prints from Canadian artists, including Métis artist Christi Belcourt (her intricate work titled "Many Petals of the Métis Nation" is pictured above). 100% of proceeds go to CMHA.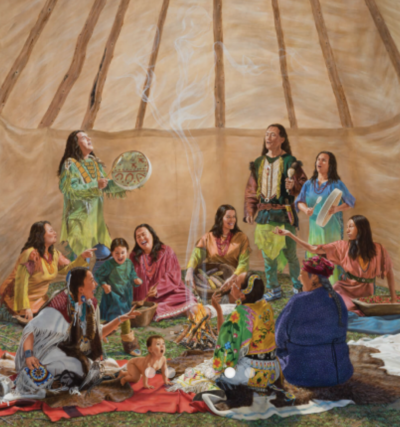 New Kent Monkman at the ROM
Renowned Cree artist Kent Monkman is bringing a new collection of original paintings to the ROM, depicting how deeply Indigenous knowledge is embedded on Turtle Island. Entitled Being Legendary, the collection is interpreted by Miss Chief Eagle Testickle, Monkman's "shape-shifting, time-traveling, gender-fluid alter ego." The exhibit opens to the public on October 8, and will remain at the ROM until March 19, 2023. We know that many of you will want to see this powerful work.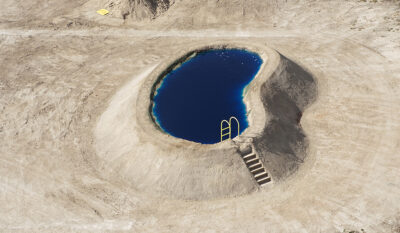 See Extended Nuit Blanche Projects
Last weekend's Nuit Blanche saw huge crowds filling the streets of Toronto to view and appreciate some impressive art installations. If you weren't able to make it, more than 35 projects across the city are remaining on display this week—many of them until October 10. Projects in Downtown Toronto, Etobicoke, Scarborough and North York will remain on display, including Tsēmā's Tailings Pool and (Kolam): A Parallel Coexistence by Whyishnave Suthagar, both at Scarborough Town Centre. See the full list of extended exhibits.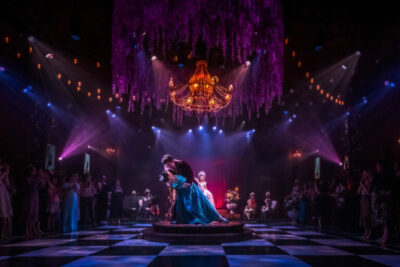 Bridgerton Ball
This highly-anticipated immersive event arrives in Toronto this week! Find yourself transported to an exquisite ball right out of Bridgerton, complete with regal Regency-era costumes, mesmerizing live acrobatic performances, a string quartet playing the show's beloved soundtrack and plenty of photo opportunities. This is a must-visit for Bridgerton fans! Tickets are selling fast.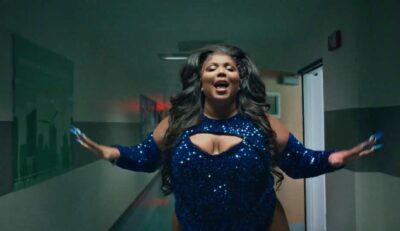 See Lizzo in Toronto
Lizzo is coming to the Scotiabank Arena this Friday! We already know this concert is going to have great vibes and possibly some fun surprises (she recently called an audience member's ex live on stage at Madison Square Gardens, and made headlines for being the first and only person to play a 200-year-old crystal flute from the American Library of Congress). Hear all of Lizzo's infectiously danceable songs live, including the tracks from her most recent album Special.
Spotlight on Sidney Poitier at TIFF
TIFF is celebrating the life of the late great Sidney Poitier by screening a selection of beloved films that spotlight the award-winning actor's groundbreaking work. This week, head to TIFF Bell Lightbox to watch To Sir, with Love. The 1967 British film received the Oscar for best picture, and Poitier's riveting performance was heralded around the world. "Based on E.R. Braithwaite's autobiographical novel and supported by a cast of the UK's hippest emerging talents in iconic mod fashions — Judy Geeson (as lead bad-girl Pamela Dare), pop star Lulu in her acting debut, and Suzy Kendall are standouts — Poitier brings his trademark elegance, dignity and poise to this sentimental classic," says Robyn Citizen, Director of Festival Programming and Cinematheque. View more titles in the Poitier retrospective.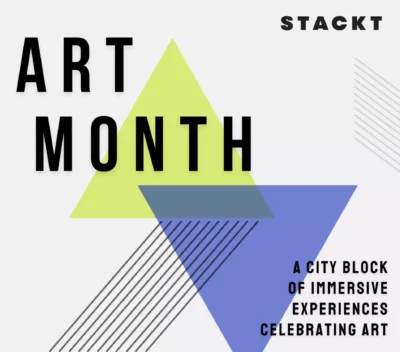 Art Month at Stackt Market
October is Art Month at Stackt Market, and there are plenty of interesting exhibits to check out in between shop visits. We love the sound of Jack Jackson's For The Love of Dog — award-winning photography capturing dogs in pure moments of joy, as well as the bonds between queer and trans people and their rescue dogs. On October 7 and 8, you can also visit the LooseFade People's Market at stackt, spotlighting unique artistic creations, and featuring vintage shops, musicians, DJs, art, and a bouncy castle. Entry is free!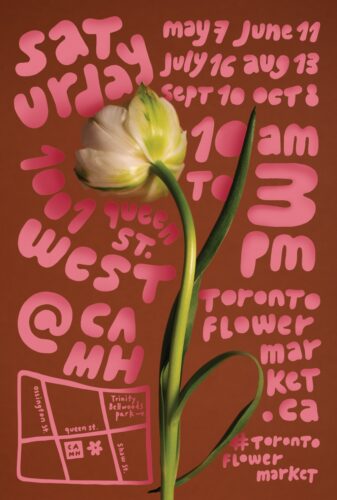 Toronto Flower Market
This Saturday is your final chance to stop by the Toronto Flower Market! Visit the CAMH grounds and stroll through beautiful selections of flowers, plants, succulents and more, from 30+ local vendors. Stock up on some fresh blooms before the market wraps up for the season.