Toronto choreographer and performer Kylie Thompson is asking what it means to be a feminist and a millennial in today's world. Femmillennial is an evolution of Kylie's 2019 production, Oh, Yes.
Over the next 3 years, she developed her previous work, expanding on the concepts of femininity, women's roles in society, and communication between generations. The result is a 55-minute production that delves into the intersections of these complex themes, performed by a trio of dancers. It's set to premiere at the upcoming Toronto Fringe Festival for a 7-show run, from July 6-17.
Femmillennial is described as visceral, highly physical, and "a 3D collage of movement, media and music." It sounds like an immersive and thought-provoking show — we're sure it'll prompt lots of reflection among audience members.
We asked Kylie a few questions to hear more about the process of taking Femmillennial from a vision of women dancing in oversized button-up shirts to a production on stage at the Toronto Fringe Festival.
What initially led you to dance and choreography?
As a little girl growing up in Barrie, Ontario, dance was pretty much the only extracurricular I did as a kid, aside from one year of volleyball, and the odd singing lesson. I began choreographing my own dances at age 12, and looking back it may have been a need to break free from the regimented ballet schedule we had, or perhaps just wanting to explore and unleash creativity. I now know that creativity is a huge part of my personality and I had very few outlets for that, or even understood that it was something I could explore as a kid.
You've been developing Femmillennial for 3 years! How did it all get started?
This work got started in early 2019 when I had a vision of a few women dancing around in brightly coloured oversized button-up shirts. The dancing was funky, and the women were very expressive and somewhat caricature-esque. That year, I created a 10-minute work based on this vision, and it went on stage at the Dance: Made in Canada Festival as a work for 5 women. After that was over, I knew I wanted to keep going with the work and the research, so we continued on and off throughout the pandemic. Fast forward to January of this year when I got drawn in the Fringe lottery, and knew that would be the runway to bring this new evolution of the work to audiences.
Can you talk about your decision to call this work Femmillennial?
I think this title summarizes perfectly the angle my story is coming from. The intersectionality of it — I am a millennial and in recent years I've really been observing what that means. I see the word 'Femmillennial' as an evolution of the word feminist. As in, the feminist perspective has evolved through the years, and will continue to evolve. The work is perhaps a bit of a buffet of what the modern femme persona might be, and it very much draws upon, and acknowledges the personas of generations of femmes gone by. It takes all of that inspiration and embodies it, as we do with dance. I came up with the word at some point during the pandemic, when I was thinking about a possible solo work. But I realized it was the same concepts and questions as I'd already been working on with this ensemble work, and it felt right to shift the title of the original work I started with in 2019.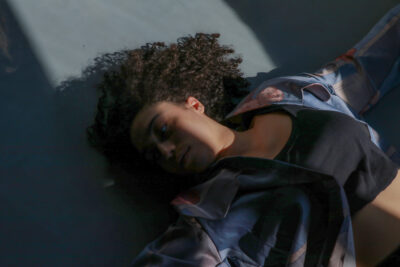 As a performer and choreographer, I imagine many parts of your craft have been deeply affected by the pandemic. Can you tell us about the impact it had on you and your work, and how you're recovering now?
Absolutely. As a dance artist, I mainly supported this precarious profession with teaching work prior to the pandemic. And I knew long before that point that it wasn't going to be a sustainable lifestyle — too much of my physical and mental energy was going to teaching my craft versus actually creating, researching and performing. And so when dance classes all went online — this was a catalyst to take a large step back from teaching. I do feel like I had a lot of time to reflect during the pandemic lockdowns, I do feel like I evolved as an artist even though I wasn't part of a ton of real big projects. I worked on my photography and videography skills, which I would now consider a part of my practice as an artist.
In a nutshell, recovering, for me, looks like working my ass off doing the many things that I do. Full tilt since February 2022, especially since beginning the process of producing for the Fringe Festival. I'm trying hard not to get sucked back into patterns that can eventually lead to burnout. Trying to keep the balance!
Can you talk about the process of casting and working with the dancers, Kiera Breaugh, Dana Macdonald and Claire Whitaker?
I prefer to work with dancers that I know, in some form or fashion. Casting for the festival started with reaching out to people I had worked with previously, many of whom were not available; whether they had left town at some point in the pandemic, or had moved on to go back to school for alternate careers, or were already working for someone else. Though I hadn't worked with Kiera, Dana or Claire on any of my own projects, I had either met them in workshop settings or danced in their works. Each of them possessed the physical prowess I think is needed for my work, as well as lovely personalities. When you spend 3-4 hours in rehearsal with people; ideally you enjoy their company and respect them as humans, which I most certainly do with these 3.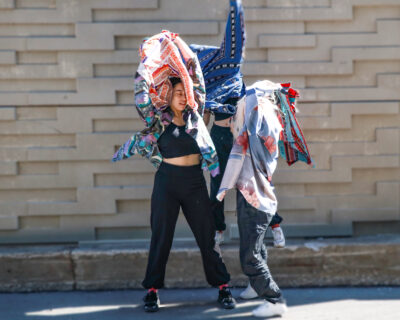 What are some of the themes in Femmillennial and why did you want to explore these?
Earlier in the process, we researched ways to express some more internal emotions, and how that relates to "emotional labour." The physicality of my work very much speaks to the idea that as modern women our desire to work is so strong, in so many ways, including, in the dance world. We don't always want to be the ones being lifted, we want to lift. We jump high and we are virtuosic and strong. We have different-sized bodies and they all belong on stage.
In more recent phases of the process, I became very interested in how these societal roles for women have evolved. We discussed things like, what are the similarities and differences between the generations? All of the dancers are actually Gen Z's, or, as they informed me, "Zillennials" or "Cuspers" meaning they are on the tail end of the millennial generation. For me, that connection and collaboration between generations is really what's important at the end of the day. I really think that the time spent getting to know one another and understanding one another really helped the dancers get to a place where they could trust each other to be ultra-physical with one another.
What does femininity mean to you?
To me, it means empathy, ability to listen, ability to observe, emotional expression and maintenance, it means connection to nature, and appreciation for details. And so many more things!
What can audience members expect when they go to see Femmillennial?
They can expect a warm, intimate environment (the Aki Studio Theatre is relatively small with a capacity of about 115), one that is accessible, inviting and accepting to all walks of life. The performance itself is multi-disciplinary, a sort of collage of dance, light, sound, video and textile. It is uplifting and energetic!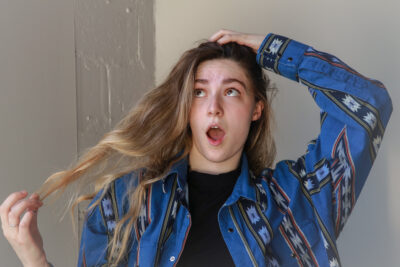 What are you most looking forward to for your run at Toronto Fringe Festival?
One, the energy and excitement of getting to see my work under the bright lights again, and seeing how it's received by the audience and my community, and two; the amazing energy of the Fringe Festival — I plan to see about 10 shows and I'm sure the inspiration and networking will be abundant!
Are there any other performances at Toronto Fringe you recommend we check out?
Not that I have seen any of these works yet — but definitely check out Confronting Space (a dance show that I am performing in!), Phantasmagoria, Between Root and Bloom, Flowers for Alex, X and da Spirit… ahh there are so many great artists participating!
Watch the trailer for Femmillennial:

Femmillennial is running from July 6-17 at Toronto Fringe Festival. Tickets are available here.