The 12th season of Toronto Youth Shorts (April 20-27) will feature 40 films split over 11 unique bite-sized programs, each lasting no more than an hour, and tickets start at $2.
We think the best way to experience this is to block off some time, dive in, and explore the diverse programming. You'll get to know Toronto's incredibly talented community of young filmmakers, and walk away feeling inspired to create—whatever that may look like for you.
Here are some of the programs we're most excited about with notes from the Toronto Youth Shorts programming team.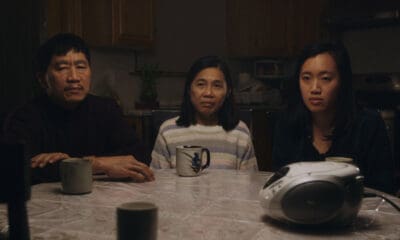 NO CRYING AT THE DINNER TABLE, Directed by Carol Nguyen
Art and Healing Program
"With all that's happened and shifted in the past year, what does it mean or take to create? This lineup of films is a witness to the myriad of difficulties that artists face, whether it's searching for permission to belong in a creative community or knowing where to begin unpacking inter-generational trauma. Amidst these stories of confrontation, contemplation, and resilience, the five films highlight the capacity for art to hold hope, heal, and extend possibilities." -Kelly Lui
See the lineup of films in this program.
Female Filmmakers Program
Up and coming female directors capture the screen with their unique perspectives and unapologetic narratives whose stories are sure to surprise. With no topics off limits, the relationships explored within these films bring both a universal and specific voice to the screen. These daring women in the director's chair have brought us moments of honesty on film that will resonate with all viewers. -Victoria Kucher
See the lineup of films in this program.
Signs of Our Times: Social Justice Program
Featuring a mix of documentaries, animation, and experimental work, these films explore the effects of our unsustainable consumerism and how humanity's destructive impact has negatively changed our environment and society at large. -Henry Wong

See the lineup of films in this program.
Personal Growth Program​
No matter what age we find ourselves in, we will eventually need to make decisions that fundamentally determine who we are. Sometimes it's our apparently small choices and other times, it's life's big unexpected wrenches that make us come face to face with ourselves and force us to make those decisions. These films showcase life's big and small moments – moments that carry deep meaning, and moments that shift our perspectives on ourselves. -Nora Marku
See the lineup of films in this program.
Toronto Youth Shorts offers interesting and thoughtful films for cinema lovers of all ages, but definitely a must for young people starting their journey in the Canadian film industry.