I like to eat fresh, healthy food, but I zone out when it comes to putting it all together. Shopping for specific recipes is more work than I care to do, and after I'm often saddled with leftovers that never get eaten.
Enter HelloFresh. This new company delivers locally sourced fresh ingredients in just the right quantities to your door, so you get to do the fun part: cooking. And when you're all done, there are minimal leftovers. The recipes are delicious – think Blackened Steak & Roasted Cauliflower Salad with Israeli Couscous, Pickled Shallots, and Roasted Red Pepper or Smoky Black Bean & Caramelized Sweet Potato Tacos with Blistered Corn and Avocado-Lime Crema (yum).
We talked to HelloFresh's Head of Cuisine, Irene Ngo, about how it all works.
How do you decide which recipes to develop?
When I'm brainstorming recipe ideas, I always start with three questions: What seasonal local produce are Canadians excited about? What are the complementary ingredients and flavours? And lastly, what kinds of equipment does an average home cook have in their kitchen? Then comes the tricky (and creative) part of turning those answers into a delicious and healthy recipe that people can replicate at home.
Inspiration also plays a huge role in conceptualizing recipes. Travelling, trying new restaurants, visiting grocery stores (often in different countries!) are just some of the ways I get ideas that eventually turn into recipes.
What's your most popular menu item?
Part of what makes using HelloFresh so fun is that we offer a variety of meals, so you're not cooking the same recipes week after week. We love bringing the element of surprise, excitement and satisfaction into your home kitchens. That said, seasonal fruit and vegetables tend to be a big hit in general. Just imagine yourself biting into a juicy nectarine or sweet peach in August – so delicious!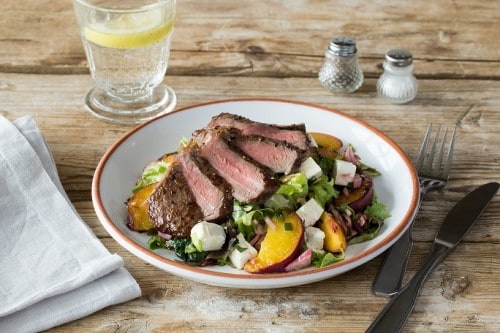 Are Torontonians over take out?
I think people are generally curious about food and have a desire to eat healthier. In the past, busy city dwellers and families would order takeout as a quick and easy mealtime solution. But more and more, people are discovering that cooking a delicious, healthy meal at home doesn't have to take a long time!
People are also more health-conscious nowadays and understand that eating well can also contribute to better mental and emotional health. The key to healthy eating long-term is understanding ingredients at their most basic level. Reading about food and watching food programs can offer a lot of great information, but cooking from scratch is the best way to truly learn about the food you're consuming. I believe the hurdle is that people don't necessarily know where (or how) to start creating healthy eating patterns, and may also be too time-strapped to really think about it.
HelloFresh helps with that process by cutting out the time-consuming tasks of shopping and weekly meal planning, so you can get straight to the fun and empowering part: cooking!
Wanna check it out for yourself? Go to hellofresh.ca and use the coupon code TIFFYCITY-60 to get a $30 discount off your first order, and a $30 discount off your second order (a $60 savings overall).