Have you ever dreamt about getting your photo taken while bent backwards over a sofa in only your skivvies? We have. What would it feel like to really get in touch with and play with your inner sex goddess? Your divine femininity? It's something that lots of Toronto women have been trying, thanks to Juliette and Fanny, the talented photographers behind Scandaleuse Photography. Beyond booking private shoots, they've recently embarked on a new endeavour: The Unstoppable Project, an initiative intended to celebrate all bodies and combat shame.
SDTC: Why did you start Scandaleuse Photography?
Fanny and I started photography back in 2009 in Paris and without really knowing it, we were naturally gravitating towards boudoir by focusing on women in lingerie in 99% of our shoots. Boudoir wasn't a "thing" back then to be honest; we just stuck to "lingerie shoots"! But we were already aware of the women image in the media and we only wanted to showcase real women, to counterbalance it in our own way.
Since then, we have lived a few more experiences that have impacted us as women. For example, we had to deal with misogyny and sexism in our work environment. No women should stand for that. We also became more aware of the amount of ladies out there who could relate and felt uncomfortable in their own skin because of outside factors. It left us with such a strong feeling of injustice, and it only became stronger and stronger every year.
By the time we settled down in Toronto six years ago, we knew we wanted to make it official: we were going to open a boudoir photography company, to celebrate and encourage badass women. We want them to be at peace with the way they are and say it loud and clear.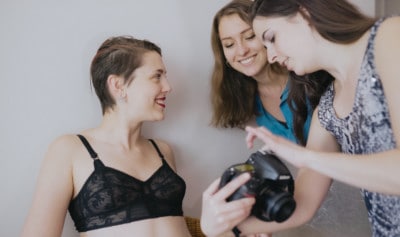 How do most women feel after they've done a boudoir photo shoot? What are examples of feedback you receive, or maybe something that surprises your subjects?
What is extremely important to us is that if you were to book a boudoir shoot, you do it for yourself, not for someone. And so far, that's our clientele! Our ladies are coming to us to challenge themselves, become more confident and assertive via something as "simple" as a boudoir session. We know it also impacts their everyday lives.
We keep in touch with most of our clientele, and we notice the difference between before and after the session. Even just on a physical aspect, they stand straighter, walk with determination, they don't question their appearance, and they develop their "I do whatever I want as long as it makes me feel good." And it goes even further than that: some have let us know they finally applied for the job of their dreams and got it, they got into a healthy relationship or left a toxic one, they just feel more centred and in touch with their femininity. To sum it up, they've channelled their inner Beyoncé!
What's the reason most women give when they book a shoot with you?
A common reason is they are looking for inner peace. They are confused by what's going on in their heads, what they see in the mirror, and they don't like this feeling. Sometimes, it is because they go through some major life change, such as a big birthday, a baby, a break-up…they lost track of who they are. But we also receive a lot of inquiries from women who just want to celebrate and treat themselves with a "screw it!" mentality, which we applaud.
What has been a discovery you've made, about women or society in general, since you started your business? Perhaps a common theme/reaction you've noticed?
First, we didn't realize how much of an impact a boudoir session could have on someone when we first started. Thanks to the feedback we've received, it made us want to go deeper and think bigger to spread this snowball effect of goodness. No one should feel limited to be who they want to be because other people tell them it's not "good" or "acceptable." We spend so much time trying to fit in other people's vision. You only have one body and one mind; you better make a positive use out of it.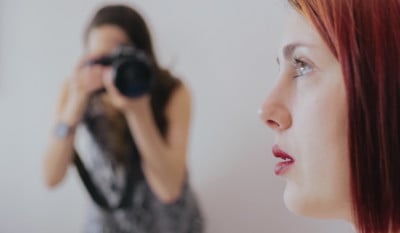 What is The Unstoppable Project all about? Why did you decide to do it?
The Unstoppable Project was created to encourage women to be openly proud of themselves and to stop caring about other people's opinion. We found that, even though our clients were over the moon with their photos and it really made a change in their lives, they were still not comfortable sharing their experience around, mainly because of their careers. Let's be honest, women have to work a lot harder to build a strong reputation. And there is a risk of losing credibility from co-workers, friends, family members if their boudoir adventure were to see the light of day. But why couldn't a strong, confident woman share a positive experience like this?
So we reached out to a good chunk of our clients, coming from different backgrounds, careers, paths, and we asked them if they could pose all together while stating what makes them feel powerful. It was our way to say, "Hey, you know what? This lady is still an awesome engineer, and that doesn't change because she's proudly posing in lingerie." Of course, you don't need to get half naked to make a point, we are just choosing our field to make a difference.
Can you share with us a little bit about how the day shaped up when you brought so many women together? How would you describe the behind-the-scenes atmosphere of the photo shoot?
We started organizing the project last June and shot it in September. We reached out to thirty of our clients to at least get half of them available. We rented one of our lofts in the city and everyone showed up with black panties, all dolled up. You should have seen the face of the studio owner when he bumped into fifteen women half-naked on a couch—it was hilarious.
We always make our shoots very chill and light hearted. We have music on, goofing around while guiding as much as we can. The ladies already knew how to pose since all of them shot with us before. It was such a pleasure to see them owning it completely with barely any guidance. It was a very empowering moment. None of these women knew each other, and yet there they were, stuck to each other topless. Way to bond!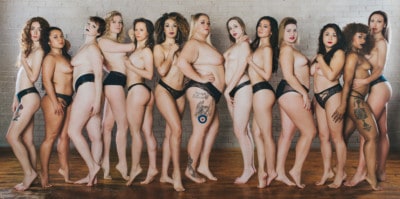 How do you hope to grow from this project? What's your next move / goal?
We poured our hearts and souls into this project, and we are very proud of our Scandals. More women started reaching out to join us on the next one, which we would love to do at some point! We are trying to spread the word as much as possible to keep pushing women to be proud of who they are. We are also starting to shoot in Europe and would like to extend in North America—doing similar projects in other cities or even countries would be the dream! One pair of boobs at a time!
How have you grown as photographers/business owners since you first launched? What are a couple lessons you've learned that have shaped how you operate today?
We have grown so much in the span of two years. We were already hustlers but we have reached the next level, for sure. No ideas look impossible anymore; we just organize ourselves to make them come to life, and that's thrilling. We have learnt that it is always worth reaching out to people whose work you admire or you wish to collaborate with. The worst that can happen is hearing no.
We also used to be afraid to talk about money, mostly because we didn't really know our worth. Over the years, we have gained confidence in our work, we know we put our heart on the table for it and would bend over backwards to make our clients happy, and we've managed to build a reputation proving it, with respect and trust.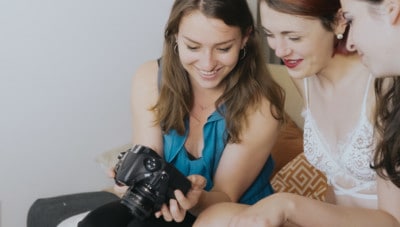 Anything else you'd like to share?
Free those goddamn nipples; it's about time social media allows them. We are tired of getting banned from Facebook.